Most Famous Black Female Tennis Players
Though commonly a white-dominated sport, black female tennis players have more recently started occupying the top ranking spots.
The Williams sisters are easily the most influential black female tennis players that come to mind but many preceded them and more that will continue their legacy as they inspired millions to pursue their careers despite their circumstances and race.
A lot of Black tennis history is concentrated in the United States, where their fight against oppression, segregation, and overall bigotry is well known around the world. Join us as we shed light on the most famous, influential, and skilled black female athletes to ever play tennis.
Best Black Female Tennis Players
1: Serena Williams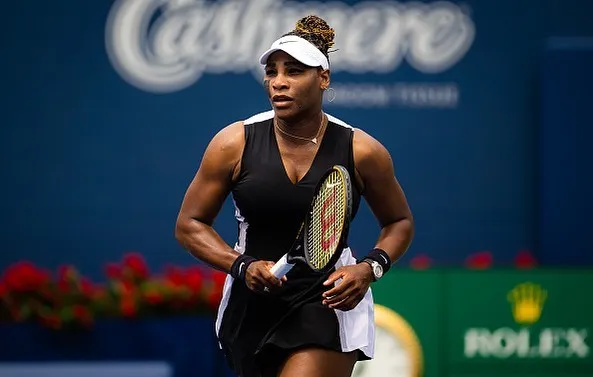 | | |
| --- | --- |
| Birthdate | 26 September 1981 |
| Age | 41 |
| Highest Ranking | No. 1 (S)No. 1 (D) |
| Titles won | 98 Titles39 Grand Slams5 Tour Finals1 Grand Slam Cup1 Hopman Cup1 Fed Cup4 Olympic Golds |
Serena Williams, the younger of the Williams sisters is by far the most well-known Black female athlete of all time. Her domination of the sport since 1998 is well known and she is one of the greatest tennis players of all time.
She was ranked no. 1 for a total of 319 weeks which included 186 consecutive weeks and 5 no. 1 year-end ranking. Her 39 total Grand Slam titles and 23 singles tiles are an Open Era record as well as the 2nd most of all time behind Margaret Court. Serena's performance at the Grand Slams is probably her most renowned quality. She completed a non-calender year Grand Slam, along with 2 career Grand Slams in singles as well as doubles. She is the only tennis player to have achieved 2 career Grand Slams.
Besides those, she also achieved a "Surface Slam" and at the final edition of the Grand Slam Cup, which featured the greatest performers from that year's Grand Slam events, she clinched the trophy. Her title as a World Star Athlete can also be seen at the Olympics. The 4-time Olympic Gold-medalist in 2012, won the Gold in both singles and doubles disciplines during the London Olympics.
She has set many records during her career, including most singles titles at the Australian and US Open, most singles match won at a Grand Slam, and she is the only tennis player, among both men and women, to win 3 of the 4 Grand Slam events on 6 occasions. She has numerous other titles and her career proved extremely successful.
Serena has created an empire and an enormous wealth from her tennis career. She was the highest-paid female athlete for 2 consecutive years and is the highest-paid female athlete of all time. Her prize money earnings at almost $100mil are unsurpassed. The activist and media personality has yet to retire officially but has been inactive since the 2022 US Open. Serena has said that this chapter of her life has come to a close.
2: Venus Williams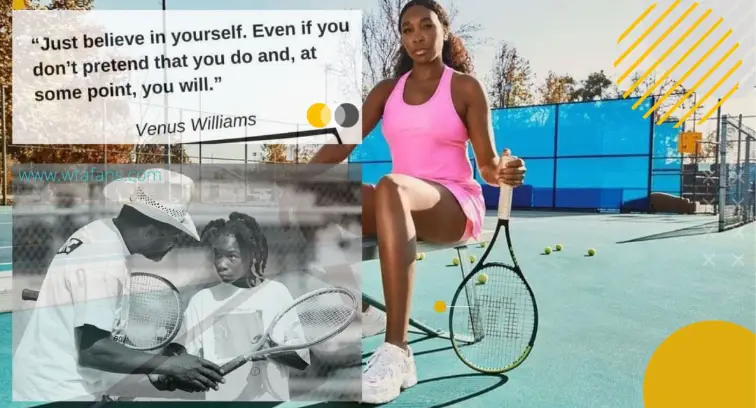 | | |
| --- | --- |
| Birthdate | 17 June 1980 |
| Age | 42 |
| Highest Ranking | No. 1 (S)No. 1 (D) |
| Titles won | 73 Titles23 Grand Slams1 Tour Finals1 Grand Slam Cup4 Olympic Golds1 Olympic  Silver1 Fed Cup |
Venus Williams is the older of the Williams sisters and is often called the lesser of the two. That couldn't be further from the truth. Both sisters have contributed greatly to ending racial stereotypes in the sport and each has their accomplishments and career.
She was the first black woman in the Open Era to be ranked no. 1, and second of all time after Althea Gibson. At the Grand Slams, she won 23 total titles, of which she won 7 singles, 14 doubles, and 2 mixed doubles major titles. Venus has completed a non-calendar-year Grand Slam in doubles Grand Slams. She is right behind her younger sister Serena as the most-paid female athlete but Venus holds many more records of her own.
She has had the most Grand Slam appearances of any player, male or female, in tennis history with 91 participations. She also has the record for the longest time between Grand Slam finals, an astonishing 17 years. She has been the lowest-ranked and lowest-seeded champion at Wimbledon and her impressive serve is the fastest serve by a woman at both Wimbledon and the US Open.
A lot of her records revolve around her status as an Olympic Athlete. Venus has won 4 Olympic Golds and a Silver, tying most medals by a tennis player with Kathleen McKane Godfree. She also became the second-ever player to win an Olympic Gold in both singles and doubles after the 2000 Summer Olympics. Her 5 Olympic Finals is a record she holds alone and was the first player ever to win an Olympic medal in the singles, doubles, and mixed doubles categories.
Another standalone record of hers is winning an Olympic medal in 4 total Games, from 2000-2016. Venus was instrumental in ensuring equal pay for women and she has consistently ranked among the top 10 tennis players of all time. She is still active to this day at age 42 and continues making black history. 
3: Althea Gibson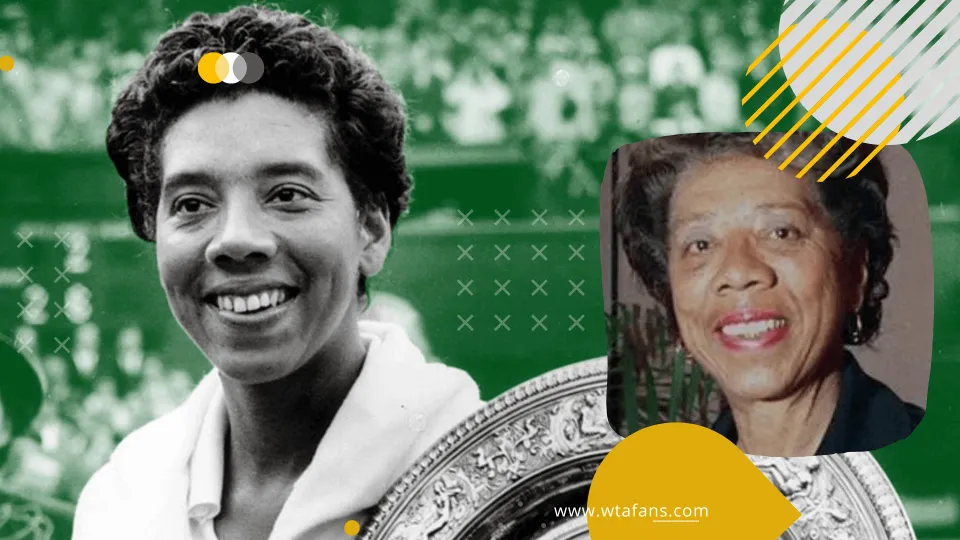 | | |
| --- | --- |
| Birthdate | 29 August 1927 |
| Age | 76 (d. 2003) |
| Highest Ranking | No. 1 |
| Titles won | 56 singles Titles11 Grand Slams  |
Althea Neale Gibson served as a cornerstone for African Americans to cross the color line in international sports. She was one of the first Black athletes to pursue world-level sports. She played at a time when racial segregation and casual racism were rampant in America and as a result, she was rather limited to the tournaments she played.
Despite this, Althea won 11 Grand Slam titles and over 60 career titles. Of her Grand Slams, 4 were consecutive wins with Althea defending her title won in 1957, in the 1958 Wimbledon Championships and the US Open. In doubles, she won 3 back to back major titles at Wimbledon. In both doubles and singles, she got to the finals at all the Grand Slam events and on numerous occasions as well.
She won a total of 5 major titles and was a runner-up 4 times in 1957 alone. Her phenomenal season performance won her the world no. 1 by Bud Collins. She overcame all the odds against her but sadly, the hurdles put in place against Black people persisted. She was at the peak of her career in 1958 when she was forced to retire from professional tennis. Before the Open Era, tournaments didn't give prize money, and any earnings the players made solely depended on sponsors or tennis clubs, both of which rejected Althea Gibson on numerous occasions for no apparent reason besides the fact that she was Black.
Despite this, the "Queen of Tennis" will always be remembered as the first Black woman to win a Grand Slam, to appear on the covers of Sports Illustrated and Time, to be part of the Wightman Cup team, and the first to be ranked world no. 1. In more ways than one, Althea Gibson walked so future Black tennis players like the Williams sisters could run.
Since retiring, she has been inducted into the Tennis Hall of Fame and received numerous honors. She is without a doubt one of the greatest female tennis players and other tennis legends like Billy Jean King and Venus Williams have attested to her unrivaled talent. She passed away in 2003.
4: Zina Garrison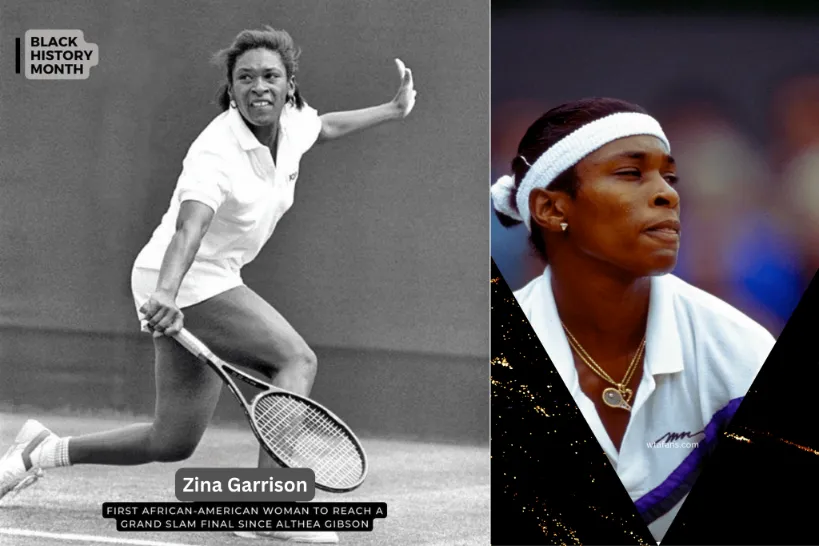 | | |
| --- | --- |
| Birthdate | 16 November 1963 |
| Age | 59 |
| Highest Ranking | No. 4 (S)No. 5 (D) |
| Titles won | 37 Titles3 Grand Slams1 Olympic Gold1 Olympic Bronze2 Fed Cups |
There was a large gap between Althea Gibson and the domination of the Williams sisters, for almost 40 years. During that time, the most notable Black female tennis player was Zina Lynna Garrison. She played during the 1980s and 1990s, till right before the dawn of the 21st century. Dubbed by the media as the next Althea Gibson, Zina Garrison had a lot to live up to.
She won 3 Grand Slam titles, all in the mixed doubles category. She won no singles and doubles major titles but by the time she retired, she had won 14 top-level singles titles. In singles, she reached 10 quarter-finals, and 4 semi-finals and she became runner-up once in 1990. In doubles, she got to the quarter-finals 13 times, the semi-finals 7 times, and the finals twice. Her mixed doubles performance was much the same with 3 titles and 3 runner-ups.
Her greatest Grand Slam singles achievement has to be her 1990 Wimbledon Championship participation. She beat the top tennis players of the time like Chris Evert, Steffi Graf, Helena Sukova, and Samantha Smith to reach the finals. She would upset many more throughout her career and owing to her competitive play, the world's top 3 players had all once tasted defeat by Zina.
But before the 1990 Wimbledon Championships, Zina had gained worldwide fame after the 1988 Summer Olympics. She won a Gold medal alongside Pam Shiver in the doubles category and placed 3rd in the singles, winning America the Bronze as well. Zina ranked in the top 5 in both singles and doubles and was the junior world no.1.
Since retiring in 1997, she has gone on to become the captain of the US Federation Cup as well as the 2008 Olympic Games tennis team where she lead Serena and Venus Williams to win their doubles Gold.
5: Naomi Osaka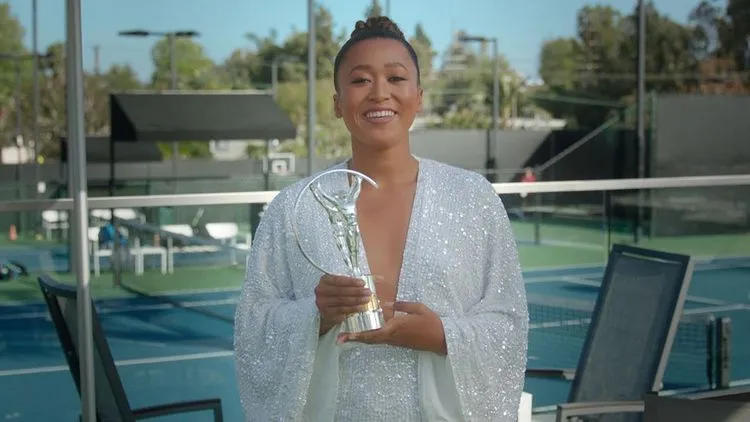 | | |
| --- | --- |
| Birthdate | 16 October 1997 |
| Age | 25 |
| Highest Ranking | No. 1 |
| Titles won | 7 Titles4 Grand Slams |
The half-black half-Asian tennis player- Naomi Osaka was born to a Haitian-American father and a Japanese mother. Naomi started her tennis career when she was 14 years old. She first rose to prominence after upsetting world no. 19 Samantha Stosur at the Stanford Classic.
Since then, the youngster has gone on to bag multiple top players wins and 4 Grand Slam titles, all in the singles category. She won 2 Australian Open and 2 US Open titles. At the other Grand Slam events, her best performance has been reaching the 3rd stage.
Naomi won her first-ever title at the Indian Wells Open and for her first US Open title, she had to defeat Serena Williams in the final. This victory made her the first-ever Japanese player to win a major title.
Other top players she has upset include former world no. 1 Victoria Azarenka and Petra Kvitova. Her domination in 2020 got her named the highest-paid female athlete of the year. Naomi also received an incredible honor at the 2020 Tokyo Olympics when she became the first tennis player to light the Olympic Cauldron.
Her activist work during the Black Lives Matter movement and against Asian hate crimes is also of note. She is one of the most prominent players of today and though she experienced her worst season in recent years due to injuries and mental health issues, she is sure to come back strong after a break.
6: Sloane Stephens
| | |
| --- | --- |
| Birthdate | 20 March 1993 |
| Age | 29 |
| Highest Ranking | No. 3 |
| Titles won | 7 Titles1 Grand Slam1 Fed Cup |
Former world no. 5, Slone Stephens is an extremely promising player. Many called her the next Serena Williams after she upset Serena at the 2013 Australian Open, aged 19. She was an inexperienced and unknown player at the time but her victory over the Williams sister skyrocketed her fame and kick-started her career.
Serena once spoke about Sloane saying one day she could be "the best in the world". But even before that, Sloane was a very successful junior player. In 2010, she won 3 of the 4 major doubles titles with Timea Babos but she never became juniors world no. 1. By the following year, Sloane had already broken into the top 100.
At the Grand Slams, Sloane won one major singles title at the 2017 US Open. She had to defeat another Williams sister, this time Venus Williams to reach the final where she upset Madison Keys for the trophy. She became the lowest-ranked champion ever at the US Open as she entered the competition ranked no. 83. She saw more Grand Slam successes the following year and became the French Open runner-up.
At the other Grand Slam events, her best performance came back in 2013 when she reached the semi-finals at the Australian Open and the quarter-finals at the Wimbledon Championships. She qualified for her first WTA Finals in 2018 ranked no.3 and became runner-up.
She has since gone on to defeat multiple high-ranked players like no. 9 Carla Suarez Navarro, former no. 1 Caroline Wozniacki, Petra Kvitova, Madison Keys, and Venus Williams again. Just this year, she was a quarter-finalist at the French Open. This was her best Grand Slam performance in 3 years and she might soon be making a comeback.
7: Margaret and Matilda Peters
| | |
| --- | --- |
| Birthdate | Margret: 1915 Matilda: 1917 |
| Age | Margaret: 2004Matilda: 2003 |
| Highest Ranking | NA |
| Titles won | 14 Doubles titles2 Singles titles |
The most underrated black female tennis players that often get overlooked are the Peters sisters, Margaret and Matilda Peters.
Before the Williams sisters and during the time of Althea Gibson, Margaret, and Matilda were the star sibling duo that dominated doubles competitions. When they played tennis during the 1930s and 1950s, racial segregation was still prevalent in America and black people could only contest against other black people.
As a part of the ATA- the American Tennis Association, the 2 won 14 ATA doubles titles, easily the most by a sister duo before the Williams sisters over 40 years later. Both sisters attended Tuskegee University and graduated with a degree in physical education. While they were students and after, the 2 dominated the ATA competition. The younger sister Matilda also won 2 singles competitions, once over Althea Gibson. Just like Althea, the Peters sisters were not making any money from tennis, so to fund their sport, they both became teachers.
Though their achievements were noteworthy and they were quite famous at the time, especially among the Black community, they aren't as revered as the Williams sisters, Althea Gibson, or even Zina Garrison. The 2 sisters were part of an extremely important period of Black history when for the first time a Black woman (Althea Gibson) played against a white woman. Matilda passed away in 2003 and Margaret passed in 2004. Hopefully, their legacy and struggle will be remembered by the future generations to come.
8: Ora Washington
| | |
| --- | --- |
| Birthdate | 1899 |
| Age | 73 (d. 1971) |
| Highest Ranking | NA |
| Titles won | 8 ATA Titles |
Ora Belle Washington from Caroline Country, Virginia outdates all the members of this list. Before Althea Gibson and the Peters Sisters, there was Ora Washington. Plying under the ATA, Ora remained undefeated throughout her career and she was easily the best Black female tennis player of her time. Referred to as the "Queen of Two Courts", Ora won the Wilmington, Delaware city championships in singles, doubles, and mixed doubles categories.
She won the yearly national ATA competition 12 times. Her domination was prevalent even at the singles level, winning her first singles championship in Chicago. She went on to win a total of 8 times. She came out of her singles retirement to defeat "the glamour girl of tennis" Flora Max as the media speculated she retired because she "was not so good anymore".
Though her tennis talent has gone widely unrecognized, her basketball career is more appreciated. She was inducted into the Basketball Hall of Fame almost 100 years after she first started playing the sport. She passed away in 1971.
9: Coco Gauff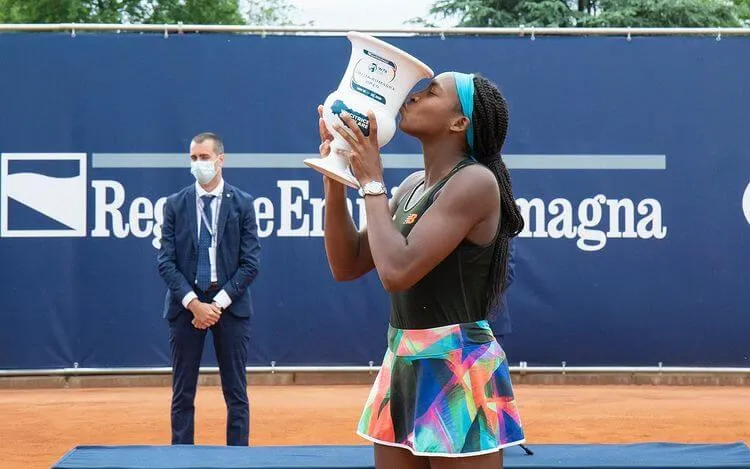 | | |
| --- | --- |
| Birthdate | 13 March 2004 |
| Age | 18 |
| Highest Ranking | No. 4 (S)No. 1 (D) |
| Titles won | 8 Titles |
Coco Gauff embodies the future of Black female tennis. At just 18 years old Coco has exhibited incredible proficiency in the sport. Her unparalleled talent has many excited and hopeful for a long prosperous career.
Coco first took an interest in the sport after watching Serena Williams play at the 2009 Australian Open. It seems fitting that someone who idolized Serena would become her true successor. The current no. 1 black female tennis player's domination began even before her teens. She won the USTA Clay Court National 12-and-under competition when she was just 10 years old, becoming the youngest champion in the tournament's history.
Then as a junior, Coco made her Grand Slam juniors debut at the 2017 US Open where she became runner-up. She became the youngest girls' finalist at the Grand Slam event. She won 2 junior major titles and the Orange Bowl. Then the former junior world no. 1 went professional.
At the Grand Slams Coco has appeared in at least the 4th round at all Grand Slam events. Her best performance came this year when she became runner-up at the 2022 French Open. In doubles, Coco has been ranked world no. 1 and she had her best Grand Slam performance this year again, also at the French Open, becoming runner-up. 2022 has been her breakthrough year with multiple top player wins and broken records due to her young age.
She was the youngest player since Maria Sharapova to qualify for the Tour Finals and to win both singles and doubles titles at an event. She and her doubles partner Jessica Pegula are the first Americans since the Williams sisters to qualify for both singles and doubles disciplines. She has already made tennis history and the youngster will continue to do so.
10: Katrina Adams
| | |
| --- | --- |
| Birthdate | 5 August 1968 |
| Age | 54 |
| Highest Ranking | No. 67 (S)No. 8 (D) |
| Titles won | 28 Titles |
Katrina Adams is the only member of this not predominantly on this list because of her tennis career. Playing in the late 1980s to late 1990s, Katrina is best known for her doubles performance.
She only won 1 ITF title in the singles category, the rest of her titles were all won in doubles competitions. Katrina was a top-ranking doubles player and though she won no Grand Slam titles, she was a quarter-finalist on 12 occasions with her best performance being a semi-final appearance at the 1988 Wimbledon Championships. She often partnered with Zina Garrison. But going beyond her tennis career, Katrina is a tennis executive.
She became the President, Chairman, and CEO of the United States Tennis Association (USTA). She was the first African-American and the youngest president of the organization.
Since 2016, she also become a Chairperson of the ITF Fed committee that overlooks the Fed Cup. At the International Tennis Hall of Fame, she is part of the board of directors. Her contributions to tennis have moved from her career to executive and as a black woman herself, she is a very important part of black tennis history as the first black woman to help organize the sport.
The journey of Black women in sports from not being able to play against whites to global stardom and tennis domination has been long and arduous. Each and every member of this list has played an important role in this journey. The Peters sisters, Althea Gibson, and Zina Garrison represented the past, the Williams sisters and Naomi Osaka represented the present and Coco Gauff now represents the future.