Coco Gauff Net Worth 2023, Endorsements, Prize Money, Racket
Coco Gauff, also known as Cori Gauff, is a rising star in the world of women's tennis. Born on March 13, 2004, in Delray Beach, Florida, coco gained international attention for her remarkable talent and achievements on the tennis court at a young age.
As of 2023, Gauff has become a prominent figure in professional tennis circuits, captivating audiences with her powerful serves, agile court coverage, and maturity beyond her years. She has a career-high ranking of world No. 03 both in singles and doubles achieved on Nov 20, 2023.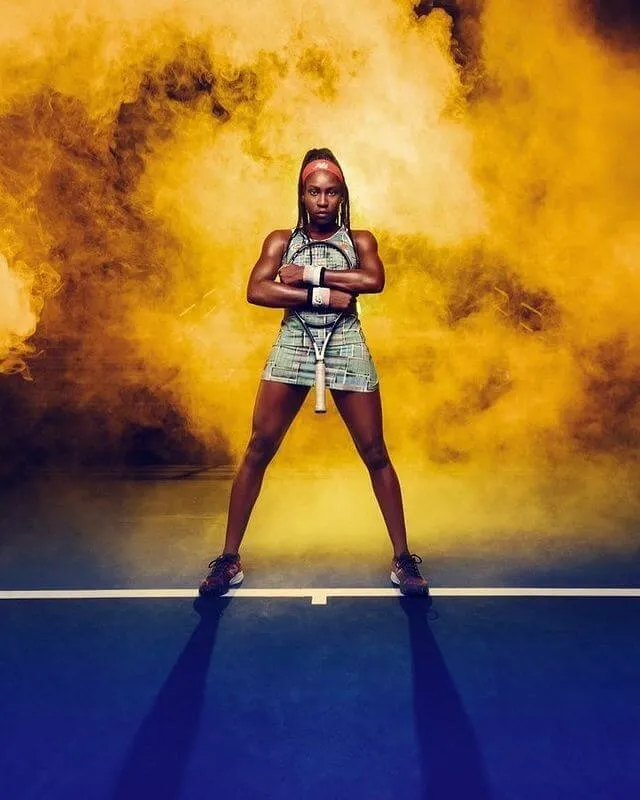 Moreover, people are very inquisitive to know about Coco Gauff's net worth. That's why we are going to discuss the information related to Coco Gauff's net worth and its sources in this blog.
Coco Gauff Profile/Bio
| | |
| --- | --- |
| Name | Cori "Coco" Gauff |
| Estimated Net Worth | US $13 Million |
| National/Birth Place | Delray Beach, Fl. USA |
| Date of Birth (Age) | Mar 13, 2004 (19) |
| Coco Gauff Height | 5′ 9″ or 1.75m |
| Coco Gauff Weight | 59 Kg (130 lbs) |
| Plays | Right-Handed (double-handed backhand) |
| Gender | Female |
| Endorsements | Barilla, HEAD, New Balance |
By achieving all the success in her life, she has earned her worth which we are going to discuss in this very article. So, if you want to know more about Coco Gauff's net worth, earnings, and prize money, then keep reading this article.
Coco Gauff Career
Gauff's breakthrough moment came at Wimbledon in 2019 when, at just 15 years old, she stunned the world by defeating her idol, Venus Williams, in a captivating match. Since then, she's continued to showcase her prowess and resilience in various high-profile tournaments, including the Australian Open, French Open, and the US Open.
Beyond her on-court achievements, Coco Gauff is admired for her advocacy work and dedication to important social causes. She uses her platform to champion equality and raise awareness about significant issues, inspiring fans globally with her maturity and commitment to making a positive impact.
In Singles, Homestar Coco won the 1st Grand Slam title of her career. American young sensation defeated New World no 1 Aryna Sabalenka after 1st set down 2-6, 6-3, 6-2. She became the 1st American to the US Open since 2017 (Sloane Stephens). She became the first teenager to win the US Open since Serena Williams in 1999.
Coco had his second tournament victory in Citi DC Open 2023 this year by beating his opponent Maria Sakkari by 2-0 in sets of 6-2 and 6-3 after a struggle that lasted for 1 hour and 24 minutes.  Coco won her fourth cup in the WTA career.
Coco Gauff participated in the ITF women's competition for the first time in May 2018. To participate in Osprey's $25,000 buy-in, where she won her first professional match against Alexandra Pepper. In 2019, Coco finished runner-up with Ann Li in the $100,000 Midland Tennis Classic doubles match, losing to Olga Govortsova and Valeria Savinykh.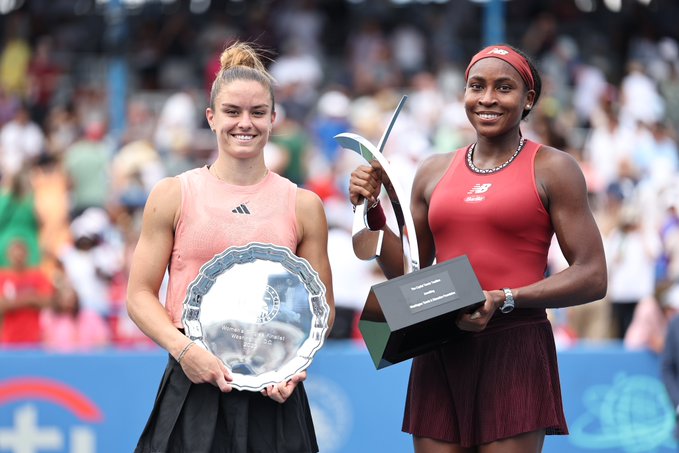 Coco also appeared in WTA ASB Classic 2023, by playing miraculously she reached the finals and played against Spanish star Rebeka Masarova and defeated her by a comprehensive margin (6-1, 6-1). Coco picked up her 3rd career WTA title without dropping a single set in ASB Classic.
In her next $25,000 Surprise event, Coco reached the finals in both singles, second only to Cecil Karatancheva. This season in the Italian city of Parma was lucky for Coco as she reached the finals and won the tournaments and added €23,548 to her bank balance.
Coco Gauff Net Worth
Coco's net worth is estimated to be around $13 million as of 2023. Now that we know her worth let's see how she earns money. Or simply what is the source of her earnings?
According to WTA, the current season prize money is around $6,669,622 as of YTD 2023 and the whole prize money in her career is $12,219,713. Coco Gauff's fame increased after beating Venus Williams at the 2019 Wimbledon Open (The Championships). She was very young when she defeated Venus.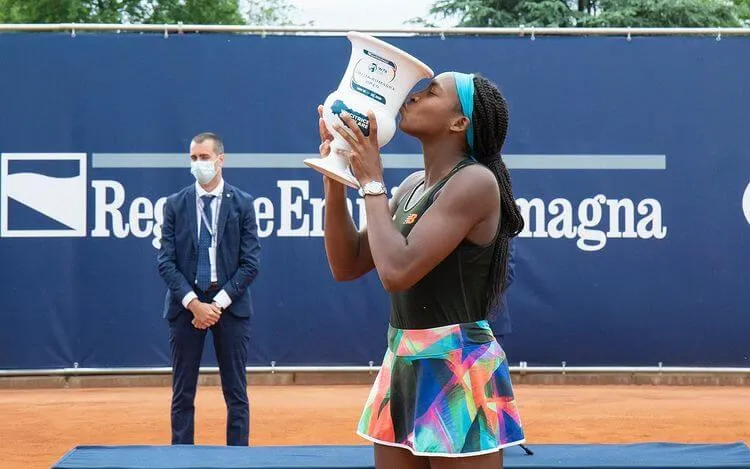 Her charismatic presence, exceptional athleticism, and unwavering dedication have solidified her status as one of the most promising talents in women's tennis, and she remains a compelling figure in the sport's evolving landscape.
Coco Gauff Grand Slam Records
Coco has played in a few Grand Slam tournaments so far. We've put together her performance statistics for the majors.
Australian Open 2020, 2023 R16x2
Roland Garros 2022 (French Open) Fx1
Wimbledon Open 2019, 2021 R16x2
US Open 2023 Wx1
Coco Gauff Prize Money
Coco Gauff, the young tennis prodigy, has been setting the tennis world alight with her incredible talent and determination. Her rise to fame has been nothing short of meteoric, and her impressive performances have not only earned her accolades but also significant prize money.
At just the age of 19, Coco Gauff has already made a mark in the tennis circuit, showcasing her prowess at various tournaments, including the revered Grand Slam events. While her skill on the court has captivated audiences worldwide, it's also contributed substantially to her earnings.
The current prize money of Coco Gauff is around $13 million as of 2023 which she has earned in her entire career. However, you have come to know the total worth of Coco but let's see how she has made it over the years.
| Year | Coco Gauff Prize Money |
| --- | --- |
| 2023 | $6,669,622 |
| 2022 | $3,051,953 |
| 2021 | $980,654 |
Coco Gauff Prize Money Over the Years
Gauff's prize money accumulation is a testament to her hard work and dedication to the sport. The exact figure is constantly evolving as she continues to compete and triumph at different levels. Her captivating presence and remarkable gameplay have not only earned her titles but also lucrative rewards in the form of prize money.
Coco Gauff Endorsements
American star Coco's deals with sponsors are also the source of her net worth. Because she is young and hasn't played a lot of tournaments. The list of Coco Gauff's sponsors is below;
The sponsors of her racquets are HEAD
The apparel and Shoe sponsors are New Balance
New Balance just introduced the Coco CG1, a signature shoe from Coco Gauff
Apart from this, she made a deal with the brand Italian food, Barilla.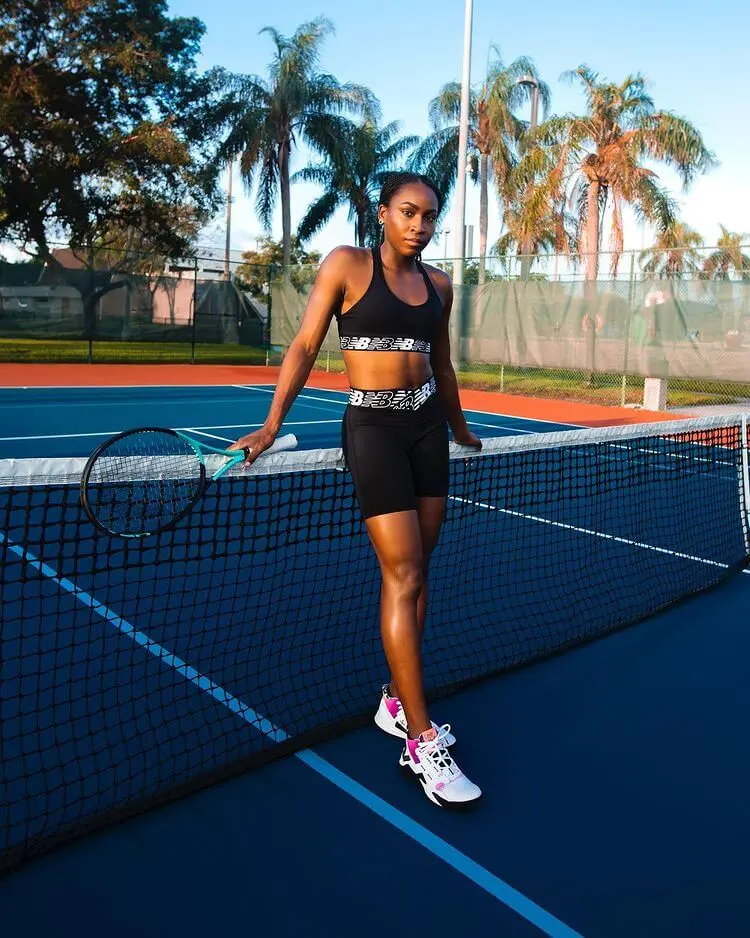 Coco Gauff Racket
Which racket does Coco Gauff use? Cori "Coco" Gauff currently uses the Head Boom MP 2022. It is a new head tennis racket series and it's used by many pro players.
The last tennis racket she used to play with is also from Head Brand and that racket is Head Graphene 360 Speed MP.
Racket Model: Head Boom MP 2022
Head Size: 100 in / 645.16 cm
Length: 27in / 68.58cm
Strung Weight: 11.1 oz / 315 g
Balance: 12.87in / 32.69cm / 5 pts HL
Beam Width: 23.5/24.5/23.5 mm
Stiffness: 64
Composition: Graphene Inside/Graphite
Racquet Colors: Black/Coral
String Pattern: 16 Mains / 19 Crosses
String Tension: 48-57 pounds
Endorsed by Coco Gauff
Coco Gauff Tennis Apparel Sponsor
In honor of her sponsor New Balance, Coco Gauff unveiled her first clothing line at the fashion line. She designed the Coco Gauff collection to be as vibrant as her on-court game with power pink and graffiti prints.
Coco Gauff Recent Matches Updates
| Match Date | Event/Round | Score Updates |
| --- | --- | --- |
| 04 Sep 2022 | US Open/R16 | Coco Gauff beat S. Zhang by 7-5, 7-5 |
| 31 Aug 2022 | US Open/R32 | Coco Gauff grabbed a victory from E. Ruse by 6-2, 7-6 |
| 03 June 2022 | DOUBLES SEMIFINAL 1 | In all America clash, Coco Guaff and Jessica Pegula reached the doubles final after defeating Taylor Townsend and Maddison Key in straight sets (6-4,7-6). |
| 02 June 2022 | SEMIFINAL 2 | American star Coco Guaff (18) comfortably won the semifinal against Martina Trevisan in straight sets (6-3,6-1). |
| 31 May 2022 | QUARTERFINAL 2 | In all America clash, Coco Gauff (18) grabs a smooth victory against Sloane Stephens in straight sets (7-5, 6-2). |
Coco Gauff Net Worth Summary 
In addition to her prize money and endorsements, Coco Gauff has also made money from her appearances on the exhibition circuit. She has also made an appearance on Forbes Under 30 List for two consecutive years, in 2020 and 2021, which shows how well she is faring financially.
Coco is still relatively early in her career, and her net worth is likely to continue to grow as she continues to win tournaments and attract more endorsement deals. Her impressive performances and charismatic personality have made her a fan favorite, and she is sure to be one of the biggest stars in tennis for years to come.