Top 10 Italian Female Tennis Players List
Italy, a nation celebrated for its rich history, art, and cuisine, has also made significant waves in the world of tennis. Over the years, Italian female tennis players have graced the courts with exceptional talent, skill, and determination. These popular women players have not only made their country proud but have also etched their names in the annals of tennis history. From winning Grand Slam titles to achieving career milestones and taking down giants of the game, Italian female tennis players have showcased their mettle time and again.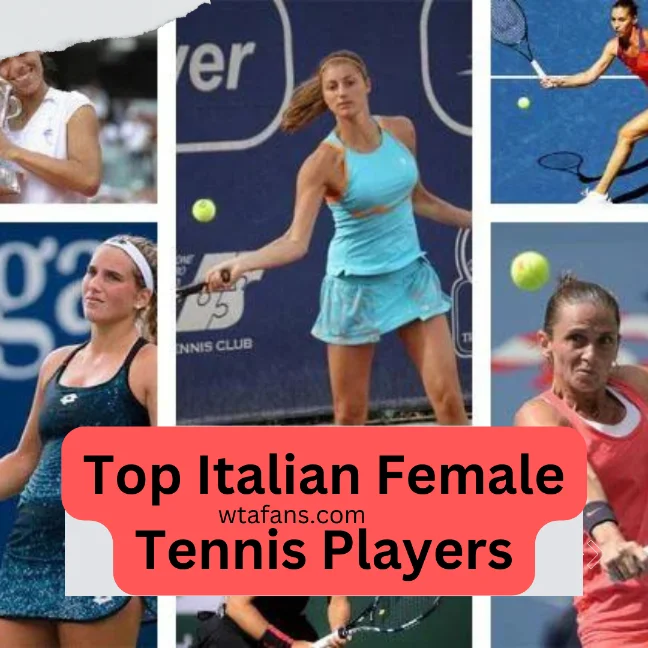 In this blog, we journey through the careers of the top 10 Italian female tennis players, exploring their professional achievements and the unique edge they bring to the sport. Whether you're a tennis lover or a casual fan, these stories of perseverance, talent, and passion are sure to inspire and captivate. Join us as we dive into the world of Italian tennis and celebrate these most remarkable stars.
1: Camila Giorgi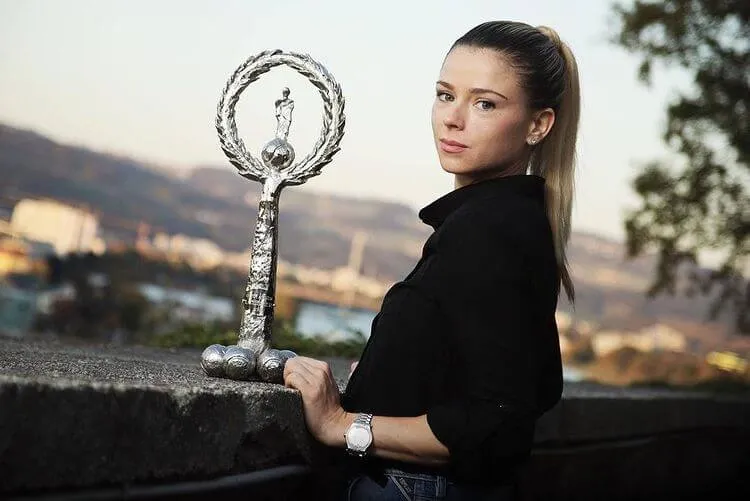 Born on 30 December 1991, is an acclaimed tennis player from Italy. From her early years, she showed an inherent talent for tennis, quickly establishing her name on the international stage as a famous player. Giorgi's ferocious play style and strong groundstrokes made her stand out from the rest of her competitors. The ferocity of her play on the court frequently took her opponents by surprise, which allowed her to win victories over players with higher rankings than her.
Her ability to swiftly switch between offense and defense sets Giorgi apart from the other players, taking her opponents in awe. Her relentless drive, love for tennis, and strategic mind are the main reasons for her success, which makes her a force to reckon with in the tennis arena of the top 10 Italian female tennis players.
2: Sara Errani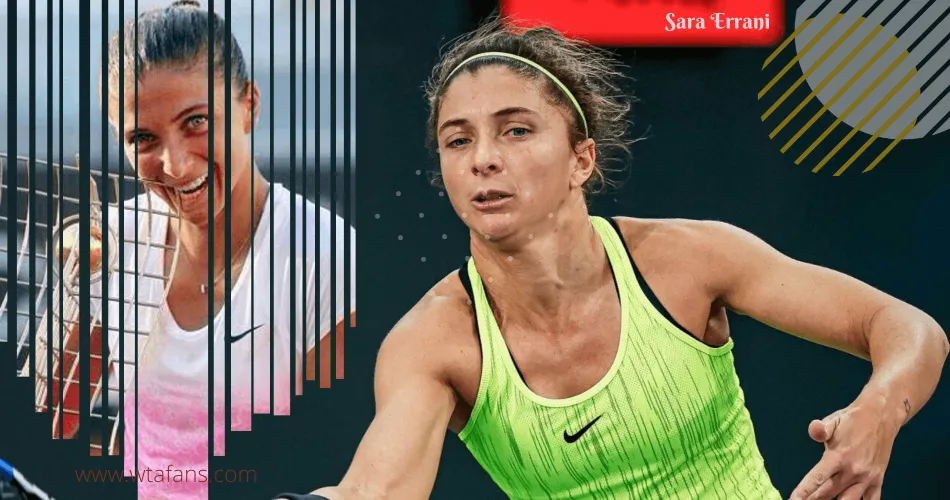 She was born on 29 April 1987 and is a famous tennis player. She's really good, especially on clay courts. She has won many single and double matches. One of her biggest moments was playing in the 2012 French Open finals. She's quick on the court and is great at playing with a partner in doubles matches. This makes her tough to beat, both alone and in team games. People find it hard to win against her because she's so skilled. Sara has shown she's a top player with a lot of determination.
3: Flavia Pennetta
Born on February 25, 1982, is an eminent person in the tennis world. She made her mark in the history of tennis by winning her first US Open title in 2015 which is a testimony to her talent and determination. Her home is Italy and a world-class player, she is recognized as one of America's most skilled tennis pros. Pennetta's tennis game is marked by her flexibility on the court. This is enhanced by her mental tenacity. 
Her accomplishments not only earned the world's attention but also elevated the standing of Italian tennis players on the international scene. In her professional career, she demonstrated the spirit of tennis by displaying both talent and determination. Flavia Pennetta's tennis legacy is one of commitment to her sport, aptitude, and unparalleled talent.
4: Francesca Schiavone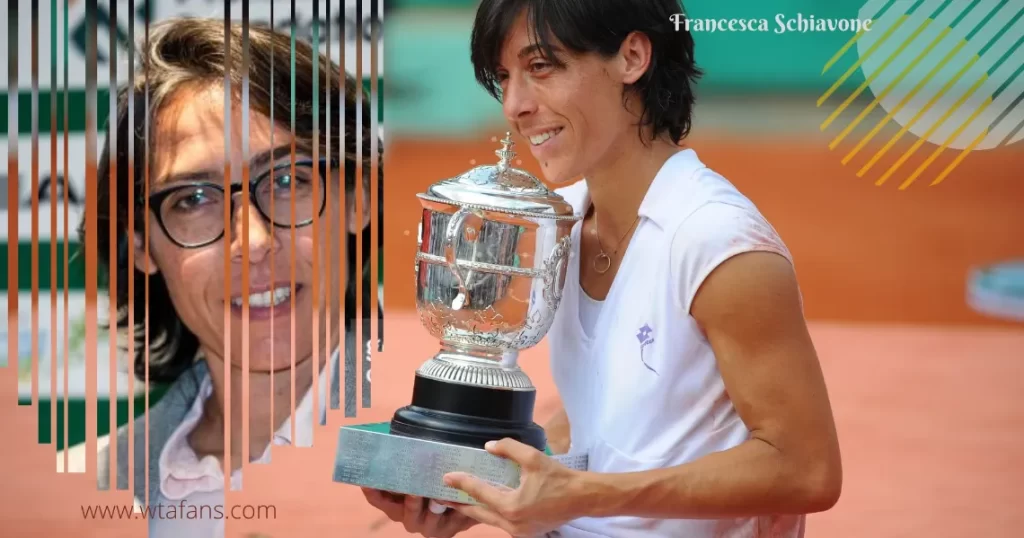 Francesca Schiavone, born on 23 June 1980, is celebrated for being the first Italian woman to win a Grand Slam singles title, achieved at the French Open in 2010. With a unique one-handed backhand and tenacious fighting spirit, her edge lay in her ability to grind out matches and her outstanding clay court skills. 
The tenacious spirit of her fight and her incredible endurance often allowed her to outlast her adversaries when they were engaged in lengthy, exhausting games. On clay courts, Schiavone's talents shined best. Her ability to glide between the courts, protect herself, and build points on clay was a killer opponent against any player.
5: Roberta Vinci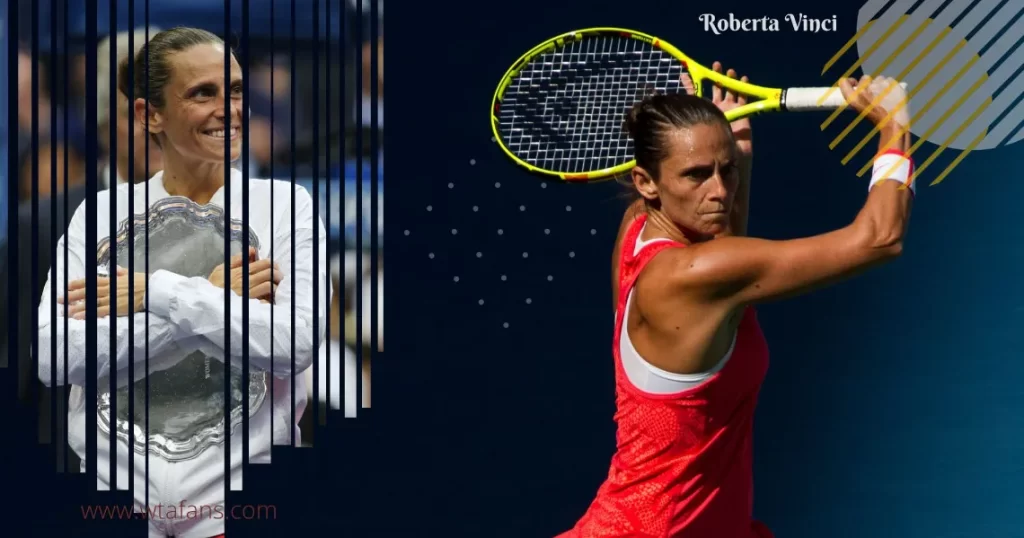 Born on 18 February 1983, Roberta Vinci is an iconic figure in the tennis world, primarily for her stunning victory over Serena Williams in the 2015 US Open semifinal. This win was a testament to her skill and determination as she reached the final against all odds. While she shone in singles, her prowess in doubles must be noticed. 
Beyond her singles achievements, Vinci's doubles career was equally illustrious. Partnering with various players, she showcased a synergy that few could match. Her distinctive slice backhand became a hallmark of her playing style, often leaving her adversaries scrambling. Her tactical brilliance and court awareness made her a formidable competitor, ensuring her place among tennis elites.
6: Martina Trevisan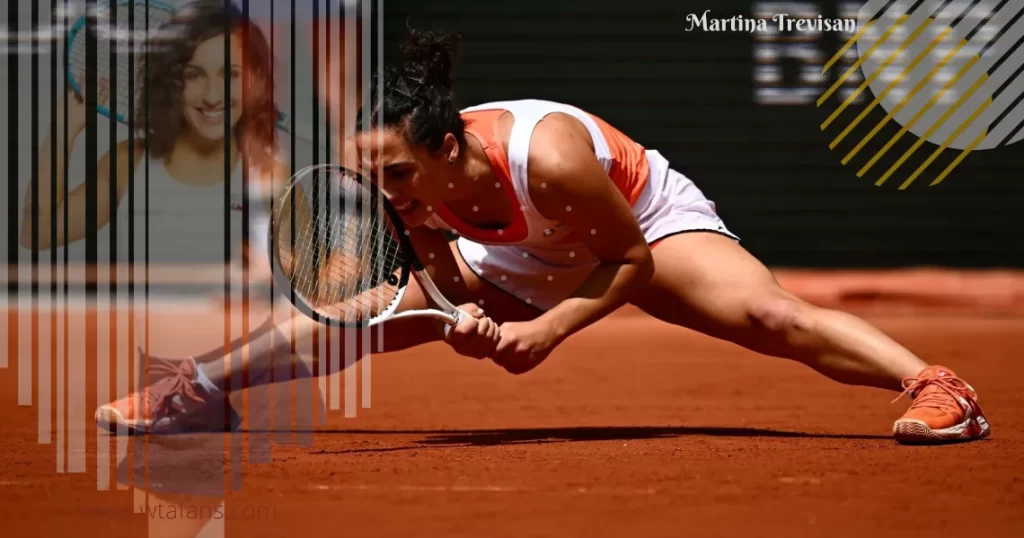 Martina Trevisan, born on 3 November 1993, is a shining star in the realm of tennis, particularly recognized for her remarkable journey during the French Open 2020. Entering the tournament as a qualifier, she defied odds and expectations by advancing to the quarterfinals, a feat that captured the attention of tennis aficionados globally. This achievement wasn't just a testament to her skill but also her sheer determination and willpower. 
Beyond her physical skills, Trevisan's mental fortitude stands out. She has an uncanny ability to remain composed under pressure, turning most challenging situations to her advantage. This resilience, combined with her gritty determination, has seen her overcome many higher-ranked players. As her career progresses among the top 10 Italian female tennis players, Trevisan continues to inspire with her relentless spirit, proving that with hard work and passion, one can achieve great heights, regardless of the challenges that lie ahead.
7: Elisabetta Cocciaretto
Elisabetta Cocciaretto, born on 25 January 2001, represents the next generation of Italian tennis talent. Even at a young age, she has managed to make significant waves in the tennis circuit, showcasing her potential as a future luminary in the sport. Her achievements include clinching multiple ITF titles, a clear indication of her burgeoning talent and dedication to the game. Cocciaretto's playing style is characterized by a potent serve, which often gives her the upper hand in initiating aggressive plays.
Cocciaretto displays a maturity beyond her years, approaching each match with a strategic mindset and an unwavering focus.
8: Karin Knapp
Karin Knapp, born on 28 June 1987, has etched her name in popular tennis history by securing multiple WTA titles. Her adaptability across different court surfaces speaks volumes about her versatility. Knapp's baseline prowess and indomitable spirit often saw her battling toe-to-toe with top-tier players, earning her respect and admiration in the tennis community. Her groundstrokes, both forehand and backhand, are executed with precision, often setting her up for dominant positions in most rallies.
Beyond her technical prowess, what truly sets Knapp apart is her indomitable spirit and resilience. Throughout her career, Knapp has also displayed versatility by performing commendably on various court surfaces, be it hard, clay, or grass. This adaptability is a testament to her comprehensive training and dedication to mastering all aspects of the game as a famous player.
9: Mara Santangelo
Mara Santangelo, born on 28 June 1981, has etched her name in tennis history with her commendable achievements in both singles and doubles. Her career reached a pinnacle when she secured the 2007 French Open doubles title, a testament to her skill, teamwork, and adaptability on the clay courts of Roland Garros. Santangelo's game is characterized by a deep understanding of court dynamics, especially evident in her doubles matches.
In singles, Santangelo showcased her versatility, adapting her game to counter various playing styles and strategies. Her consistent groundstrokes and keen court sense allowed her to construct points meticulously, often leading to dominant performances. Off the court, Mara's sportsmanship and dedication to the sport have endeared her to fans and peers alike. Her legacy in tennis is one of passion, determination, and excellence, inspiring future generations of tennis enthusiasts.
10: Maria Elena Camerin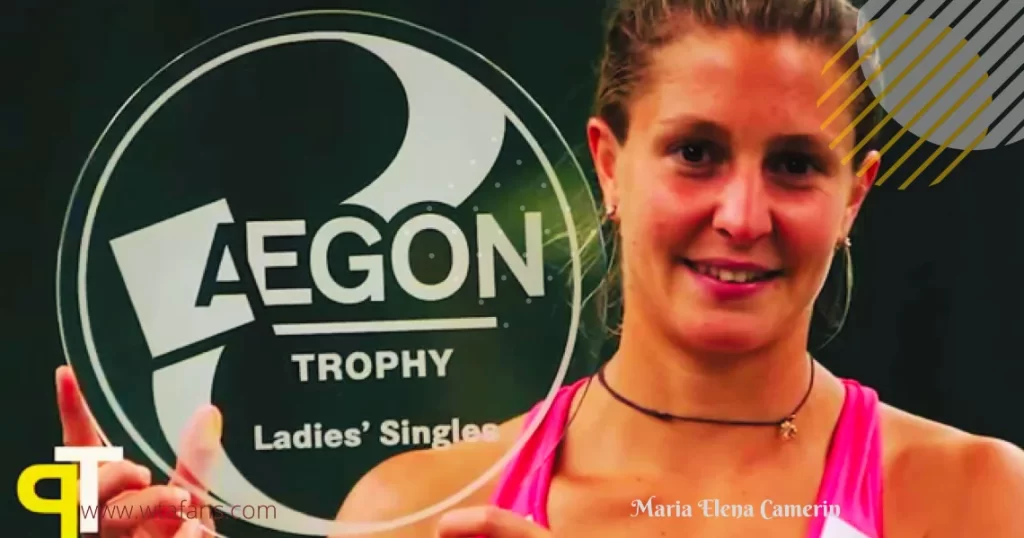 Maria Elena Camerin, born on 21 March 1982, has been a steadfast presence in the world of professional tennis, particularly during her peak years on the WTA Tour. Throughout her career, Elena showcased a consistency and finesse that earned her a reputation as a formidable competitor. Her groundstrokes, marked by their precision and reliability, became a cornerstone of her playing style, allowing her to engage in extended rallies and wear down her opponents.
Beyond her technical skills, Camerin's tactical prowess was evident in her matches making her a prominent figure among the top 10 Italian female tennis players. She possessed an innate ability to read the game, strategizing effectively to exploit her opponents' weaknesses and capitalize on their errors. This cerebral approach to tennis enabled her to secure several notable victories against players who were ranked higher, proving that with the right strategy and mindset, rankings can be just numbers.
FAQs
Who was the first Italian woman to reach a US Open final?
Roberta Vinci reached the US Open final 2015 after defeating Serena Williams in the semifinals.
Which Italian female tennis player had a notable run at the French Open 2020?
Martina Trevisan reached the quarterfinals of the French Open 2020 as a qualifier.
Who is a rising star in Italian tennis with multiple ITF titles to her name?
Elisabetta Cocciaretto is a rising star, having won multiple ITF titles.
Which Italian female tennis player clinched the 2007 French Open doubles title?
Mara Santangelo won the 2007 French Open doubles title.
Who is known for her consistent groundstrokes and tactical prowess on the WTA Tour among Italian players?
Maria Elena Camerin was known for her consistent groundstrokes and tactical acumen on the WTA Tour.