WTA Nominees Unveiled: Celebrating the Best Players in the 2023 Season
The 2023 WTA Awards nominees have finally been announced. The season-ending awards recognize the season's top performers and shed light on the players and coaches whose accomplishments deserve recognition. Join us as we brief you through the categories, of this year's nominees.
WTA Awards Categories
Award winners are selected through 2 methods. The main awards concerned with the top-performing players are voted on by international tennis media. While the Player Service awards winners are chosen by WTA players. Let's first talk about the main awards.
Player of the Year
Along with the Doubles Team of the Year title, the Player of the Year is a highly coveted title given to the woman with the most outstanding season performance spanning the Grand Slams and other top-level tournaments. Ranking and popularity play a very important role in deciding the victor. The 6 nominees for the Player of the Year are as follows: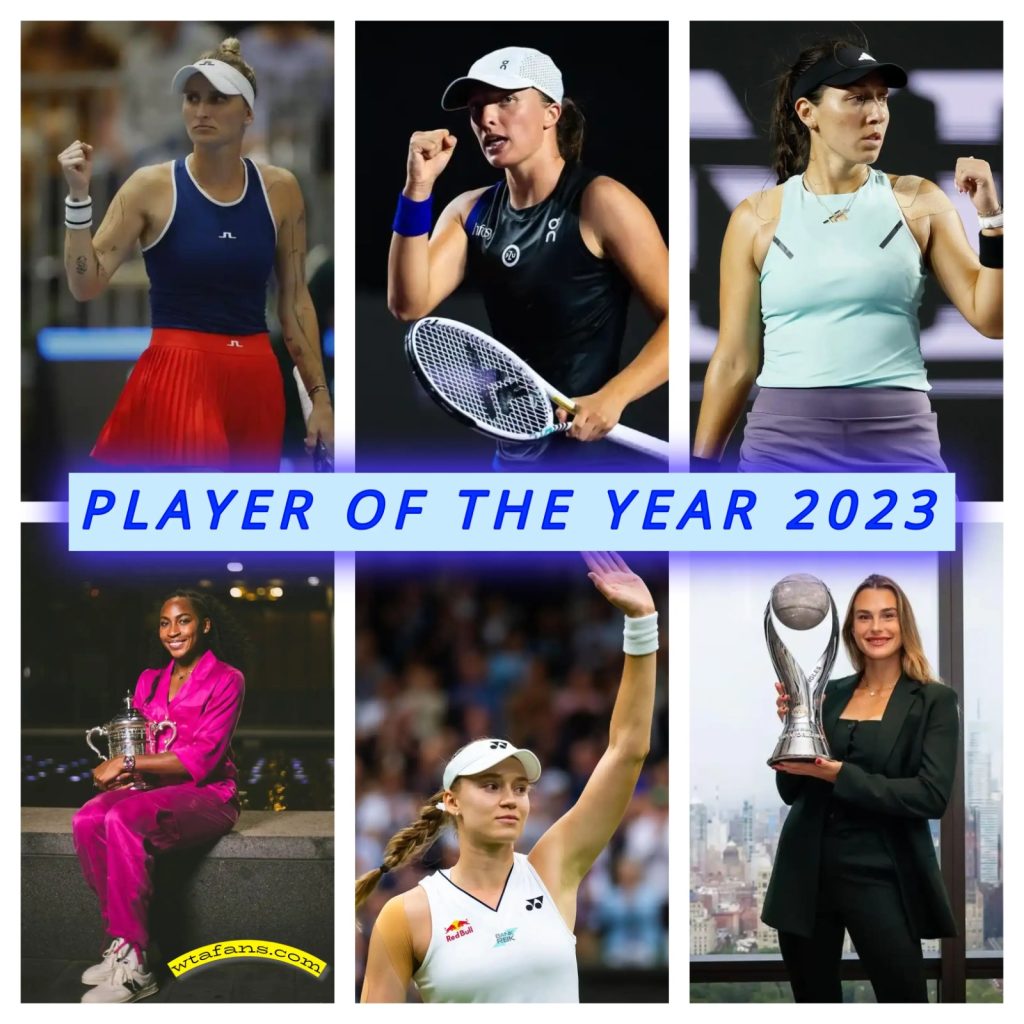 Doubles Team of the Year
The doubles counterpart to the player of the year, the Doubles Team of the Year celebrates the tennis pairing that made the biggest impact that particular season. The 2023 nominees were as follows: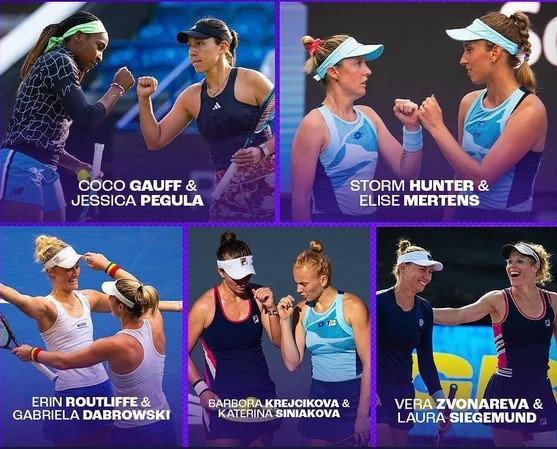 Coco Gauff / Jessica Pegula:
Once again the fan-favorite American duo won at Doha and Miami, and finals in Madrid and Rome. They also achieved their highest-ever rankings in both singles and doubles, reaching co-ranked World No.1 in doubles by September.
Storm Hunter/Elise Mertens:
Ending the year as World No.1, Storm Hunter reached five finals in 2023 with three different partners. Notably, she and Elise Mertens won two WTA 1000 titles and reached the Wimbledon final, marking Hunter's first major final and Mertens' fifth. The duo also made their team debut at the WTA Finals, reaching the semifinals.
Gabriela Dabrowski / Erin Routliffe:
Teaming up in August, Gabriela Dabrowski and Erin Routliffe had a stellar start, winning the US Open in their fourth tournament. They followed up with a final in Guadalajara, a second title in Zhengzhou, and qualified for the WTA Finals, where Routliffe made history as the first New Zealander in the year-end finale.
Barbora Krejcikova / Katerina Siniakova:
The doubles no. 13 and no. 10, the Czech pair continued their impressive 2023 campaign, kicking off with an 11-match winning streak. This streak featured their seventh Grand Slam victory at the Australian Open, along with securing the Indian Wells title and 5th consecutive time played Finals. They have undoubtedly been one of the most significant doubles teams of this era.
Laura Siegemund/Vera Zvonareva:
The pair clinched their first WTA Finals spot with a last-minute Nanchang title win. This victory, along with success at the WTA Finals, brought their 2023 total to four titles, including Washington and Ningbo. Despite Zvonareva's 11-month injury layoff, they also reached their second US Open final.
Most Improved Player of the Year
As the name suggests, this title is given to the players who showed the most growth and improvement in their play, which translated well into match wins and reflected on their rankings. For a player very low in the rankings to then break into the top 100, she could become a potential candidate for the Most Improved Player Award. The 5 in running for the title were:
Wang Xinyu:
Surging from No.97 to No.32, Wang Xinyu excelled in both singles and doubles. She claimed her first Grand Slam doubles title at Roland Garros and showcased improved forecourt skills, reaching the fourth round at the US Open and two WTA semifinals.
Zhu Lin:
Zhu Lin had a breakthrough in 2023, climbing from No.87 to a career-high No.31. Notable achievements include her first Top 10 win, reaching the Australian Open fourth round, and securing her maiden WTA title in Hua Hin. She also scored victories over Caroline Garcia and Victoria Azarenka.
Katie Boulter:
Thriving in 2023, Katie Boulter, after four years outside the Top 100, won her first title in Nottingham. She reached the third round at Wimbledon and the US Open, climbing to No.58 from No.157 in April.
Zheng Qinwen:
Continuing her ascent, Zheng Qinwen reached a career-high No.15 in 2023. Notable achievements include a maiden title in Palermo, a Grand Slam quarterfinal debut at the US Open, and a second title at WTA 500 level in Zhengzhou.
Jasmine Paolini:
Italian player Jasmine Paolini rebounded in the second half of 2023. Winning a WTA 125 title and reaching finals in Palermo and Monastir, she added consistency to her game. Paolini reached her first WTA 1000 quarterfinal in Cincinnati and a WTA 500 semifinal in Zhengzhou, securing a Top 30 ranking.
Newcomer of the Year
The Newcomer of the Year Award is similar to the Most Improved Player of the Year but relegated to new players who've either made a top 100 debut or had some other notable accomplishment. The award is a good way to draw attention to new and upcoming talent. The candidates for this year's Newcomer of the Year title were: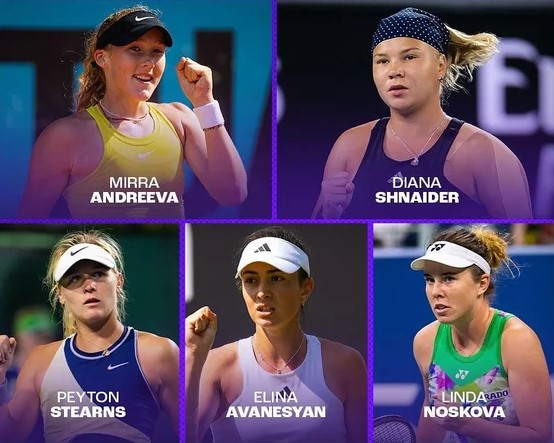 Mirra Andreeva
The Russian star made a stunning leap from No.405 to No.46 in the year-end Top 100 rankings, marking the most significant jump. The 16-year-old had a breakout season with a 16-match winning streak, including impressive runs in Madrid, Roland Garros, and Wimbledon, finishing the year with a 36-9 record and four Top 20 wins.
Diana Shnaider
The Russian star, a tour-level newcomer in 2023, swiftly qualified for the Australian Open, turned pro in May, reaching semis in Hamburg and Nanchang, making her first WTA final in Ningbo, and securing two Top 20 wins, cutting her year-end ranking from No.182 to No.60.
Peyton Stearns
Peyton Stearns, transitioning from the U.S. college system to the pro circuit in 2022, cut her ranking from No.209 to No.53 in her first full season. Achievements included a debut WTA final in Bogota, a first Top 20 win at Roland Garros, and a US Open fourth-round debut, propelling her into the Top 50.
Elina Avanesyan
Another Russian player, leveraging lucky loser entries, upset Top 20 players at Roland Garros and Berlin, making history. She reached her first WTA 500 quarterfinal and quarterfinals in Budapest and Lausanne, finishing the year at No.75 from No.134.
Linda Noskova
In a remarkable 2023 start, Czech teenager Linda Noskova reached her first WTA final in Adelaide, upsetting Daria Kasatkina, Victoria Azarenka, and Ons Jabeur. She finished the year as the youngest player in the Top 50 at No.41 after reaching another final in Prague and securing a Top 10 win over Petra Kvitova in Cincinnati.
Comeback Player of the Year
Players forced into hiatus due to either injury or other personal reasons ultimately experience a drop in ranking due to inactivity. Those players who return to play, recording some top wins, titles, or other achievements to restore their ranking are prime contenders for the Comeback Player of the Year Award. The 4 nominees were: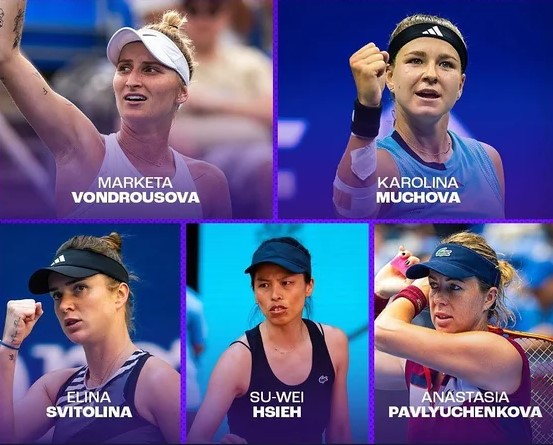 Marketa Vondrousova:
Marketa Vondrousova rebounded from injury setbacks to become the first unseeded women's champion at Wimbledon, reaching a career-high of No.6, and qualifying for the WTA Finals for the first time in 2023.
Karolina Muchova:
The Czech player overcame injury setbacks, starting 2023 at No.151, but surged back with consecutive WTA 1000 quarterfinals, reaching her first Grand Slam final, making her Top 10 debut, and qualifying for the WTA Finals for the first time.
Elina Svitolina
The Ukrainian star made a triumphant return from maternity leave, winning her 17th career title, reaching the Roland Garros quarterfinals and Wimbledon semifinals, and defeating World No.1 Iga Swiatek, boosting her ranking from No.508 to No.27 in two months.
Anastasia Pavlyuchenkova
Anastasia Pavlyuchenkova, rebounding from an injury hiatus, showcased her resilience with a Roland Garros quarterfinal, Tokyo semifinal, and quarterfinal finishes in Strasbourg and Hong Kong, finishing the season at No.59.
Hsieh Su-Wei
Hsieh Su-Wei, returning after an 18-month break, secured a stellar doubles season in 2023, winning two Grand Slam titles (Roland Garros and Wimbledon) with partners Wang Xinyu and Barbora Strycova, ending the year as the doubles No.6.
Coach of the Year
The Coach of the Year Award is different compared to the WTA Awards and PLayer Service awards. It is voted on by WTA-registered coaches. Coaches are an often overlooked aspect of professional tennis that goes unnoticed by most fans. So, to highlight their importance to a player's success and recognition, the Coach of the Year Award is given to those who have served as ambassadors for the sport and been great role models and teachers through and through. The nominees for this year were: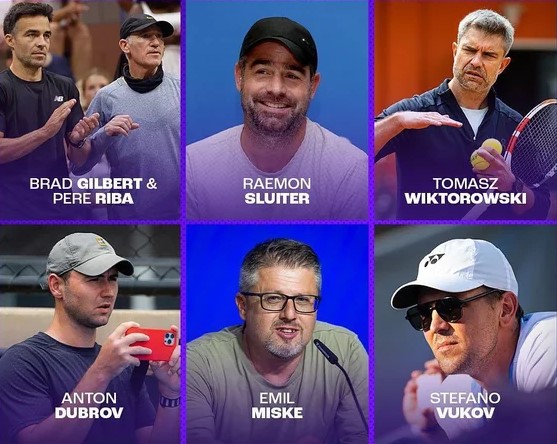 Brad Gilbert & Pere Riba: Both has coached WTA player Coco Gauff.
Raemon Sluiter. Sluiter is a Dutch tennis coach and former player. He has coached WTA player Elina Svitolina
Tomasz Wiktorowski: He is a Polish tennis coach and former player. He has coached WTA player Iga Swiatek
Anton Dubrov: Anton Dubrov is a Belarusian tennis coach and former player. He has coached WTA player Aryna Sablenka
Emil Miske: Emil is a Slovakian tennis coach and former player. He has coached WTA player Karolina Muchova
Stefano Vukov: Stefano is a Croatian coach and former player. He has coached WTA player Elena Rybakina
WTA Player Service Awards Categories
The following 2 awards, the Karen Krantzcke Sportsmanship Award and the Peachy Kellmeyer Player Service Award both fall under this category. What distinguishes these 2 awards is that other WTA players will vote and select the award winners. They are also unique in their naming, being based on influential executives and iconic players. 
Karen Krantzcke Sportsmanship Award
This is the award named in memory of Karen Krantzcke, an Australian player. She passed off from a heart attack at age 31 whilst she was jogging. The year after her death, this award was given to Evonne Goolagong for her exceptional sportsmanship. The award is given to players who serve as paragons for professional etiquette and behavior that is fitting of an international sports figure.
Peachy Kellmeyer Player Service Award
Peachy Kellmeyer, the Current administrator is a very important part of women's tennis history. The former player was the first tour director of the Virginia Slims circuit, the precursor to the WTA Tour. In her honor, the Peachy Kellmeyer Player Service Award is given to players and executives who have contributed to the tennis industry, mainly through administration or as an executive.
Jerry Diamond Aces Award
Jerry Diamon Aces Award has made a return to the WTA Awards after not being awarded for 2 years. It is a title reserved for tennis players who tirelessly promoted the sport both on and off the court. The award was first given to Arantxa Sanchez Vicario in 1995. Like the previous awards, the Jerry Diamond Aces Award is also named after an important and influential tennis person. Jerry Diamond, the late WTA trailblazer and former CEO served as the inspiration for this award.