Qinwen Zheng Net Worth 2023, Sponsors, Earnings, Racquet
The young talent from China shook the tennis world this season after her breakthrough year. Garnering international stardom so early into her career, many are excited about Zheng Qinwen net worth.
The current Chinese No. 2 player is projected to become one of the top 10 players in the coming years after her stellar performance at the Grand Slams, notably at Roland Garros. Continue reading if you wish to find out more about the 2022 WTA Newcomer of the Year, Qinwen Zheng.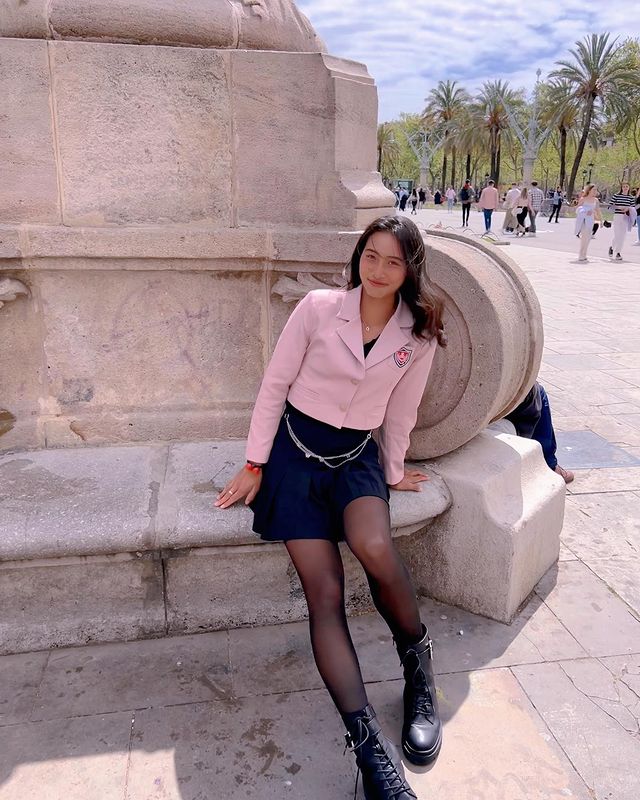 Qinwen Zheng Profile/Bio
| | |
| --- | --- |
| Name | Qinwen Zheng |
| Estimated Net Worth | US $1.8 million |
| National/Birth Place | Shiyan, Hubei Province, China |
| Date of Birth (Age) | Oct 8, 2002 (20) |
| Height | 5′ 10″ or 1.78m |
| Plays | Right-Handed |
| Gender | Female |
| Endorsements | Wilson, Nike, Ant Group (Alipay) |
Zheng was born in Shiyan, Hubei, China on the 8th of October 2002 making her 20 years old as of 2023. Though the identity of her parents and family is unknown to the public, it is known that her parents encouraged Zheng to pursue athleticism.
As a child, she was given many opportunities to try different sports including table tennis. After she expressed her love for tennis, Zheng's parents wholeheartedly supported their daughter's decision to become a professional athlete. She went on to participate in various national youth competitions as well as multiple training camps in China and around the globe.
She currently trains under coach Pedro Riba in Barcelona. Her tennis idols are Roger Federer, Serena Williams, and Li Na. Li Na in particular has been an inspiration for most of the post-Li Na generation as she proved there was a place at the top for Chinese players when she won a major title.
Qinwen Zheng Net Worth
Zheng's net worth has seen a sharp rise in the 2022 season as she gained international stardom. Her net worth is currently estimated to be above $1.8 mil. According to various online resources (Wikipedia, Forbes, Bloomberg), the most popular Chinese tennis player Qinwen Zheng's net worth is around $1.8 Million. She currently has Prize money of $1,754,443 from his professional tennis career and her YTD 2023 prize money is $696,037.
Qinwen Zheng Career Earnings
Just 2 years into her professional career, Zheng has made just over a million dollars in prize money. In total, she has accumulated $1,058,406, the bulk of which she made in the 2022 season. A table of her yearly earnings is given below. She won Tennis Future Hamburg, Germany after defeating Linda Fruhvirtová. She has also played at the Macha Lake Open in Stare Splavy which is the $60k and won this final match.
| | |
| --- | --- |
| Year | Prize Money |
| 2023 | $696,037 |
| 2022 | $984,873 |
| 2021 | $73,533 |
Qinwen Zheng Career Stats
Zheng Qinwen, a 20-year-old Chinese tennis player, secured her first Grand Slam quarter-final spot at the US Open by defeating world No. 5 and last year's finalist Ons Jabeur by 6-2, 6-4. This marked her third top-five win in her career. In QF, new world no 1 Aryna Sabalenka waiting for the clash.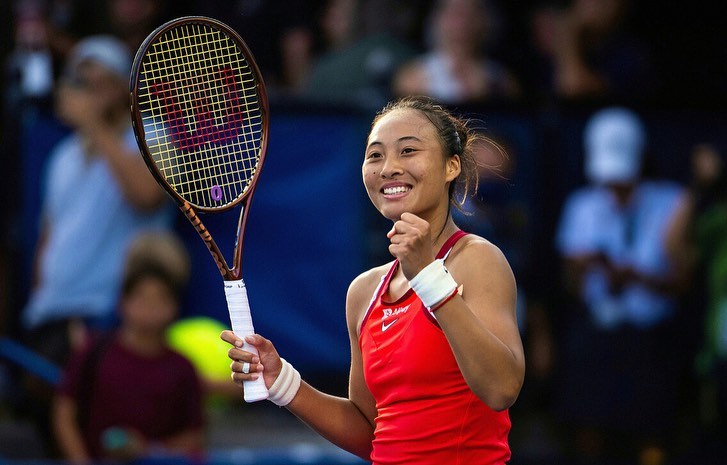 There were obvious signs of a prosperous professional career even during Zheng's junior career. At the Junior Grand Slams in singles, her best showings were making the semi-finals at both the US and French Opens in 2019. At Wimbledon and the Australian Open Zheng reached the 3rd round and second rounds respectively. She also saw success at the girls' doubles Grand Slams when she became a quarter-finalist at the 2018 US Open and 2019 French Open.
Zheng best performs at the US and French Open showing her proficiency at hard and clay court surfaces. This trend can be observed even in her professional career. But even before Grand Slam successes, Zheng was winning titles at the ITF Juniors Circuit. Across 2 years, she won 5 singles juniors titles including 3 Grade 1 events, and was runner-up at 2 Grade A events, the highest level ITF Juniors Circuit tournaments. She won most of these titles as a 15-year-old.
In 2020, Zheng went a professional at the age of 17. She didn't make her WTA Tour debut but instead focussed on the ITF Circuit. She went on to win 5 ITF titles which were 4 $25k titles and a $10k tournament in August which was her first. Besides this her, 2020 season was uneventful. Her 2021 season was much the same but with some marked improvements and milestones. She started the season with a $25k title in Hamburg, Germany. Then in June, she won the biggest title of her career at the Macha Lake Open, Czech Republic when she snatched the $60k title.
Qinwen Zheng Grand Slam Records
Qinwen has played in a few Grand Slam tournaments so far. We've put together her performance statistics for the majors.
Australian Open 2022 R64x1
Roland Garros 2022 (French Open) R16x1
Wimbledon Open 2022 R32x1
US Open 2022 R32x1
Qinwen Zheng WTA Debut
In the following month, she made her WTA Tour main draw debut. At the Palermo Ladies Open, Zheng entered the competition as a qualifier and entered the main draw of the competition for the first time in her career. She won her first WTA match at the event when she upset Luidmila Samsonova. She ended the year with another $25k title from Funchal, Portugal after she upset Martina Trevisan in the finals. Her ranking also broke into the Top 150.
Zheng's 2022 season was easily her breakthrough year with Grand Slam and ATP 1000 successes along with multiple top-ranking upsets. Right at the beginning of the 2022 season, Zheng reached her first WTA semi-final when she upset former no. 2 Vera Zvonareva and Ana Konjuh at the Melbourne Summer Set 1. Her run to her first final however would come to an end after failing to Simona Halep.
Qinwen Zheng Grand Slam Debut
Just a week later, Zheng qualified for her first Grand Slam tournament in Australia. She upset Aliaksandra Sasnovich in the first round but lost to Maria Sakkari in the second. She ended the month of January with a second $60k title in Orlando, Florida, USA, making for an extremely eventful start to the 2022 season. Her ranking also broke into the top 100, becoming the first player to do so in the 2022 season.
Then at the French Open, her run to the 4th round quickly made her a fan favorite, besting top players like former French Open Champion Simona Halep, Maryna Zanevska, and former no. 11 Alize Cornet. Simona Halep was her first of many top 20 upsets this season. She did however lose to eventual champion and world no. 1 Iga Swiatek. This was a decisive victory for the teenager and her ranking subsequently broke into the top 50.
She continued to see success and won her first WTA125 title at the Open de Valencia defeating compatriot Wang Xiyu for the title. At her Wimbledon debut, she got to the 3rd round notably defeating Sloane Stephens in the first round and Green Minnen in the second round, before falling to eventual champion Elena Rybakina. Zheng had also participated and qualified for 4 WTA1000 events with her best performance seen in Toronto. At the Canadian Open, Zheng upset world no. 5 Ons Jabeur for her first top-10 win in the second round. She then upset Bianca Undreesu in the 3rd round before losing to Karolina Pliskova in the quarter-finals.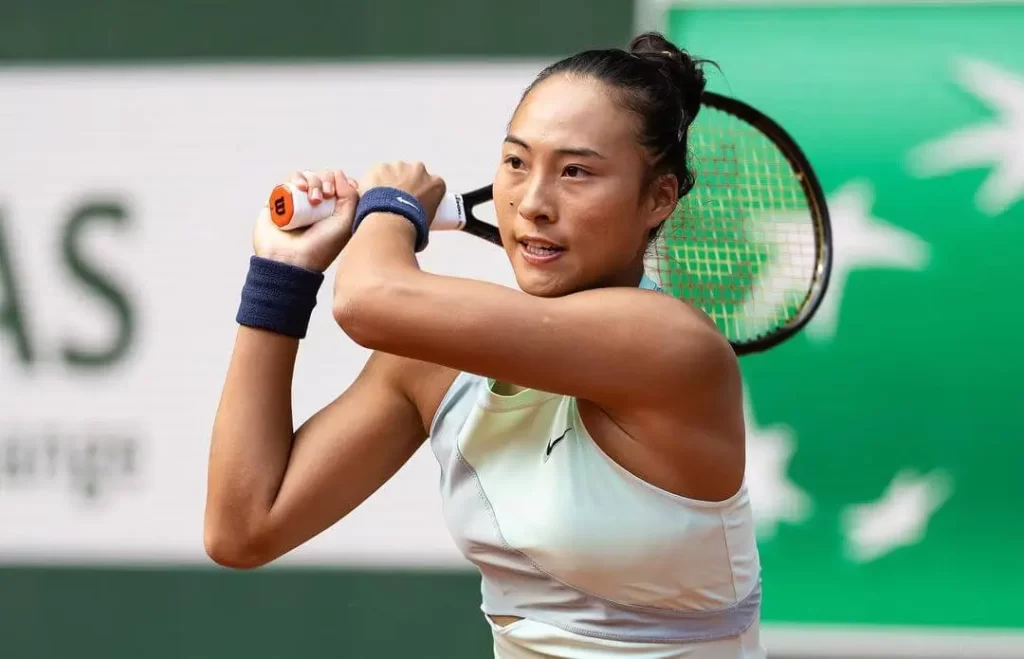 Her US Open performance marked her second 3rd round run at the 2022 Grand Slams. She defeated Jelena Ostapenko and Anastasia Potapova to reach the 3rd round. Zhen ended the 2022 season with her first WTA final at the Pan Pacific Open in Tokyo. She became the first Chinese teenager to reach a Tour Final after upsetting world no. 4 Paula Badosa, her second top 5 upset of the season. She lost to Ludmila Samsonova in the finals.
After her WTA500 final appearance, she became the second teenager of the season, after Coco Gauff, to make a WTA500 level or higher final. Zheng also became the first Chinese teenager to break into the top 30. She would peak at no. 25 after her last tournament of the season. At the San Diego Open, seeded for the first as no. 3, she defeated Garbine Muguruza to reach the 2nd round.
Qinwen Zheng WTA Titles
As of the end of the 2022 season, Zheng has won a Challenger Title at the Open de Valencia and 8 ITF Circuit titles, 2 of which were 60k tournaments. Though she has no other WTA titles, she was the first player in 2022 to make a Top 100 debut and the first Chinese teen to have done so since 2006, over 16 years. In what was easily the biggest achievement of her career, Zheng was recently named the 2022 Newcomer of the Year at the WTA Awards. Currently ranked world no. 27, she peaked at the no. 25 spot in October.
Qinwen Zheng Sponsors/Endorsements
The no. 2 Chinese player is sponsored by Wilson for her racquets and can be seen sporting Nike sportswear on the court. In 2022. She is sponsored by Ant Group (Alipay) which is an affiliate company of the Chinese conglomerate Alibaba that offers digital payment services.
Qinwen Zheng Racquet
Zheng Qinwen, who is sponsored by Wilson, endorses their flagship Pro Staff tennis racquet, the same one also used by her idol, Roger Federer. In reality, she uses a modified Wilson nCode nTour 95 racquet that has been painted to resemble the Pro Staff. Some specs for her tennis racquet include a 16×20 string pattern and a 97 in2 head size. According to some old pics she used a ProStaff 97LS in 2018, and the Tuxedo PS97 in 2019.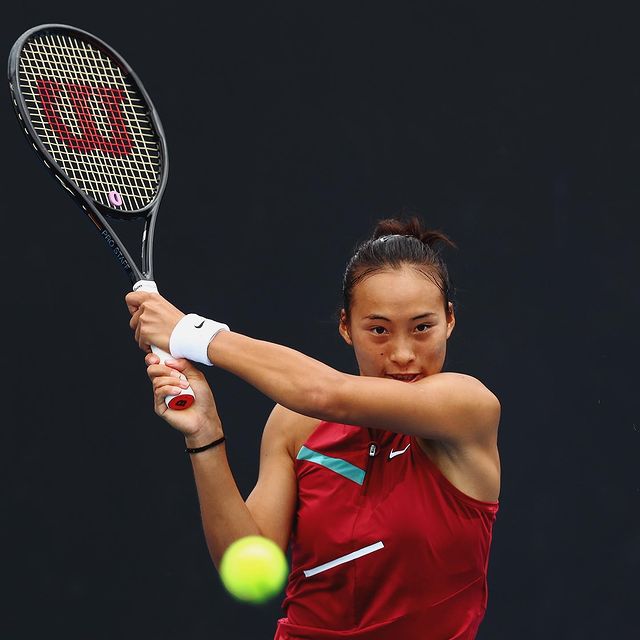 Head Size: 97 sq. in. / 340 cm
Length: 27 in / 68.58 cm
Weight Strung = 11.7 oz /332g
Unstrung = 11.1 oz / 315g
Beam Width: 21.5/21.5/21.5 mm
Stiffness: 66
Construction: Braid 45
Racquet Colors: Black
String Pattern: 16 Mains / 19 Crosses
Swing weight: 325 kg*sq. cm
Endorsed & Signed by Qinwen Zheng
Qinwen Zheng Family
The 20-year-old is currently not in a public relationship. Having just had her career take off, Zheng might want to keep aspects of her life private, including her love life. She also has no reported children.
FAQs:
What is Qinwen Zheng net worth?
Her net worth is estimated to be around $1.8 million as of 2023.
Which racket does Qinwen Zheng use?
She uses a modified Wilson nCode nTour 95 Mid Plus painted to resemble the Pro Staff.
What is Qinwen Zheng's best Grand Slam performance?
She made the 4th round at the French Open in 2022, which was her debut performance.
What is Qinwen Zheng known for?
She is famous as a young Chinese tennis star who had an amazing Grand Slam performance at the French Open and is the 2022 WTA Newcomer of the Year.
How many titles has Qinwen Zheng won?
She has won 8 ITF titles and a WTA 125 Challenger title.
Qinwen Zheng Net Worth Summary
Qinwen's worth is around $1.8 million as of 2023. The most amount of her worth is from the prize money she receives during her life career. A lot of brands collaborate with her and she makes around the worth of $1.5 million from them. The worth is estimated so there may be a place where the worth is quite different.