Elena Rybakina Net Worth 2023, Sponsors, Prize Money, Racquet
A talented and professional tennis player Elena Andreyevna Rybakina has gathered a worth of around $10 million as of 2023. She is one of the young rising stars of the tennis world because of her passion, knowledge, and determination to achieve her life goal.
She is the inspiration of the people of Kazakhstan where she is from. Elena is the diva and she sported her entire life to her dreams and to maintain her performance. She is the current Kazakhstani female no. 1 player in singles and number 4th on the WTA rankings after reaching the final of the Italian Open.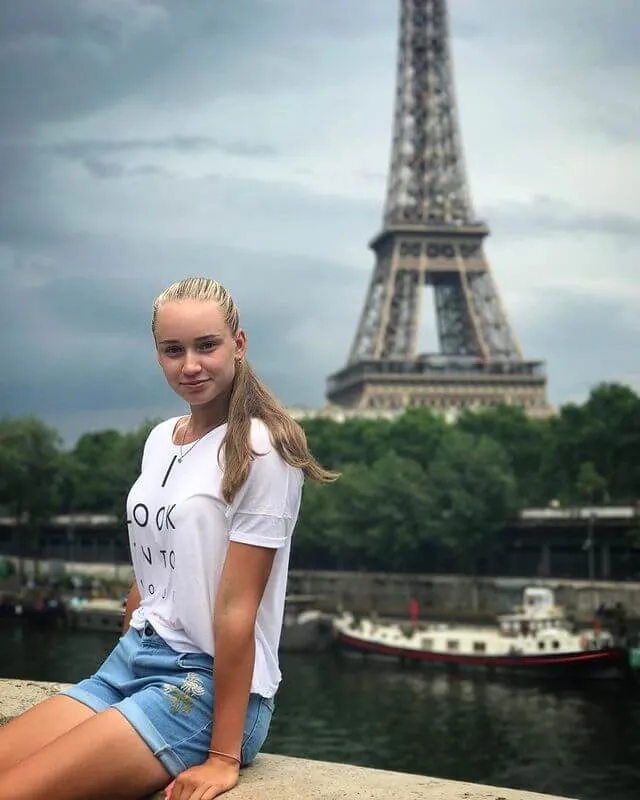 Elena Rybakina Profile/Bio
| | |
| --- | --- |
| Name | Elena Rybakina |
| Estimated Net Worth | US $10 Million |
| National/Birth Place | Moscow, Russia |
| Date of Birth (Age) | Jun 17, 1999 (23) |
| Height | 6′ 0″ or 1.84m |
| Plays | Right-Handed |
| Gender | Female |
| Endorsements | Adidas, Yonex, Nike(expired) |
Elena Rybakina Career Stats
Elena just one the final of the Italian Open, her 2nd title of 2023 after his opponent Anhelina Kalinin retired three times due to injury.
Elena also won the Final of the Indian Wells 2023 and grabbed the victory from current world no. 2 Aryna Sabalenka, the champion of the 2023 Australian Open, and earned the tremendous prize money of $1.26 million.
Elena just won the quarter-final of the Australian Open 2023 by knocking out Victoria Azarenka (7-6, 6-3) and earned the marvelous prize money of A$1,625,000 which will boost her career prize money.
The estimated net worth of Elena is close to $9 million as of 2023. In further detail, the first prize she earned in 2019 was $355,606. In 2020 the prize for winning another title has a worth of around $1,022,234 and her YTD 2023 prize money is recorded as $3,178,819.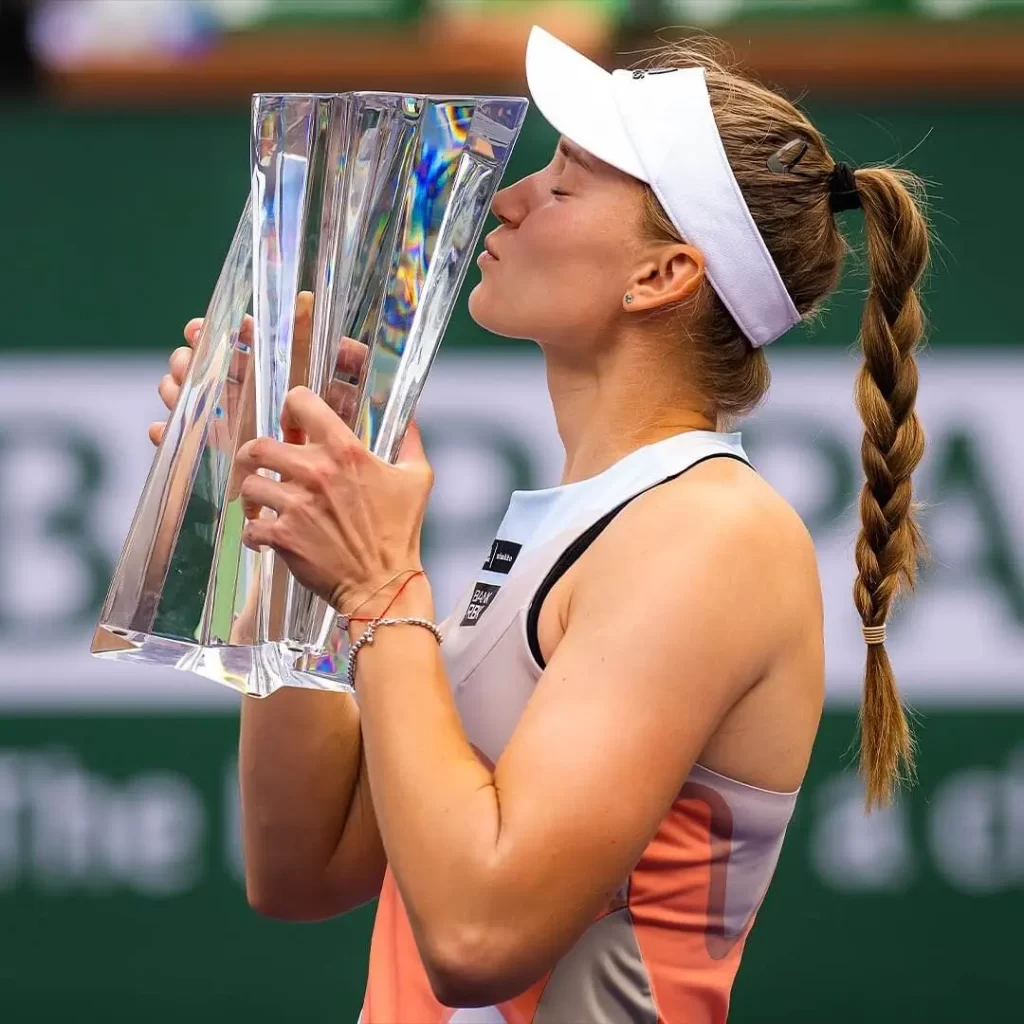 In Kazan, she won her ITF title of $15k event while in Istanbul she played with Sabina Sharipova and became a runner-up at $60k. In 2021 Elena earned the prize money of $218,779 for playing 17 matches. The total prize money worth according to WTA is $7,549,927. Her present salary is estimated to be $15,000.
Elena Rybakina Grand Slams
Elena has only played in a few Grand Slam tournaments so far. We've put together her performance statistics for the majors.
Australian Open 2023 Fx1
Roland Garros 2021 (French Open) QFx1
Wimbledon Open 2021 R16x1, 2022 (Wx1)
US Open 2021 R32x1
Elena Rybakina Sponsors
Elena has collaborated for her sportswear and her racquets with the well-known sportswear producer Adidas and tennis system producer Yonex. Until 2020, her tennis sponsor was Nike. The Kazakh worldwide has procured greater than 2.3 million in prize cash on her own.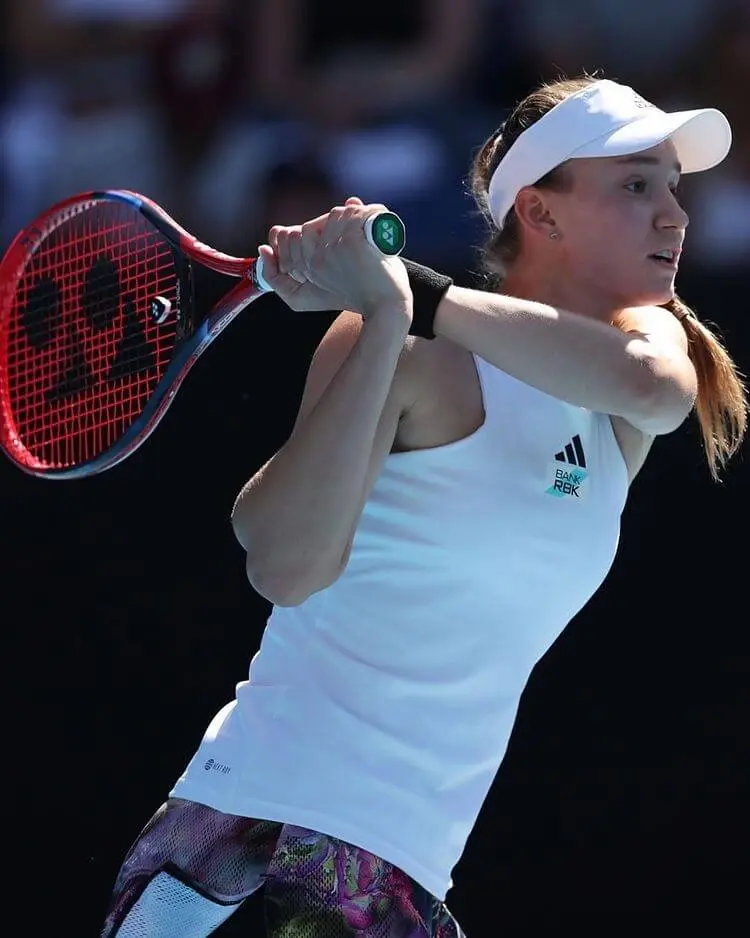 Elena Rybakina Racquet
Elena Rybakina is currently playing with YONEX VCORE 100 Tennis Racquet & the same racquet used by Nao Hibino, Carolina Garcia, Angelique Kerber & Dona Vekic
Head Size: 100 in / 645.16 cm
Length: 27 in / 68.58 cm
Strung Weight: 11.3 oz / 320 g
Beam Width: 24/25/22 mm
Stiffness: 66
Frame Material: HM Graphite / 2G-Namd Flex Force / VDM
Grip Type: Yonex Synthetic
Racquet Colors: Red
String Pattern: 16 Mains / 19 Crosses
String Tension: 45-60 pounds
Swing weight: 324 
Endorsed & Signed by Elena Rybakina
FAQs About Elena
Who is Elena Rybakina?
Elena Rybakina is a professional tennis player from Kazakhstan. She was born on June 17, 1999, in Moscow, Russia, and began playing tennis at the age of six.
When did Elena Rybakina turn pro?
Rybakina turned pro in 2016, at the age of 17. She played her first WTA tournament in Astana, Kazakhstan, in the same year.
What is Elena Rybakina's highest WTA ranking?
Elena Rybakina's highest WTA ranking is world No. 4th, which she achieved in May 2023.
What is Elena Rybakina's playing style?
Elena is known for her aggressive style of play, with a powerful serve and strong groundstrokes. She is also comfortable playing at the net and has a good touch for volleys.
What are Elena Rybakina's notable achievements in tennis?
Elena has won several WTA titles, including the Australian Open in 2023, Hobart International in 2020, the Dubai Tennis Championships in 2021, and the Shenzhen Open in 2022. The most recent title is Indian Wells (BNP Paribas Open)
What is Elena Rybakina's career prize money?
As of March 2023, Elena Rybakina's career prize money is around $10 million USD.
What is Elena Rybakina's current ranking?
As of March 20, 2023, Elena Rybakina's current ranking is world No. 04 in singles and world No. 94 in doubles.
Elena Rybakina Net Worth Summary
Elena is the young star of the world of tennis, she is too young to make a net worth of around $10 million. In her entire career, she has worth $10,113,312 in only prize money. In this article, we have discussed Elena's earnings and salary, which are the reason for her net worth.