Aliaksandra Sasnovich Net Worth, Titles, Sponsors, Prize Money, Racquet
Aliaksandra Sasnovich has had a consistent performance throughout her career, even over a decade in, she continues to improve reaching her career highest ranking of 29 in September of this year. Her mother Natalia was a basketball player and her father had played hockey and tennis for over two decades. With sports practically coursing through her blood, a 9-year-old Aliaksandra would start playing tennis and 6 years later, go professional. She is also studying at a university in Minsk for a physical culture degree.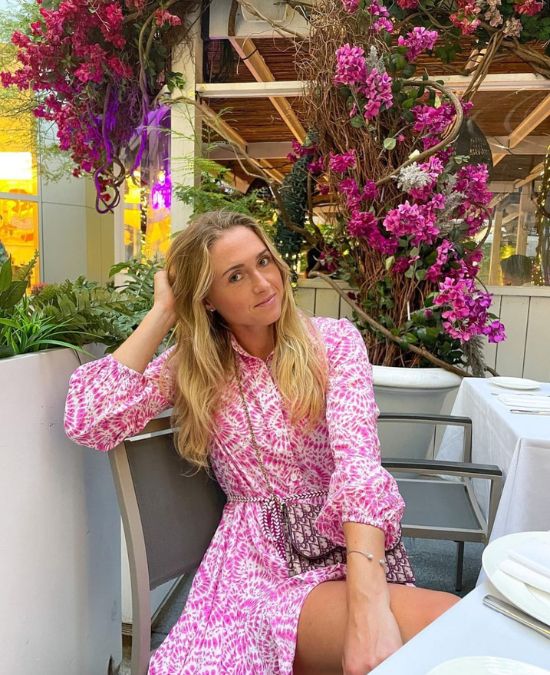 Aliaksandra Sasnovich Profile/Bio
| | |
| --- | --- |
| Name | Aliaksandra Sasnovich |
| Estimated Net Worth | $5 Million |
| National/Birth Place | Minsk, Belarus |
| Date of Birth (Age) | Mar 22, 1994 (28) |
| Height | 5′ 9″ or 1.74m |
| Plays | Right-Handed (two-handed backhand) |
| Gender | Female |
| Endorsements | HEAD, Lotto, LACOSTE |
Aliaksandra Sasnovich Net Worth
Aliaksandra Sasnovich is one of the richest female tennis professionals. According to different sources, Belarusian tennis player Aliaksandra Sasnovich Net Worth is approximately $5 million. She earned $1.5 million just at the age of 25 and still continues her journey. If we talk about 2022, she earned $793,574 as prize money. But 2018 is considered her most successful season in terms of earnings, where she earned just over a million dollars ($1,007,650).
Aliaksandra Sasnovich Prize Money
Throughout her career, Aliaksandra has accumulated $4,756,977 in prize money. As of October 9th, she has made $760,469 in 2022 alone, becoming her 2nd most financially successful year. However, the most prize money she earned was in her 2018 season which was also her best Grand Slam performance, making $1,007,650, the 38th highest for the year.
| Season | Earnings |
| --- | --- |
| 2022 | $793,574 |
| 2021 | $645,574 |
| 2020 | $443,563 |
| 2019 | $818,446 |
| 2018 | $1,007,650 |
| 2017 | $351,018 |
| 2016 | $291,438 |
| 2015 | $213,150 |
| 2014 | $113,326 |
Aliaksandra Sasnovich Sponsors
Sasnovich is sponsored by HEAD for racquets and Italian sportswear company Lotto, whose logo she can be seen sporting on her shirts. But since the start of the 2021 season, she is wearing different brands of cloth like lotto, and Adidas. Previously, she was sponsored by Adidas and NIKE before. Currently, she is wearing Lacoste in San Diego Open.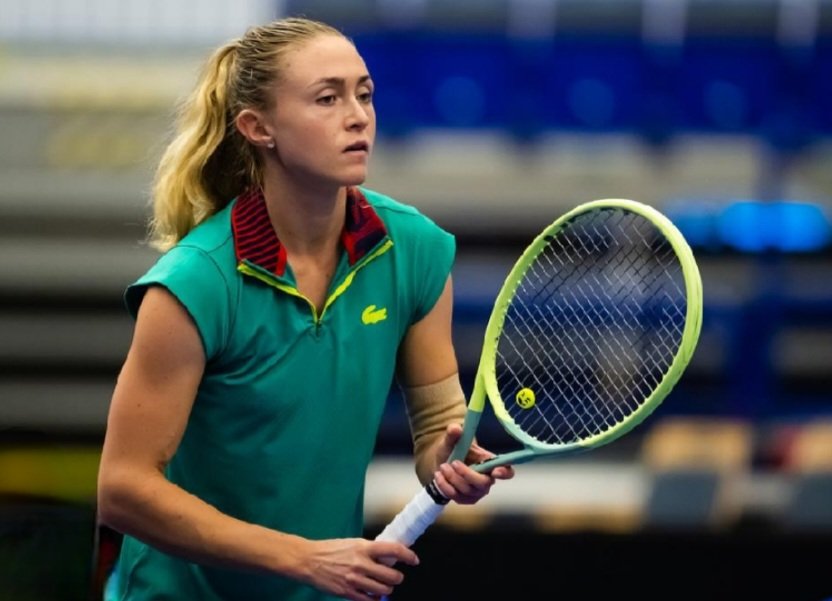 Aliaksandra Sasnovich Tennis Racquet
As an ambassador for Head, Sasnovich uses a Head Extreme Graphene Pro racquet. The black and neon-green racquet has a 100-square-inch head size and a 16×19 string pattern.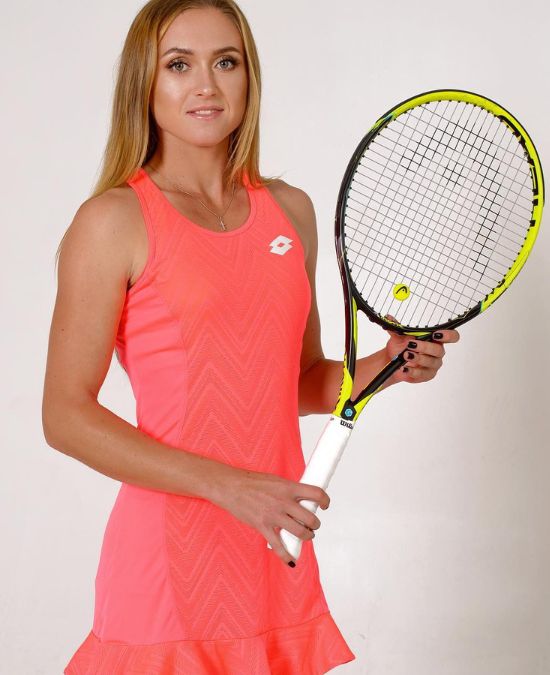 Head Size: 100 in² / 645.16 cm²
Length: 27in / 68.58cm
Strung Weight: 11.2oz / 318g
Balance: 13.18in / 33.48cm / 3 pts HL
Beam Width: 23mm / 26mm / 21mm
Stiffness: 63
Composition: Graphene 360/ Graphite
Racquet Colors: Yellow/black
String Pattern: 16 Mains / 19 Crosses
String Tension: 52-62 pounds
Endorsed & Signed by Aliaksandra Sasnovich
Aliaksandra Sasnovich Career
Going professional in 2009, Sasnovich almost exclusively played for the ITF Circuit, making her debut in the $50K Minsk tournament. Her first win would come in 2012 at the $10K Cagliari, followed by a second and third win just a few months later at the Pomeria and St. Petersburg $10K tournaments. That same year she also won her first 2 doubles tournaments and even her hometown singles tournament.
Even though 2012 brought her a total of 5 WTA titles, she would almost double her wins in 2013. Aliaksandra went on to win two $10K, one $25K, one $50K, and even a $100K tournament at Poitiers, France, making the season her best on the ITF Circuit. For doubles tournaments, she added 4 more championships to her roster.
Aliaksandra Sasnovich WTA Tour Debut
The year 2013 also marked her WTA Tour debut when she participated in the Brussels Open, reaching the quarter-finals in the doubles category. As for her singles debut, at the beginning of 2014, Sasnovich participated in the Hobart International, a WTA250 tournament but couldn't make it past the qualifying rounds. Her performance stayed the same for the Grand Slam tournaments except for the US Open, miraculously reaching the 2nd round at her first US Open. Other accomplishments from the season included winning 2 more ITF titles.
The following year, Aliaksandra finally reached a WTA final at the Korea Open and also improved upon her Grand Slam performance by reaching the second round at Wimbledon. Her ITF Circuit journey would come to an end this year, however, following her victory at the St. Petersburg Neva Cup doubles.
2016 was the first year the 28-year-old made the main draws for all the Grand Slam championships, a feat she would replicate consecutively to this day. Her best performance came at Wimbledon, where she also made her Grand Slam doubles debut. Her 2017 season was much the same but 2018 would prove to become her best year in the WTA Tour.
The 2018 season featured her best Grand Slam performance to date, the highlights being: reaching the 4th at Wimbledon singles and 3rd Round at the French Open doubles. She also made the main draw for 6 WTA1000 tournaments and her best performance was at Indian Wells. After a stellar season, Aliaksandra reached a year-end ranking of 30, a substantial jump from 87 the year prior.
Although her Grand Slam singles performance wasn't of the same caliber as last year, 2019 saw major improvements at the WTA1000 tournaments and Grand Slam doubles, reaching the quarter-finals at the Italian Open and semi-finals at the US Open respectively. Apart from her best US Open performance, 2019 also saw Sasnovich defeating 2 top 10 players and her one and only WTA challenger final at Open de Limoges, France. She has been in US OPEN 2019 doubles Semifinal,
Now in the current decade, her 2020 highlights include reaching the 3rd round at the US Open and making the quarter-finals at the French Open in doubles. In 2021, Sasnovich reached the third round at Wimbledon, besting Serena Williams. Her top 10 domination didn't stop there, however, defeating another former world no. 1 at the Indian Wells Open. She eventually lost in the 4th round. Her first participation at the Cincinnati Open also became her best when she made the semi-finals.
Coming to the present day, Aliaksandra reached the finals at Melbourne Summer Set 2 and Tennis in Cleveland tournaments. The 2022 season also saw her reach her first French Open's 4th round. At the Ostrava Open, she reached the 2nd round and at the San Diego Open, Sasnovich couldn't make it past the qualifiers. She is not set to compete at the first edition of the Guadalajara Open later on in mid-October.
Aliaksandra has also been part of the Belarus team for the Fed Cup since 2012. Her win-loss record sits at 25-16, having won 17 singles matches for her team. Though she hasn't always partaken in the doubles category for the Cup, she has faired much better than in singles, with an 8-3 win-loss ratio.
Aliaksandra Sasnovich Career Titles
Aliaksandra has amassed a total of 18 titles on the ITF circuit, 11 being singles and 7 doubles. As for the WTA Tour, she has yet to win a title. Titles aside, Sasnovich has defeated many top 10 ranking tennis players, including four no. 1, three no. 2, and two no. 3 players. Her most recent top-ten victory was against Serena Williams where she defeated the tennis titan in the first round of the 2021 Wimbledon.
Aliaksandra Sasnovich Family
Aliaksandra romantic situation is a mystery to the public. Throughout her career, she has never been romantically linked to someone, perhaps because she wishes to keep her personal life private. It is believed she is currently single with no children.

| | |
| --- | --- |
| Aliaksandra Sasnovich Boyfriend | Unknown |
| Aliaksandra Sasnovich Married or Not? | Unmarried |
| Aliaksandra Sasnovich Husband | N/A |
| Aliaksandra Sasnovich Siblings | Polina (young sister) |
| Aliaksandra Sasnovich Parents (Mother,Father) | Natalia, N/A |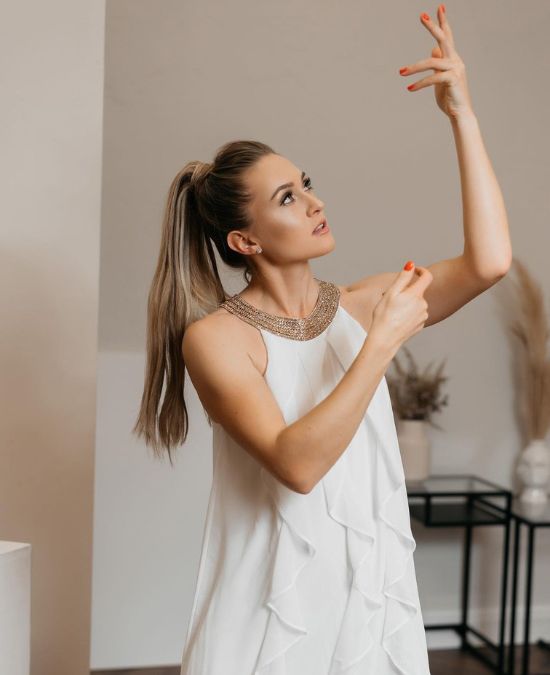 Aliaksandra Sasnovich Net Worth Summary
The article is about Aliaksandra Sasnovich Net Worth. The young star of tennis Aliaksandra estimated net worth till YTD 2022 is about US $5 million. She is one of the richest tennis players in Belarus and with such worth. By year she has increased her earnings and the net worth of Aliaksandra will touch $6 million in the next 2-3 years approximately.
FAQs
How many titles has Aliaksandra Sasnovich won?
She has won 18 ITF titles but no WTA titles so far.
Has Aliaksandra Sasnovich won any Grand Slam titles?
No, she has yet to win a Grand Slam tournament.
What is Aliaksandra Sasnovich's net worth?
Her net worth is approximately $5 million.
Is Aliaksandra Sasnovich in a relationship?
She is seemingly single.