Anastasia Potapova Net Worth 2023, Sponsors, Racket, Prize Money
Russia has been dominating the WTA top rankings, and the Russian no. 6 player, Anastasia Potapova represents the next generation of players. The rising star has been on an upward trend in her career and at world no. 28 as of March 4th, she shows no signs of stopping.
Anastasia made headlines after her quarter-final appearance at the 2021 Dubai Championships. The youngster former junior world no. 1 has amazing potential and is predicted to be among the very best as she develops in her career. In this article we'll be touching on the Russian's career, what racquet she uses, her relationships and so much more.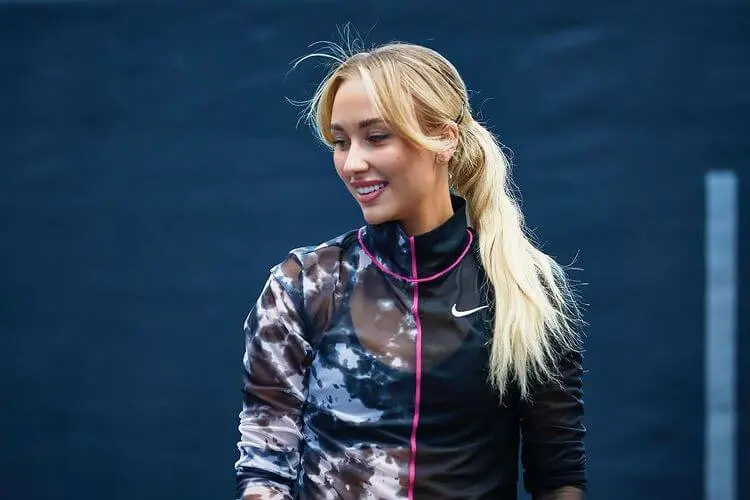 Anastasia Potapova Profile/Bio
| | |
| --- | --- |
| Name | Anastasia Sergeyevna Potapova |
| Estimated Net Worth | $2.8 Million |
| National/Birth Place | Saratov, Russia |
| Date of Birth (Age) | Mar 30, 2001 (21) |
| Height | 5′ 7″ or 1.75m |
| Plays | Right-Handed |
| Gender | Female |
| Endorsements | Nike, Wilson, One Sports Global Management |
Anastasia Sergeyevna Potapova was born on the 30th of March, 2001, making her 21 years old as of the 4th of March 2023. She is an only child to her parents; Yuliya Potapova and Sergey Potapova and she was born in Saratov, Russia. She seemed destined to play tennis as she not only belonged to a family of athletes and trainers, but it was her grandmother's wish to turn Anastasia into a tennis player.
Her mother Yuliya was a basketball coach for the Sports Institute's Saratov team and even her grandmother, Pavlinova Olga, was a former Russian national team coach. Her mother's accolades extend to volleyball as well and is a candidate for a Master of Sports in the discipline. She first started playing tennis at around 5 years old but a title win at just 9 years old confirmed her future as a tennis player. Anastasia has been training at the Alexander Ostrovsky Academy in Khimki since 2013 and is currently coached by Igor Andreev.
Anastasia Potapova Career Stats
2023 has already proven a good season for the 21-year-old. Tough the Australian Open resulted in first-round outs in both singles and doubles disciplines, she followed it up with 2 back-to-back quarter-final performances at the Lyon and Linz Open. The Linz Open run is noteworthy as Anastasia won her second-ever singles title and 5th career title. Most recently, she lost in the second round of the ATX Open. This early season performance has allowed her to reach new heights and to break into the Top 30 as world no. 28.
Prior to 2017, the year Anastasia went pro, she saw many successes as a junior. As a junior, she placed in at least the quarter-finals at all Grand Slam events. This included a semi-final appearance at the 2016 French Open, quarter-finals at the 2016 Australian Open and at the 2015 Wimbledon Championships, and a doubles final at the same French Open as well. As for the US Open, in 2015, she was runner-up in the doubles category.
Her biggest juniors accomplishment, however, has to be her 2016 Wimbledon Championship when she won the girl's juniors titles and attained the world's no. 1 junior position. Another highlight of her junior's career was winning the highly prestigious Nike Junior International by upsetting top juniors like Sofia Kenin.
2017 was the start of her professional career and she got her first taste of victory at a $25k event in the ITF Pro Circuit. Anastasia recorded her first Top 200 win and the victory allowed her to be ranked in the Top 500 for the first time. Another ITF achievement from that year was reaching the semi-finals of a $100k event in Trnava. She also made her WTA debut this year with a wildcard entry into the qualification round at the WTA 1000 Miami Open. There she got her first Top 100 win after winning against Maria Sakkari in the first qualifying round but she lost in the subsequent match. After 2 back-to-back semi-finals at ITF events, she received another wildcard to Wimbledon. She made her Grand Slam and WTA main draw debut at the very tournament but a fall forced her to retire in the first round, making her miss out on her first main draw victory. She ended the year ranked no. 242 with 8 Top 200 wins.
2018 was a step up from 2017 with many advancements in her WTA career. Anastasia started the year with an ITF final and finally, she earned her first WTA main draw victory at the St. Petersburg Trophy. She upset Tatjana Maria in her second-ever WTA main draw appearance. She won made 2 more ITF finals, including one in which she bested world no, 46 Monica Niculescu.
In the following year, the then 18-year-old Anastasia continued making improvements, winning her second career title and first Grand Slam main draw match. As a Top 100 player, Anastasia received direct entry into a Grand Slam main draw for the first time at the 2019 Australian Open. She upset Pauline Parmentier, winning a Grand Slam main draw match for the first time but she then lost in the second round. She continued this run to the Hungarian Ladies Open where she became a semifinalist in both the singles and doubles competitions. Though her WTA 1000 tournament performance was lackluster, she reached the 2nd round at the French Open and Wimbledon. Her biggest match win so far also happened in 2019 when she upset world no. 5 Angelique Kerber in the first round of the French Open, recording her first Top 10 win.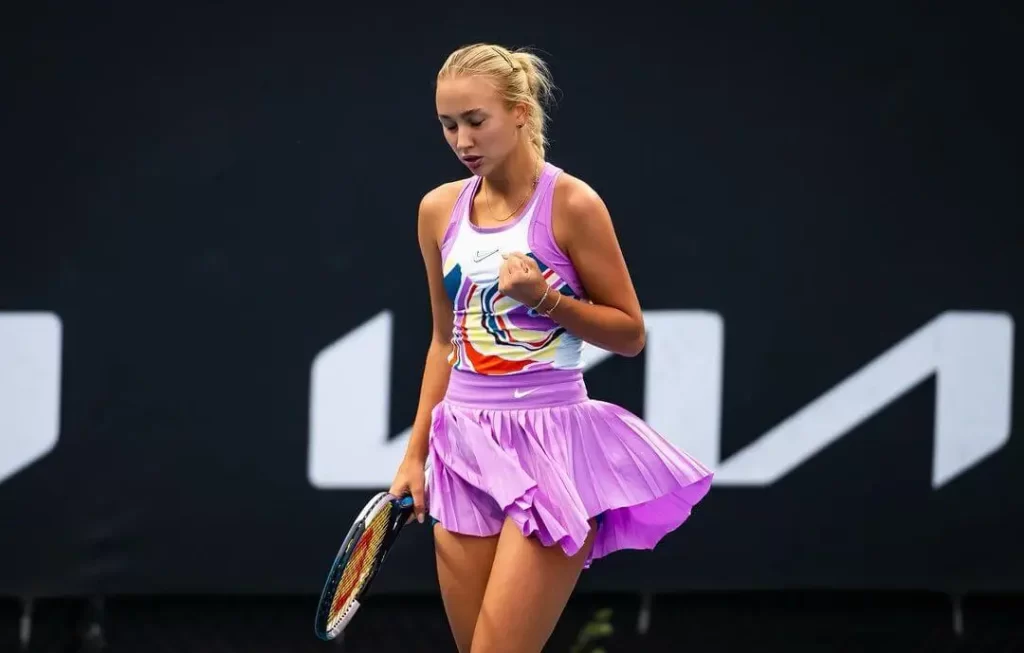 Anastasia's 2020 season started off promisingly but it was cut short. After qualifying losses in some season-starting events, the Russian proceeded to the Australian Open where she was pitted against Serena Williams in the first round. Anastasia lost to the 7-time champion but her performance afterward improved dramatically. Returning to the St. Petersburg Trophy, Anastasia reached the quarter-finals. Then at the Abierto Mexicano Telcel, she replicated her St. Petersburg performance and became a quarter-finalist once again. Then a third quarter-final appearance was accomplished in Monterrey. It seemed Anastasia was building up good momentum but she would have to retire for the rest of the season while she recovered from an injury she had sustained last year.
Coming to recent times, 2022 was Anastasia's most successful season with 2 titles and numerous quarterfinal and semi-final appearances. Though she lost in the first round of the singles competition at the Australian Open, she reached her first doubles Grand Slam quarterfinal alongside Rebecca Peterson. What followed was some singles losses but her doubles performance kept improving. She became a semi-finalist with Vera Zvonareva at the St. Petersburg Ladies' Trophy and at the following event, Anastasia won her first singles title. Ranked below the Top 100 and as a qualifier, the Russian captured the Istanbul Cup trophy after upsetting world no. 29 Veronika Kudermetova in the finals.
Anastasia had finally returned to the Top 100 as world no. 78 following this victory. Then what followed was a string of successes with semi-final appearances at the Lausanne Open, Hamburg European Open, and Prague Open, the latter of which extended to a final appearance. The Prague Open was also the tournament that gave Anastasia her 4th career and 3rd doubles title as their duo, Anastasia and Yana Sizikova, triumphed in the doubles finals. Other season highlights include a doubles quarter-final appearance at the Slovenia Open and a semi-final at the Winners Open. She ended the year with a career-high doubles ranking of 40 but her singles ranking continues to rise.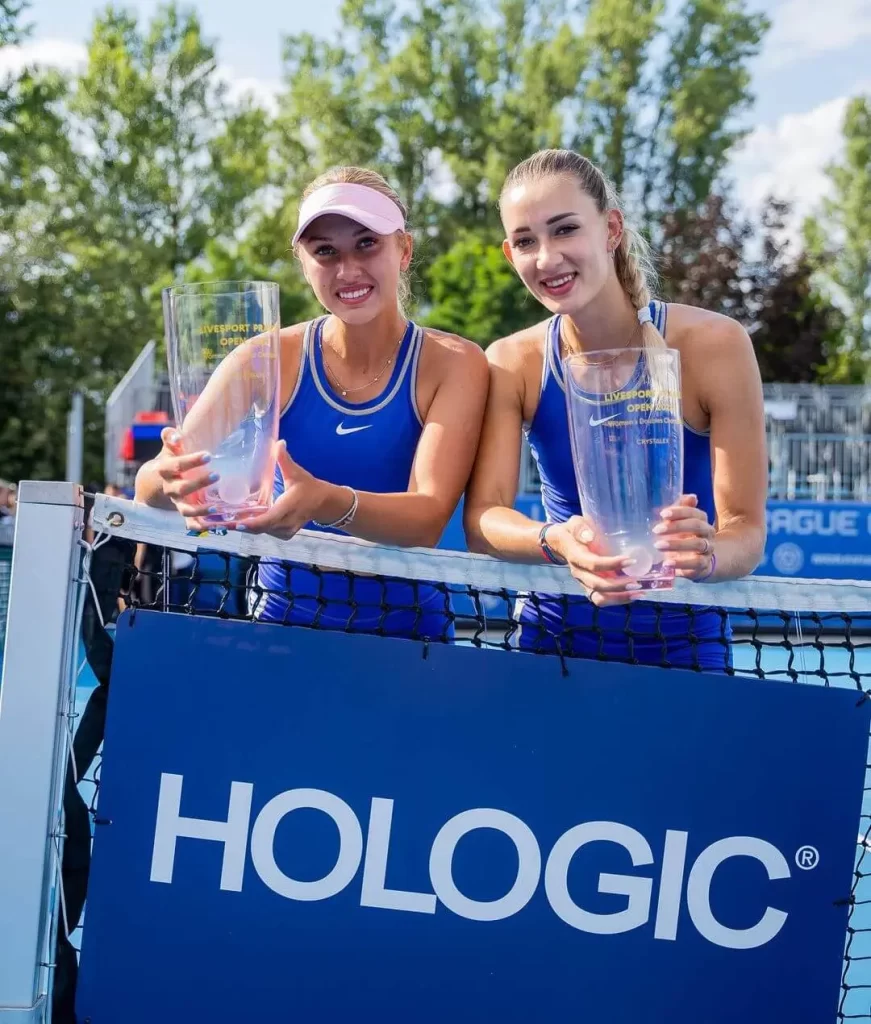 Anastasia Potapova Grand Slams
Potapova has only played in a few Grand Slam tournaments so far. We've put together her performance statistics for the majors.
Australian Open 2021 R32x1
Roland Garros 2019 (French Open) R64x1
Wimbledon Open 2019 R64x1
US Open 2022 R64x1
Anastasia Potapova Net Worth
The youngster's net worth is estimated to be around 2.8$ mil as of 2023. She is a recent addition to the top echelon of tennis players so this value is only set to rise.
Anastasia Potapova has won 5 total WTA titles, numerous ITF tournaments, and ITF Juniors titles. The former juniors world no. 1's WTA titles can be divided into 2 singles and 3 doubles titles, the first of which she won at the Moscow River Cup alongside Zvonareva in 2018.
She won her latest and second-ever singles titles just a few weeks ago at the beginning of 2023 at Linz. She has ranked highly in both singles and doubles disciplines and right now, she is ranked world no. 28 in singles, a career highest. Her doubles career-high ranking was 40 and even now, she is ranked in the Top 100 as world no. 70.
Anastasia Potapova Prize Money
World no. 28 has accumulated an impressive $2,081,069 given her very young age. She made most of her prize money in 2021, her breakthrough season when she was a quarter-finalist at the WTA 1000 Dubai Championships. A full breakdown of her prize money earnings per year is given below:
| | |
| --- | --- |
| Year | Prize Money Earnings |
| Early career-2018 | $266,890 |
| 2019 | $459,063 |
| 2020 | $1,938 |
| 2021 | $653,307 |
| 2022 | $520,659 |
| YTD 2023 | $183,134 |
Anastasia Potapova Sponsors
Anastasia Potopova is in the early stages of her success, having gained notoriety just 2 years ago in 2021. Thus, her sponsorships and brand endorsements are quite limited right now. She endorses Wilson rackets and string and is sponsored by Nike for her athletic wear. She is also under ONE Sports Global Management, a Russian sports marketing and talent agency. Previously, she was sponsored by Babolat, VITAMIN WELL, Yamaguchi, and other brands.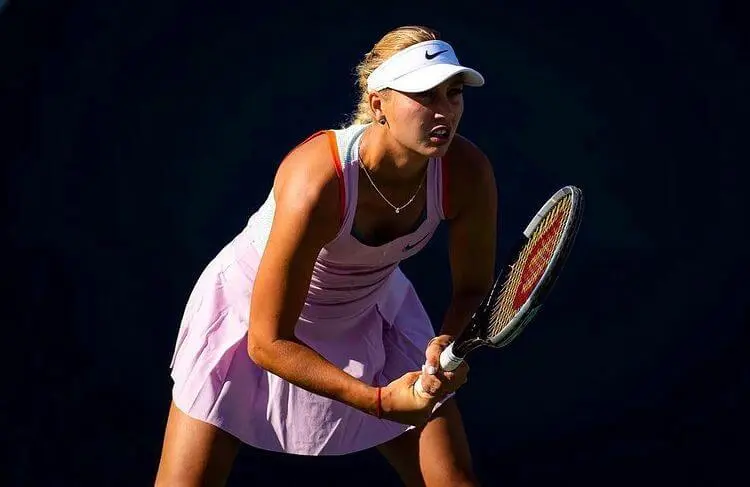 Anastasia Potapova Tennis Racket
Sponsored by Wilson, the 21-year-old endorses the Wilson Ultra 100 V2 for tournament play. The blue and black racquet's specs include a 100in2 head size and a 16×19 string pattern. Previously, she used the Wilson Clash 100 Pro.
Head Size: 100 in / 645.16 cm
Length: 27in / 68.58cm
Strung Weight: 11.2oz / 318g
Beam Width: 24mm / 26.5mm / 25mm
Stiffness: 74
Frame Material: Carbon Fiber Graphite
Racquet Colors: Blue
String Pattern: 16 Mains / 19 Crosses
String Tension: 50-60 pounds
Balance: 12.99in / 32.99cm / 4 pts HL
Endorsed & Signed by Anastasia Potapova
Anastasia Potapova Bio
Anastasia is a talented and accomplished tennis player who has had her share of ups and downs throughout her career. However, she has always shown resilience and a fighting spirit, making her a fan favorite on the women's tour.
| Category | Information |
| --- | --- |
| Full Name | Anastasia Sergeyevna Potapova |
| Date of Birth | March 30, 2001 |
| Place of Birth | Saratov, Russia |
| Nationality | Russian |
| Height | 5'7″ (1.75 m) |
| Plays | Right-handed (two-handed backhand) |
| Coach | Igor Andreev |
| Turned Pro | 2016 |
| Career Record | 118–100 (54.1%) |
| Career Titles | 1 WTA, 2 ITF |
| Highest Ranking | No. 64 (February 2020) |
| Current Ranking | No. 28 (March 2023) |
| Grand Slam Wins | 1st Round (Australian Open 2019, 2020, 2021) |
| | 1st Round (French Open 2018, 2019, 2020, 2021) |
| | 1st Round (Wimbledon 2018, 2019, 2021) |
| | 2nd Round (US Open 2019) |
| Marital Status | Not Married |
| Spouse | NA |
Anastasia Relationships and Children
The Russian is seemingly single. Though she has been playing tennis for most of her life, she has not yet been linked to any romantic partners, possibly to avoid any distractions or controversy. Anastasia is also only 21 years old and fully devoted to her career. She has never gone public with any romantic relationships either.
FAQs
Below mentioned are some of the frequently asked questions about Anastasia Potapova's life.
How old is Anastasia Potapova?
Born on 30 March 2001, Anastasia is 21 years old.
How many titles has Anastasia Potapova won?
She has won 5 WTA titles comprising 2 singles and 3 doubles titles.
What is Anastasia Potapova's net worth?
As of 2023, Anastasia Potapova's net worth is estimated to be over $1mil.
Is Anastasia Potapova in a relationship?
No, the Russian is single.