Veronika Kudermetova Net Worth 2023, Sponsors, Prize Money, Racket
Veronika Kudermetova is a Russian tennis player who has a net worth of $4.9 to $5 million as of YTD 2023. This topic will tell information about the worth, wages, and prize earnings of Veronika Kudermetova. She has a career-high singles ranking of world No. 11, achieved on 18th Jan 2023, and a best WTA doubles ranking of World No. 5, achieved on 6th June 2022.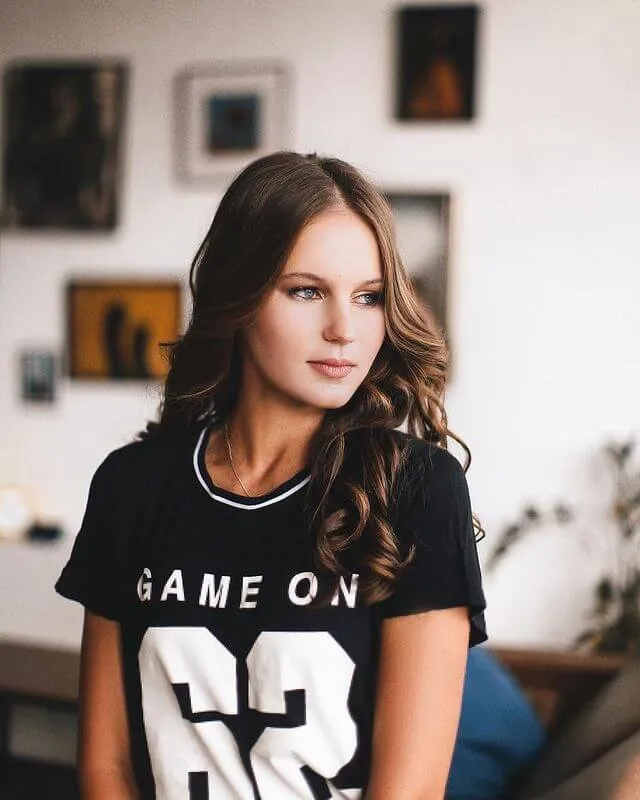 Veronika Kudermetova Profile/Bio
| | |
| --- | --- |
| Name | Veronika Eduardovna Kudermetova |
| Estimated Net Worth | $5 million |
| National/Birth Place | Kazan, Russia |
| Date of Birth (Age) | Apr 24, 1997 (25) |
| Height | 5′ 8″ or 1.75m |
| Plays | Right-Handed (two-handed backhand) |
| Gender | Female |
| Endorsements/ Sponsors | EA7 (Armani), Wilson, Tatneft, Asics |
We will also explain how much she earned over the years. What are the WTA career earnings of Veronika Kudermetova? To know the details let's move to the discussion of the net worth of Veronica Kudermetova which is the main point of this whole article.
Veronika Kudermetova Net Worth
The sources of income for Veronika kudermetova are the prize money, endorsements, and the tournaments in which she plays. Mostly the main source is tennis. The net income or assets is estimated to be $4.9 to $5 million.
The prize money for YTD 2023 is $188,610 and the career earnings are $5,106,696 as of 2023. Over her successful career, Veronika has won 3 ITF singles, 2 WTA of $125k, and 12 ITF doubles titles and gained the worth of $96,340 from the tournaments. Veronika won the first event of her career on the ITF Circuit in 2011 and grabbed two doubles titles on ITF Circuit in 2013.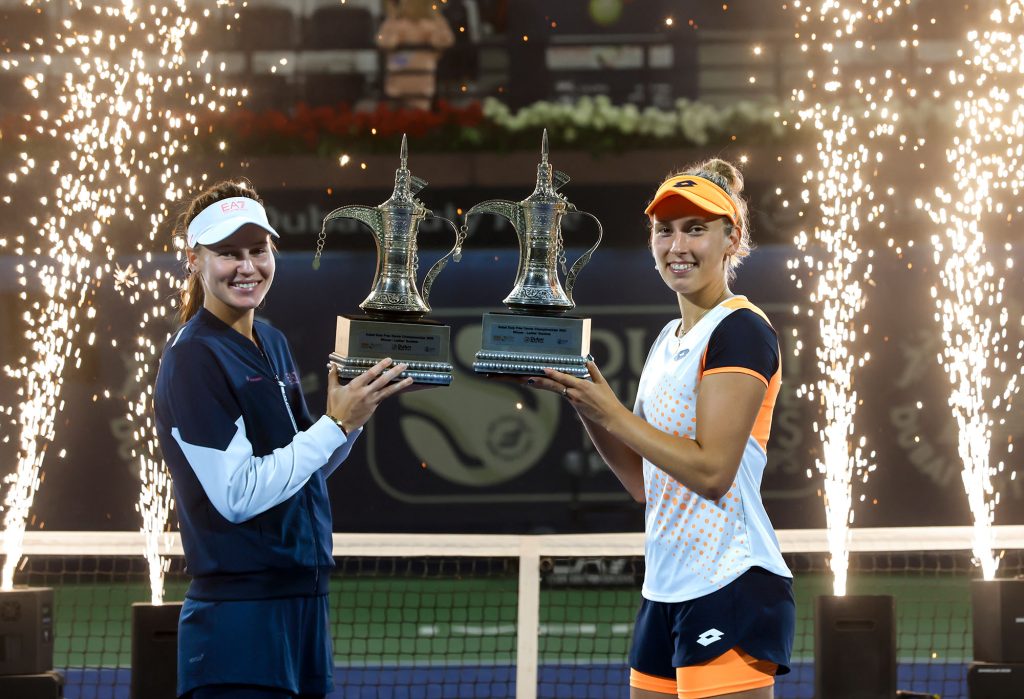 No doubt Veronika was extremely happy, after winning her first WTA Tour title, she gained a cheque worth $68,570 and a sparkling white new Volvo car to use for one year. She uses her big serve and aggressiveness and flat groundstrokes to dominate her opponents.
Veronika Kudermetova Grand Slams
Veronika has played in a few Grand Slam tournaments so far. We've put together her performance statistics for the majors.
Australian Open 2021-22 R32x2
Roland Garros 2022 (French Open) QFx1
Wimbledon Open 2019 R64x1
US Open 2022 R16x1
Veronika Kudermetova Sponsors
Veronika wears Nike and Asics clothing without a personal brand contract. Veronika Kudermetova is approved for EA7 Armani clothing in 2020, although she still wears Nike shoes.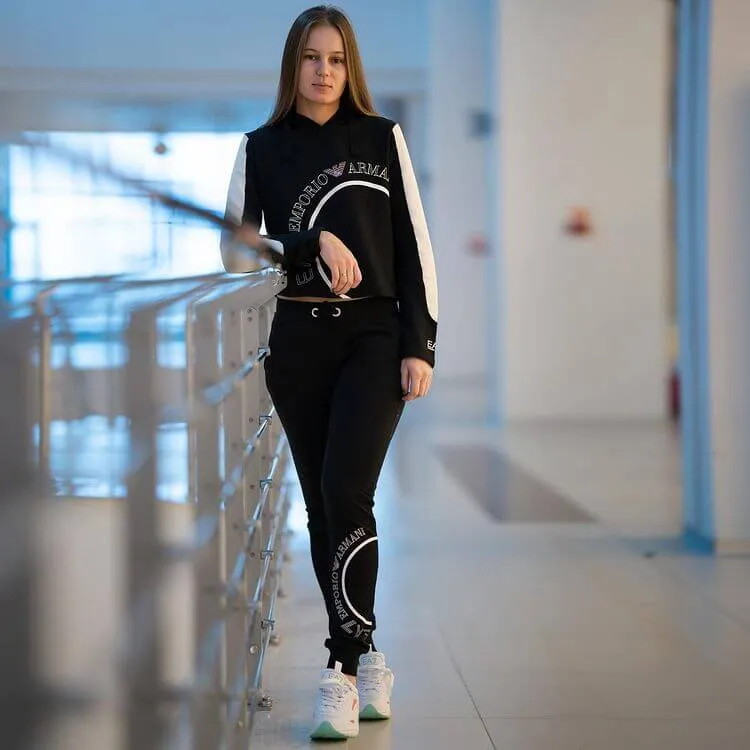 For rackets, Wilson sponsored Veronika, especially with the Wilson Blade 98 tennis racket. She is also sponsored by Tatneft which is a Russian oil and gas company based in Almetyevsk in the Republic of Tatarstan, Russian Federation.
Veronika Kudermetova Racket
Veronika Kudermetova is currently playing with Wilson Blade 98 Tennis Racket & the same racket is used by pro players like Emma Raducanu, Jelena Ostapenko, Madison Keys, Aryna Sabalenka & Shelby Rogers.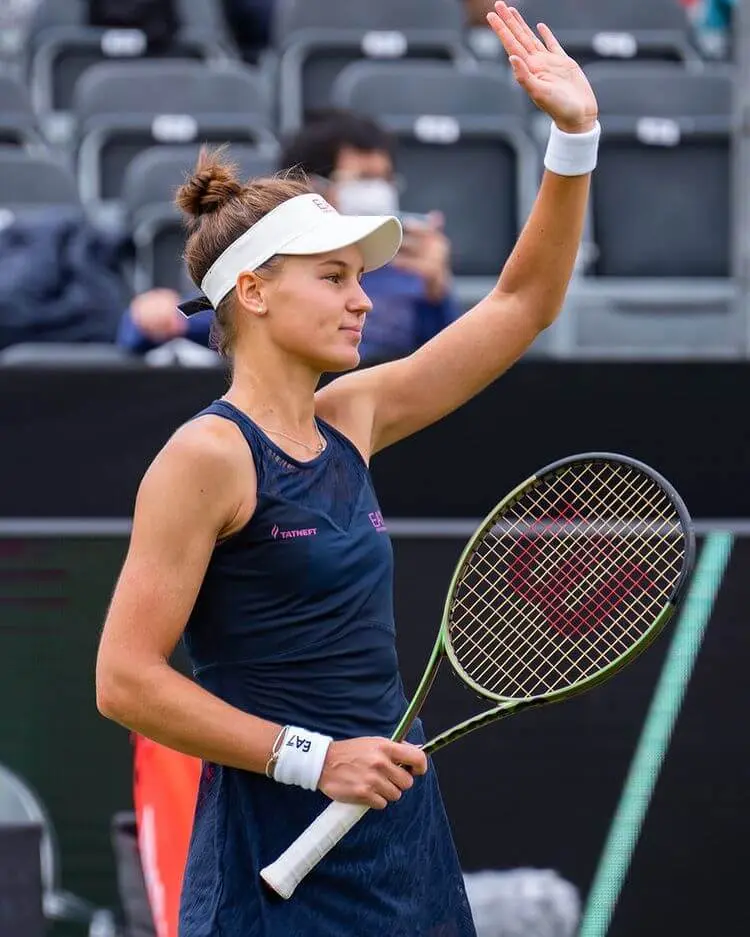 The Wilson racket used by tennis professional players may differ from the model presented. The same goes for Veronika Kudermtova's tennis racket.
Head Size: 98 in / 632.26 cm
Length: 27 in / 68.6 cm
Strung Weight: 11.3 oz / 320 g
Beam Width: 21/21/21 mm
Stiffness: 61
Frame Material: Braided Graphite
Racquet Colors: Green
String Pattern: 16 Mains / 19 Crosses
String Tension: 50-60 pounds
Endorsed by Veronika Kudermetova
Veronika Kudermetova Stats
| Match Date | Event/Round | Updates |
| --- | --- | --- |
| 08 Feb 23 | Abu Dhabi Open | Defeated Elise Mertens in R16 (6-1, 7-5) |
| 29 Aug 22 | US Open (R1) | Veronika Kudermetova beat D. Vekic by 7-5, 6-3. |
| 18 Aug 22 | Cincinnati Open (QF) | Veronika & E. Mertens beat G. Dabrowski & G. Olmos by 6-2, 6-1, 10-3. |
| 30 May 22 | French open/4 | Veronika Kudermetova beat Madison key 1-6, 6-3, 6-1. |
Veronika Kudermetova FAQ's
Who is Veronika Kudermetova Husband?
Veronika married Sergei Demekhine who is a former player and Veronika's coach.
Who is Veronika Kudermetova Father?
Eduard Kudermetov is the father of Veronika and he was a former Russian ice hockey player.
How many siblings does Veronika Have?
Veronika Kudermetova has 1 sister named Polina Kudermetova who is also a tennis player and plays on the junior circuit.
What is the weight of Veronika Kudermetova?
The estimated weight is 68 kg or 150 lbs.
Veronika Kudermetova Boyfriend?
Sergei Demekhine is the boyfriend of Veronika. They dated for a long time and now Sergei is the husband of Veronika.
When did Veronika Kudermetova start playing professional tennis?
Veronika started playing tennis at the age of eight.
Veronika Kudermetova Net Worth Summary
Veronika is a Russian player with around $5 million in assets as of 2023. The origins of her income are mostly tennis and other things that come after. With the passing years, she has gained more from endorsements than tennis.