Novak Djokovic Ties Steffi Graf's Record for Most Weeks as World No. 1
Novak Djokovic has reached a new milestone in his outstanding tennis career, matching Steffi Graf's record for the most weeks as the world No.1.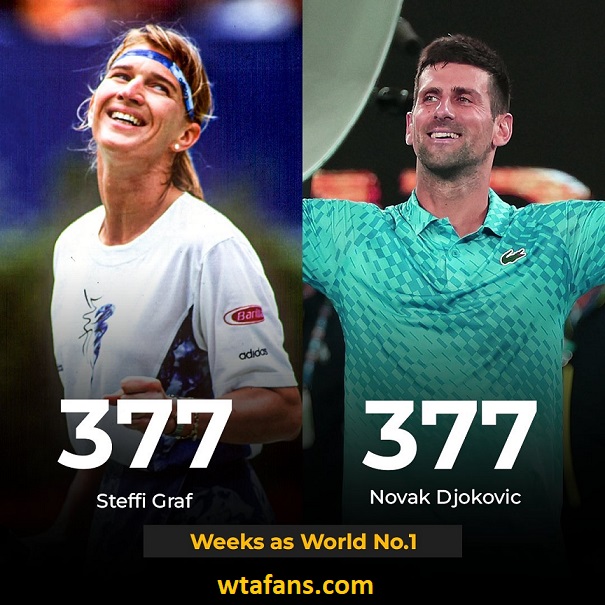 Steffi Graf's 377-week record as women's world No.1 at WTA Ranking is a historic achievement in tennis. She first claimed the top spot in 1987 and held it for most of the following decade, during which time she won 22 Grand Slam titles. Graf's dominance in women's tennis during this era was unparalleled, and her record for the most weeks as world No.1 stood for over two decades until Serena Williams surpassed it in 2013. Now, Novak Djokovic has matched Graf's record and is poised to break it in the coming weeks.
The latest ATP rankings, released on Monday, show the 35-year-old Serbian at the top of the list for the 377th week, tying with Graf's achievement as the women's world No.1. Djokovic surpassed Roger Federer's 310-week record as the men's world No.1 in March 2021. Now after Steffi, Martina Navratilova (332) and Serena Williams (319) in position.
Read Also: Novak Djokovic Sponsors and Racquets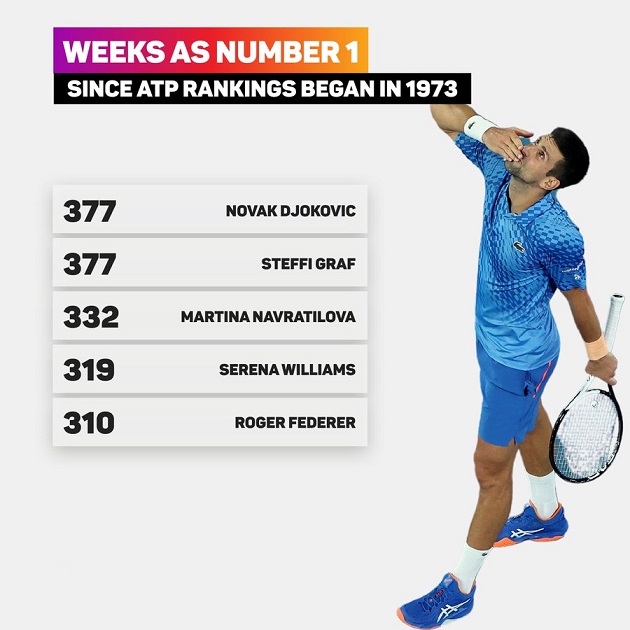 Djokovic is expected to break Graf's record when the new world rankings are announced on February 27, as he is currently holding 7,070 points, which is 590 points more than Carlos Alcaraz of Spain, the winner of the Argentina Open last Sunday. Djokovic recently won his 10th Australian Open title, and his 22nd Grand Slam singles title, which ties him with Rafael Nadal for the most major singles titles in men's tennis. Despite his impressive accomplishments, Djokovic still trails Roger Federer (237 weeks), Jimmy Connors (160), and Ivan Lendl (157) for the longest continuous stint at the top. Steffi Graf, who became the women's world No.1 in 1987, has 22 Grand Slam titles to her name.