Ashleigh Barty World No. 1 Announced Retirement From Tennis
Currently, World no. 1 Australian tennis star Ashleigh Barty announced retirement from tennis. Barty has made a shocking announcement on 23 March 2022 that she will retire from International tennis just at the age of 25.
Barty shared the news through a video posted on her Instagram in which she expressed her feelings with a friend, Australian retired tennis player, Casey Dellacqua about the decision.
But Ash also put some good news for her fans by saying "well, you never say never, it's a long way off" about returning to professional tennis following her shock retirement.
Further, she expressed her feelings about ending the marvelous career that;
I'm so happy and I'm so ready. And I just know at the moment in my heart, for me as a person, this is right. I wasn't sure how to share this news with you so I asked my good friend (retired Australian tennis player Casey Dellacqua) to help me. I am so thankful for everything this sport has given me.
Ashleigh Barty Biography
| | |
| --- | --- |
| Name | Ashleigh Barty |
| DOB | 24 April 1996 |
| Birthplace | Ipswich, Australia |
| Height | 5'5" |
| Nationality | Australian |
Last Match Of Ashleigh Barty
World no 1 star, Ash played her last match in the Australian Open. In the Australian Open final, she faced American star, Danielle Collins. Australian star won the title by straight sets (6-3, 7-6). This was the last tournament played by Ash.
Reason of Retirement
After winning the Australian Open, Ash Barty got injured during practice, she hasn't played a single match or tournament. Before Indian wells, she talked about her injury and put hopes to fans that she would come back in April.
She didn't open much about her reason for retirement, she didn't put her feelings away from mentioning her lack of physical and mental ability. On 25 March she explained the reason by saying;
Success for me is knowing that I've given absolutely everything that I can,I know how much work it takes to bring the best out of yourself. I've said it to my team multiple times; I don't have that in me anymore. I don't have the physical drive and the emotional want and kind of everything it takes to challenge yourself at the very top of the level anymore. I think I just know I'm absolutely … I am spent. I know physically I have nothing more to give, and that for me, that is a success.
Remarks by Famous Stars
I particularly want to say 'thank you' to you, Ash, for inspiring a generation of young people and particularly a generation of young indigenous people in this country.

AUSTRALIAN PRIME MINISTER SCOTT MORRISON
It's once in a lifetime that someone like Ash comes along. But whatever she does, she's going to achieve great things and we respect her decision.

TENNIS AUSTRALIA CEO CRAIG TILEY
@ashbarty I can't lie I was sad to read your decision but also happy for your new chapter. Always your fan close up and afar. Sending all my love.

23-TIMES GRAND SLAM CHAMPION SERENA WILLIAMS
Dear Ash – you are leaving the tennis and sports world quite speechless and full of praise at the same time.

18-TIMES GRAND SLAM SINGLES WINNER MARTINA NAVRATILOVA
Australia has a rich history in tennis, and @ashbarty has represented it so well…

12-TIMES GRAND SLAM SINGLES WINNER BILLIE JEAN KING:
"Happy for @ashbarty, gutted for tennis. What a player."

FORMER MEN'S WORLD NUMBER ONE ANDY MURRAY:
Achievements of Ash Barty
Barty has won a total of 305 matches with 102 losses in her career. Collectively she won 15 titles in her tennis career. Her Net worth is more than 24 Millions US Dollars (Ashleigh Barty Net Worth).
| Year | Awards |
| --- | --- |
| 2021, 2019 | Player of the Year |
| 2020 | Young Australian of the Year |
| 2019 | The Don Award |
| 2019 | ABC Sport Personality of the Year |
| 2019 | Female Athlete of the Year |
| 2019 | Sporting Moment of the Year |
| 2019 | Sportswoman of the Year |
| 2021, 2019, 2018, 2017 | Newcombe Medal |
| 2019, 2018, 2017 | Female Sportsperson |
| 2013, 2012, 2011, 2010 | Female Junior Athlete of the Year |
Year
Tournament
2022
WTA250 Adelaide International 2
2021
WTA500 Yarra Valley Classic
WTA1000 Miami Open
WTA500 Stuttgart Open (Porsche Tennis Grand Prix)
WTA1000 Western and Southern Open (Cincinnati Masters)
2020
WTA250 Adelaide International
2019
WTA1000 Miami Open
WTA Premier Birmingham Classic
WTA Finals
2018
WTA Nottingham Open
WTA Elite Trophy, Zhuhai
2017
WTA Malaysian Open
Year
Tournament
2022
WTA250 Adelaide International (w/Sanders)
2021
WTA500 Stuttgart Open (w/Brady)
2019
WTA Premier Italian Open, Rome (w/Azarenka)
2018
WTA1000 Miami Open (w/Vandeweghe)
WTA Premier Italian Open, Rome (w/Schuurs)
WTA Premier Rogers Cup, Montréal (w/Schuurs)
2017
WTA Premier Birmingham Classic (w/Dellacqua)
WTA Internationaux de Strasbourg (w/Dellacqua)
WTA Malaysian Open, Kuala Lumpur (w/Dellacqua)
2014
WTA Internationaux de Strasbourg (w/Dellacqua)
2013
WTA Premier Birmingham Classic (w/Dellacqua)
Ash has been a great sportsperson since childhood. She started her tennis career at the age of 14 after that she left the sport in 4 years and took a break from tennis.
During that period she played cricket for a year. She played cricket in 2015 for the Western Suburbs District Cricket Club. She was impressed by her performance in Brisbane's Women Premier Cricket T20. She remained a permanent member of the Brisbane team till the 2015 Women's Big Bash League.
Apart from Cricket and Tennis, Ash also impressed the world with her Golf skills. When the world was witnessing the Covid-19, She went to Brookwater for Golf.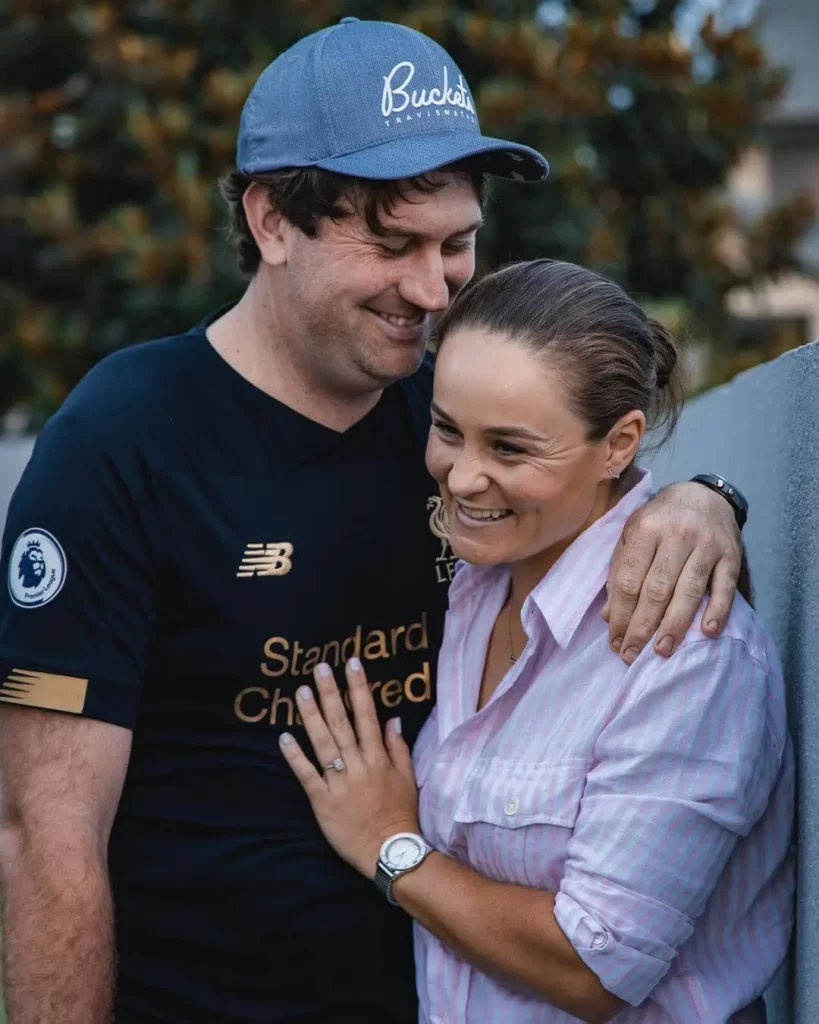 She participated in Brookwater Golf Club Women's Championship. She shocked the world by winning that championship and showed the world she is not only a champion of Tennis. Barty's boyfriend and most probably future husband is PGA (Professional Golfers' Association).