Best British Female Tennis Players of All Time
Although the current state of British women in tennis is quite bleak, this has not always been the case. Great Britain has produced some of the best British female tennis players of the Ametuer Era. Join us as we talk about 12 of the top female tennis players Great Britain has produced over the years.
Top British Female Tennis Players

12: Dorothea Douglass Lambert Chambers
| | |
| --- | --- |
| Birthdate | 3 September 1878 |
| Age | 81 (d. 1960) |
| Highest Ranking | NA |
| Titles won | 7 Grand Slams (S) 1 Wightman Cup (1925) |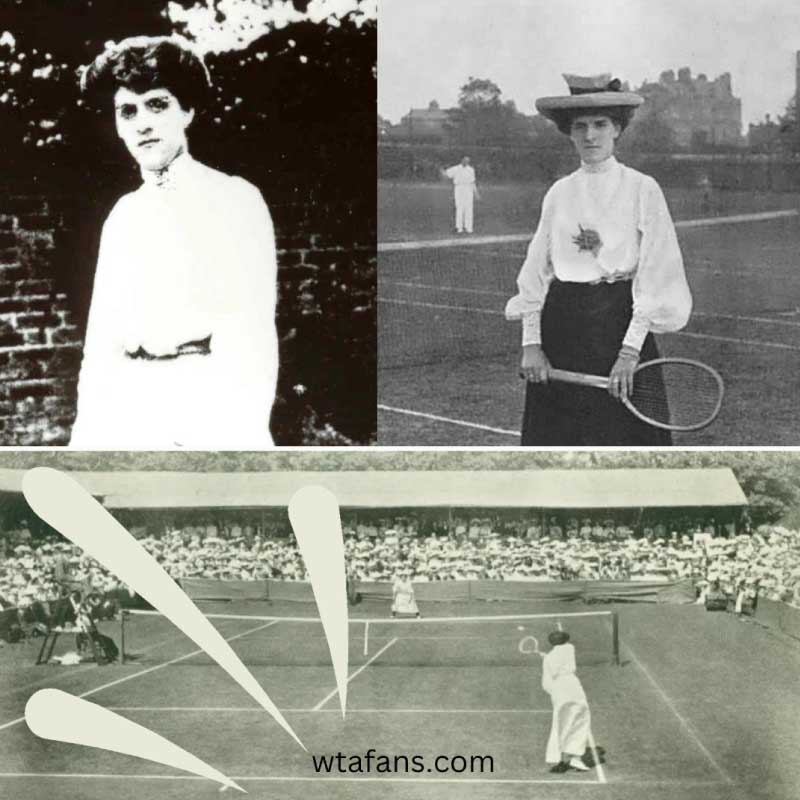 Dorothea Katherin Douglass has the most Grand Slam titles of any British female tennis player. She won 7 Wimbledon titles across 11 years.
But long before her Wimbledon titles, Dorothea won the gold medal at the 1908 London Olympics for female singles. Another record she holds was being the first player to win a Grand Slam without losing a single game.
Her doubles performance is also noteworthy, reaching the finals at Wimbledon on 4 different occasions. At 46 years old, she still managed a single and doubles victory at the 1925 Wightman Cup. She was inducted into the Tennis Hall of Fame in 1981.
11: Blanche Bingley
| | |
| --- | --- |
| Birthdate | 6 August 1863 |
| Age | 82 (d. 1946) |
| Highest Ranking | NA |
| Titles won | 58 Titles 6 Grand Slams (S) |
Blanche Bingley Hillyard is the oldest-dated member of this list. She had a long successful career in tennis, Blanch is often compared with Lottie Dod as they both played during the same time and often competed, but it is without a doubt Blanche was one of the best players of her time and of all time.
She won 6 Wimbledon titles, an amazing achievement on its own but, she also reached 7 finalists. The 14-year time gap between her first and last Wimbledon tile is a record. She even competed in the first-ever women's Wimbledon, was runner-up at the second, and finally won the third.
She also won 3 Irish Championships, 2 German Championships, and the South of England Championships 11 times. In 2013, she was inducted into the Tennis Hall of Fame.
10: Lottie Dod
| | |
| --- | --- |
| Birthdate | 24 September 1871 |
| Age | 88 (d. 1960) |
| Highest Ranking | NA |
| Titles won | 5 Grand Slams (S) |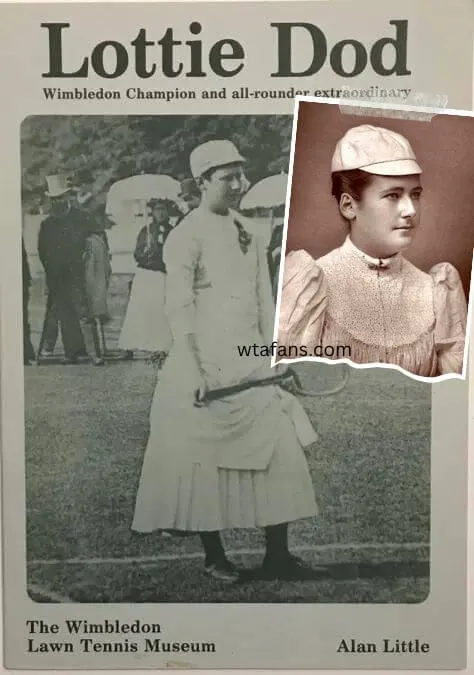 Charlotte Dod was a British Olympian and athlete that had consistently phenomenal performances across multiple sports like tennis, golf, and archery. The Guinness Book of Records even named her the most versatile female athlete of all time. She is most famously known for her 5 Wimbledon singles titles.
She won her first Wimbledon at just 15 years old, a record that has remained unbroken. After 2 consecutive wins in 1887 and 1888 and another 3 in 1991, 1992, and 1993, Lottie had well-established herself as one of the best players of all time. Many have called her the strongest female player of her day.
She also won the West of England Championships in 1888 even after the event organizers made a baffling decision to handicap the 16-year-old Lottie. Her 3 consecutive major titles record was unbroken for 20 years. She even often played matches against men. But owing to her versatility, Lottie also made major advancements in other sports like when she won silver at the 1908 London Olympics for women's archery. She has been inducted into the Tennis Hall of Fame.
9: Emma Raducanu
| | |
| --- | --- |
| Birthdate | 13 November 2002 |
| Age | 19 years old |
| Highest Ranking | No. 10 (July 2022) |
| Titles won | 1 Title Grand Slam (S) |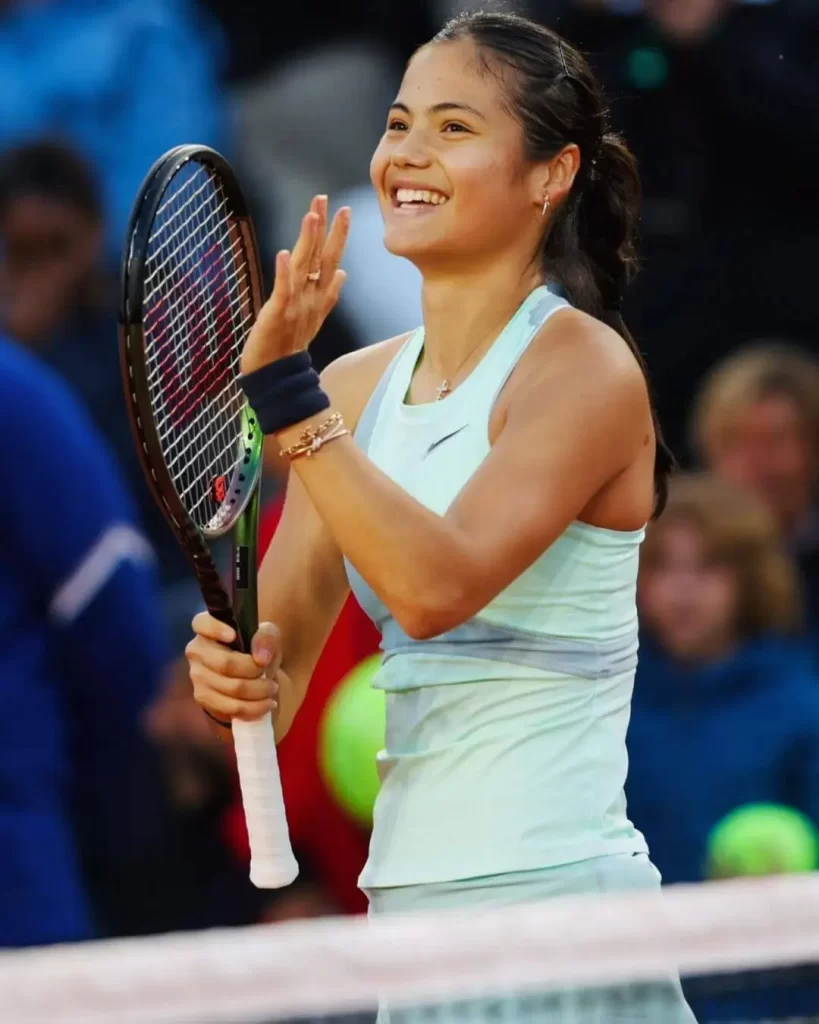 Emma Raducanu is by far the youngest member of this list and one of the most promising as well. Her 2021 US Open victory left the whole tennis world shaken.
Just 3 years into your professional career, the then 17-year-old defeated Leylah Fernandez in the final round without dropping one set. This win for her was monumental, skyrocketing her in the rankings and breaking multiple records. Emma became the first female British player since Virginia Wade in 1977 to have won a major singles title. The tournament was her second Grand Slam championship and now she holds the record for a major title won after the fewest Grand Slam tournaments in the Open Era.
Read Also: Emma Raducanu Net Worth
Another Open Era record of hers is winning a major title as a qualifier, as before the US Open Emma wasn't widely recognized. She also earned an ITF record when she became the youngest winner of an ITF under-18 event at just 13 years of age. She was also awarded the Order of the British Empire.
Though her current rank has dropped due to multiple injuries, she is scheduled to represent team Great Britain in the Billie Jean King Cup Finals.
8: Johanna Konta
| | |
| --- | --- |
| Birthdate | 17 May 1991 |
| Age | 31 |
| Highest Ranking | No. 4 (2017) |
| Titles won | 4 Titles (WTA) 15 Titles (ITF) |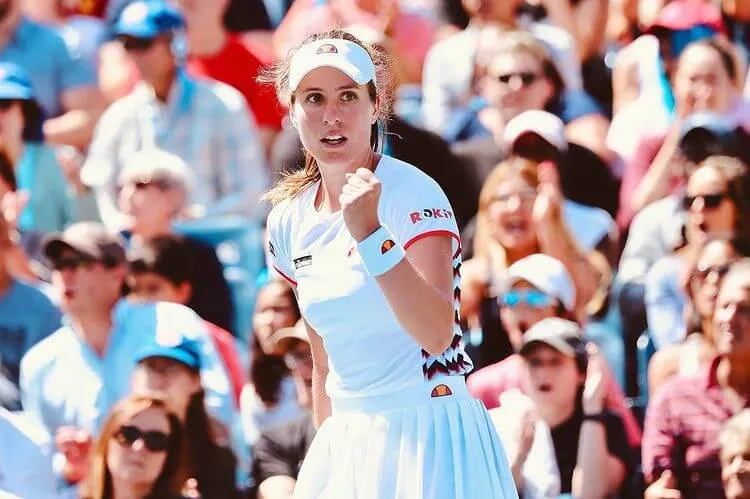 Konta Johanna is the first modern tennis player on this list and for good reason. Although Britain has seen a drought when it comes to women's talent as compared to the golden years of the 50s, 60s, and 70s, Konta managed to revive women's tennis in the nation.
The former world No. 4 was also the former No. 1 female British tennis player. Before 2013, Konta played for Australia before making the change to Great Britain. By 2014 she had already broken into the top 100 and as the 2016 season came to a close, Konta her top 10-debut.
She also won her first WTA title the same year. Although she never won a Grand Slam, 2019 was her best major title performance where she reached 2 quarter-finals and 1 semi-final. In total, Konta reached 3 Grand Slam semi finals and 3 quarters throughout her career. Her career was cut short, however, as at just 30 years of age, Konta retired due to a long-term knee injury. She got married in late 2021 and welcomed her first child this year.
7: Sue Barker
| | |
| --- | --- |
| Birthdate | 13 April 1956 |
| Age | 66 years old |
| Highest Ranking | No. 3 (1977) |
| Titles won | 27 Titles 1 Grand Slam (S) |
Sue Barker was seemingly destined for greatness when the same coach that mentored Angela Mortimer-Arthur Roberts, chose to coach her as well. At just 16 years of age, she was ranked No. 21 in the WTA players ranking.
The 1976 and 1977 seasons were her best and saw her earning her one and only Grand Slam title at the French Open, and at least the 4th Round at the other 3 major tournaments. She also reached the final at the Tour Finals of 1977.
After a season-ending injury in 1978, she made a remarkable comeback in 1980 with many of her colleagues calling it the "Comeback of the Year". She has won over many top players, including Billy Jean King, Maira Bueno, and Virginia Wade. She was awarded Commander of the Order of the British Empire and she consistently covered the Wimbledon competition as a tennis presenter since 1993, before stepping down from the role this year.
6: Shirley Brasher
| | |
| --- | --- |
| Birthdate | 13 June 1934 |
| Age | 88 years old |
| Highest Ranking | No. 3* (1957) |
| Titles won | 3 Grand Slams (1S, 2D) 2 Wightman Cups (1958, 1960) |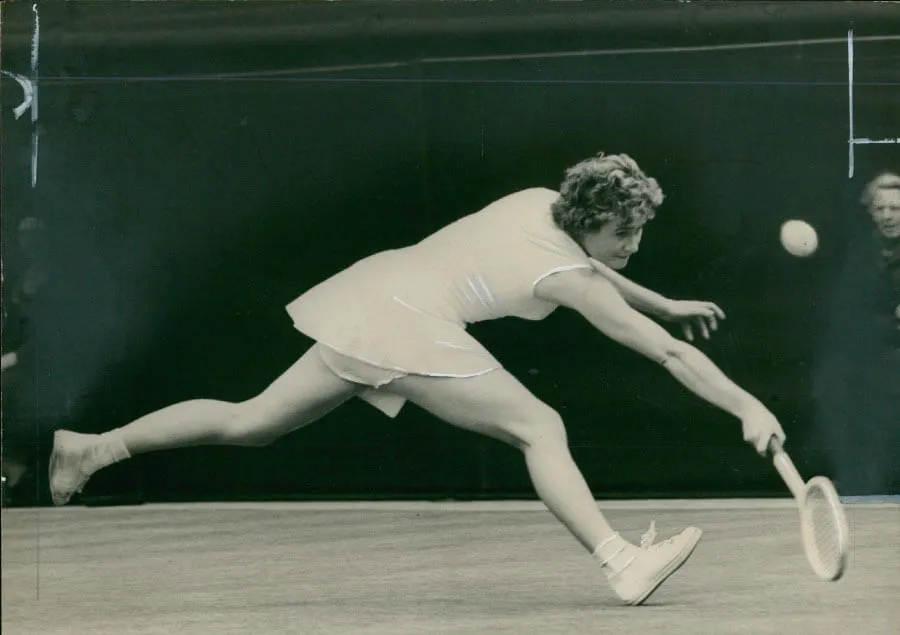 Shirley Juliet Bloomer, or Bloomer for short, played at a time when Britain dominated woman's tennis. She defeated many top-ranking players, including Dorothy Knode, Angela Mortimer, and Christine Truman. Despite the competition, she secured herself the No. 3 spot in the rankings for 1957 and was the No. 1 British tennis player for the year. Shirley only dropped 2 spots the following year. She won her first major title and only Grand Slam singles title at the French Championships in 1957. She also won her first doubles major title at the same tournament. Bloomer was part of the 1958 and 1960 winning British Team at the Wightman Cup, along with Mortimer and Truman. The 1958 victory was the first for Britain since 1930. She was truly part of a golden age for the British in women's tennis.
5: Christine Truman
| | |
| --- | --- |
| Birthdate | 16 January 1941 |
| Age | 81 years old |
| Highest Ranking | No. 2* (1959) |
| Titles won | 2 Grand Slams (1S, 1D) 3 Wightman Cups (1958, 1960, 1968) |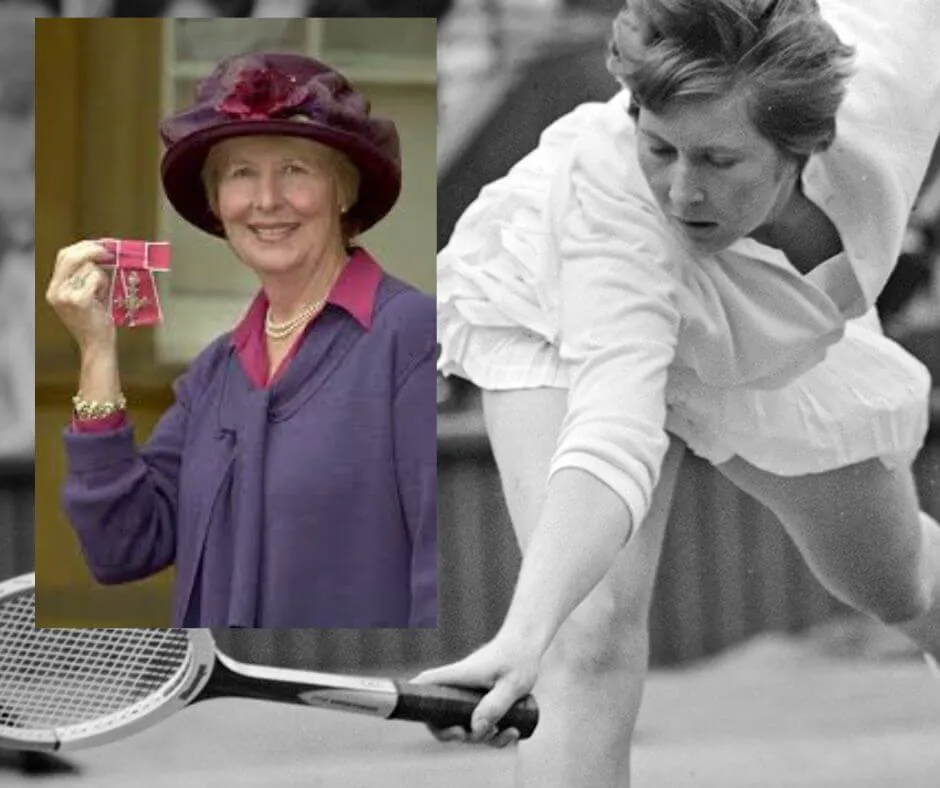 Christine Clara Truman Janes' 2-decade long career lasted from the Ametuer era to the beginning of the Open Era. She remarkably won 2 Grand Slam titles and reached 3 other finals, despite the fact she had a vision impairment. In the middle of her career in 1962, Christine was diagnosed with partial blindness in her left eye.
The 2 times British junior champion became the youngest women's singles champion at the French Championships when she won the title at just 18 years old. She and her sister became the first winners of an Open competition after the start of the Open Era.
Christine was extremely competitive and had multiple wins over the leading players of women's tennis at the time. She also helped her team win the Wightman Cup for 3 years. For her excellence in sports, she was awarded membership into the Order of the British Empire, and more recently in 2011, she picked up writing and authoring multiple children's books.
4: Kathleen McKane Godfree
| | |
| --- | --- |
| Birthdate | 7 May 1896 |
| Age | 96 (d. 1992) |
| Highest Ranking | No. 2** (1923, 1924, 1926) |
| Titles won | 153 Titles 4 Grand Slams (1S, 3D) 2 Wightman Cup 5 Olympic medals |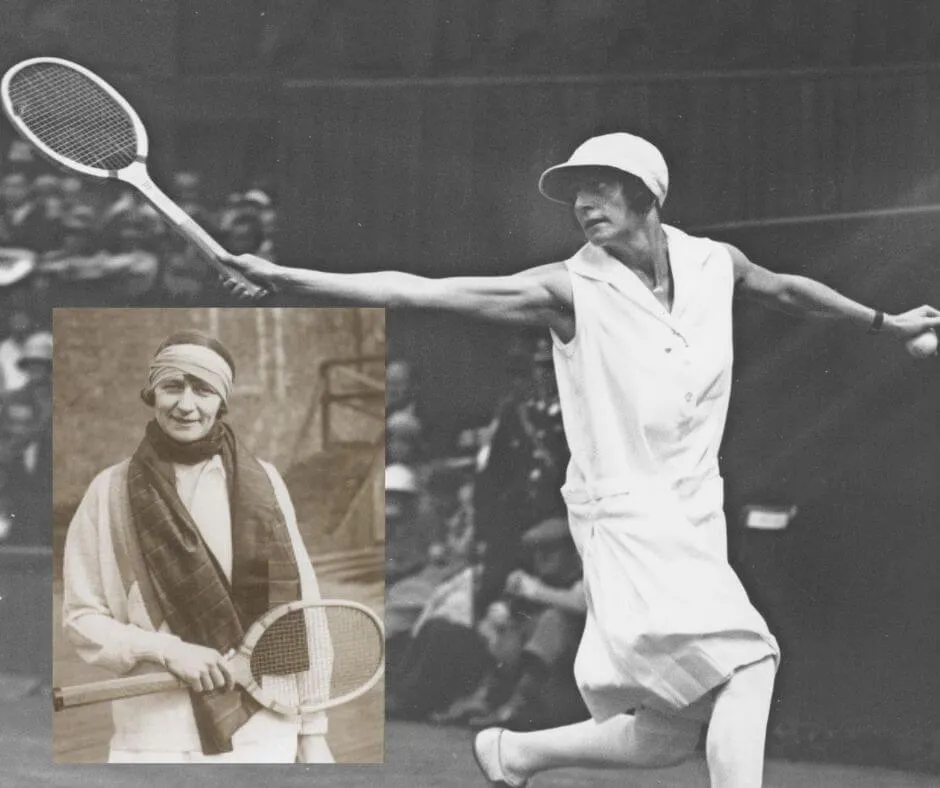 Kathleen McKane Godfree, better known as Kitty McKane played tennis and badminton throughout the 1920s. She accumulated the most titles of any player on this list and she is best known for her Olympic accolades, being the most decorated Olympian in the tennis category in Olympic history.
At the 1920 Antwerp and 1924 Paris Olympics, Kitty won 1 Gold, 2 Silvers, and 2 Bronze medals. Of her 4 Grand Slam titles, her best performance came at Wimbledon, winning 2 singles titles, a trend you'll notice on this list. Kitty was also the first player to have reached the finals at Wimbledon, the French Champions, and US Championships together in 1925.
Her badminton career was also extraordinary, however. Kathleen won each of the 8 All England Championships held from 1920 and 1925, the most prestigious badminton tournament in the world. In 1978, she was inducted into the Tennis Hall of Fame and at 96 years of age in 1992, she passed away.
3: Virginia Wade
| | |
| --- | --- |
| Birthdate | 10 July 1945 |
| Age | 77 years old |
| Highest Ranking | No. 2 (1975) |
| Titles won | 55 Titles 6 Grand Slams (3S, 3D) 1 Tour Final |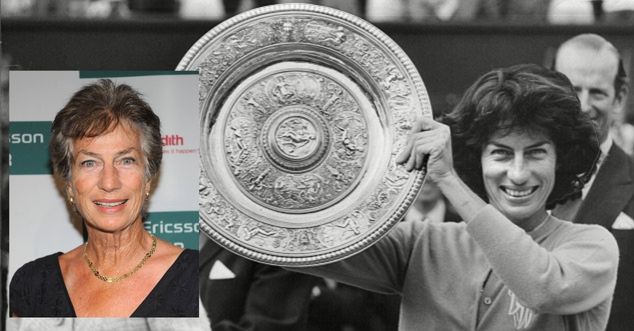 Sarah Virginia Wade is the first player on this list to have prominently played in the Open Era. She set many records throughout her career like being the only British woman to have won at all Grand Slams and ranking highest in doubles- No. 1 in 1973.
The 1970s were her most successful decade in a 26-year-long career. She was also the first winner of the US Open, defeating Billy Jean King in the finals. This win was of great significance as the next time a British player won at the US Open would be 44 years later in 2012 and the next time a British woman won, was just recently in 2021, 53 years after Virginia's victory.
Throughout her career, Virginia played the main draw at a record 26 Wimbledon, the most in tennis history. She was also appointed a member of the Order of the British Empire and was the first woman to be elected to the Wimbledon Committee. Like the 2 legends above her, Virginia is also a Tennis Hall of Fame inductee.
2: Ann Jones
| | |
| --- | --- |
| Birthdate | 17 October 1938 |
| Age | 84 years old |
| Highest Ranking | No. 2* (1967) |
| Titles won | 113 Titles 5 Grand Slams (2S, 3D) |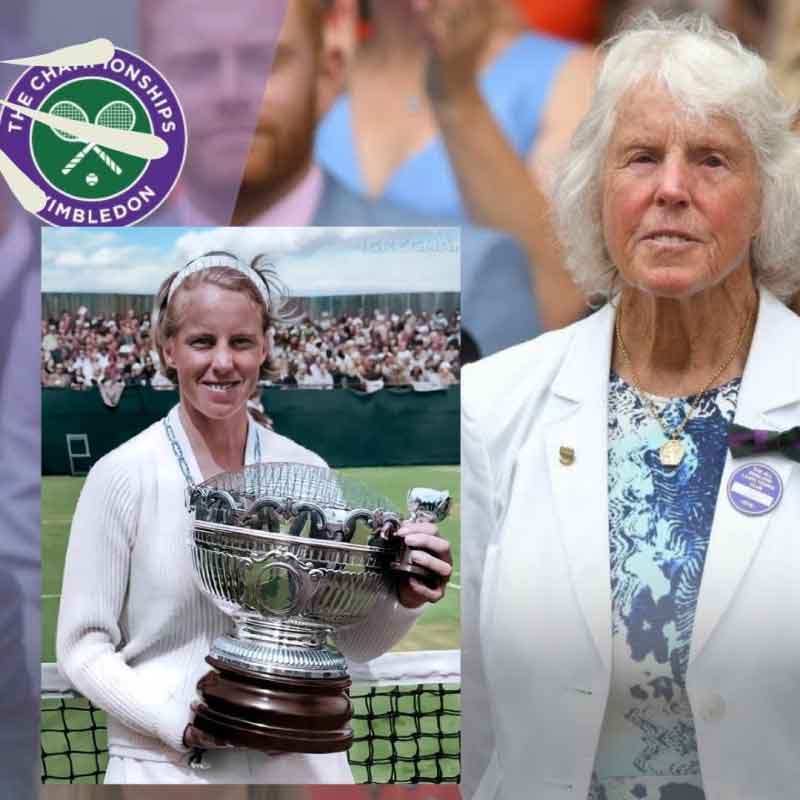 Ann Shirley Jones is a tennis legend and easily one of the greatest of all time, playing at a time parallel to other competitive geniuses like Billy Jean King and Margaret Court.
Throughout her career, she accumulated 113, including 2 Grand Slam singles and 3 doubles. The Beatles even famously stopped in the middle of a dubbing session for one of their songs, to listen to Ann beat King for the Wimbledon title. Though other British female tennis were also dominating the sport like Mortimer and Wade, 2 from this list, she was ranked no.1 in the UK on even occasions.
Jones also witnessed and was a part of the dawn of the Open Era, becoming the chairman of the Women's International Tennis Council for many years. Her legacy has been cemented in the Tennis Hall of Fame and more recently in 2014, she was appointed Commander of the Order in the British Empire for her contributions to tennis in Britain.
1: Angela Mortimer
| | |
| --- | --- |
| Birthdate | 21 April 1932 |
| Age | 90 years old |
| Highest Ranking | No. 1* (1961) |
| Titles won | 108 Titles 4 Grand Slams (3S, 1D), 1 Whitman Cup (1960) |

Florence Angela Margret Mortimer Berret, better known as simply Angela Mortimer, is the highest-ranked British female tennis player in history. In just 12 years, Mortimer won 108 titles. She peaked in the mid-1950s, winning her first major title in 1955, at the French Championships (modern-day French Open), when she defeated Dorothy Knode.
In total, she won 3 major singles titles. As for her doubles performance, she won a title at Wimbledon in 1955 and reached the mixed-double final at the Australian Championships.
She wrote an autobiography called "The Waiting Game" and was even inducted into the Tennis Hall of Fame. In 2014, she received the Freedom of Borough of Merton. As of 2022, Angela is the oldest surviving women's champion at Wimbledon.
My waiting game
Hardcover Book
Mortimer, Angela (Author)
196 Pages - 09/22/1962 (Publication Date) - London Muller 1962. (Publisher)
Though it might be true that British men's tennis is dominated by Andy Murray alone, new talent will always appear. As we have seen with the many players of the past, there is no lack of talented women.
The current No. 1 female British player, Emma Raducanu has many hopefuls and is excited about her bright future in tennis. She was even named Sportswoman of the Year in 2021 and after a long time, it seems the limelight has shifted to Britain's woman's tennis.
*=before the Open Era, there was no definitive ranking system. Lance Tingay's rankings were considered the most accurate so they have been cited.