Best Lightweight Tennis Shoes for Women
Are you searching for the ideal lightweight tennis shoes tailored specifically for women? Your quest ends here! Whether you're a seasoned tennis enthusiast or enjoy the occasional game, having footwear that offers both comfort and agility can greatly elevate your performance on the court.
In this comprehensive guide, we will delve into the finest selection of tennis shoes renowned for their outstanding performance and remarkable lightness. Uncover the perfect pair of tennis shoes to amplify your game, ensuring swift movements and unparalleled ease throughout each match.
Tennis is a fast-paced game with short breaks in between high-intensity play. This can cause immense strain on the foot so shoes with good support and proper cushioning are needed, even more so when playing on a hard court. It is imperative that the shoes be lightweight and breathable.
Shoes need to feel like an extension of the body. The responsiveness and speed that thinner and lighter shoes give are very important to ensure top performance. Chunky tennis shoes on the other hand can slow a player down and even mess with their balance. Women in particular require lighter-weight shoes due to their many biological differences. 
Breathability, which goes hand-in-hand with lightweight shoes is also an important feature to look for in shoes. Most people who are vaguely knowledgeable on the topic of tennis can tell you how it is essentially a high-intensity workout. This leads to excessive sweating, especially in the feet. Shoes can become moist and warm, the perfect environment for bacteria and fungi to proliferate. If left unchecked, an athlete's foot is an inevitability.
The condition is characterized as a fungal infection caused by a dermatophyte, a fungus that lives on the skin. The condition causes symptoms like inflammation, itching, flaking of the skin, and general irritability on the feet. The condition is easily treated but also very common.
Most people with the condition have expressed difficulty in walking so playing tennis is basically impossible. Restrictive heavy shoes can also cause a slew of other problems including but not limited to:
Fungal nail infection
Corns
Discomfort
Joint pain
There are many other factors to consider when buying tennis shoes, the main ones have been discussed below. 
Factors to look out for
The first factor that comes to mind is budget. Luckily lighter-weight shoe options aren't more expensive compared to their bulkier counterparts as they are the norm. As breathability, comfort, stability, and cushioning go higher, so does the price. In tennis, however, shoes should not be overlooked after splurging on racquets, clothing, and bags. Paying for the best quality shoes with good support is an investment into your career, allowing you to play for longer and stave off injury. Other factors that deserve a deeper dive are listed below:
1: Court Surface
The court surface is the biggest factor in deciding on tennis shoes. There are 3 main court types in tennis; clay court, grass court, and hard court. Depending on the surface of the court, your tennis shoe might be heavier, more padded, with greater support, offering ankle support, and so much more. Clay and grass courts, being similar, require the same shoes so they have been lumped together simply under clay court. As you can see, there are many differences between court surfaces.
Clay Court: As the name implies a clay court's surface layer is made of a finely crushed aggregate that uniquely allows players to slide on the court. The composition makes the clay court slow and bouncy.
The dusty clay courts tend to create low friction and even release the clay. Shoes with good grip and well-designed indents will help avoid unnecessary slips on the court while at the same time helping to reduce damage to the court by releasing any clay on the bottom of your shoes. The slipping will over time, cause damage to the sides of the shoe so thicker durable sides will last you much longer. 
Hard Court: Hard courts are the physically most challenging and fastest of the court surfaces. Their constitution of concrete or asphalt, topped with a layer of acrylic/ polyurethane allows for varying degrees of slowness based on the sand content of the surface. The more sand is added, the slower the court becomes and thus, it is the universal court surface offering the greatest diversity of court speeds among the main characters.
Shoes are very susceptible to wear and tear from running around the court so a tough outsole that can handle the increased traction is important. As the surface is unforgiving, there is a greater strain on your legs and feet as well so cushioning the shoes with bounce-back technology that can mitigate the hard impacts against the ground will help prevent injury. 
2: Durability
Durability is closely related to the court surface. In essence, durability is the measure of how long a shoe can last through wear and tear. This factor is very important in tennis as the court can be both abrasive and slippery. Clay court shoes will last you much longer than hard court shoes which tend to be heavier due to the increased padding. 
3: Width
When looking for shoes that are suited to your feet, having different size options available is necessary. That being said, the use of a custom sole, insole, or other orthotics can drastically change the fitting of your shoe. So keep that in mind when browsing shoes.
4: Style of Play
Another factor related to the court surface is the style of the play which refers to the type of player you are. To find shoes that best play into your advantages so if you are a baseline player, moving side to side will require better lateral supports and a tight upper so your foot doesn't contort mid-game. But if you are a more aggressive player with a strong serve, proper cushioning is required to reduce the stress caused on the feet from the jumps and leaps.
Having good cushioning and support while also wanting lightweight breathable shoes seems counter-intuitive at first but finding the perfect blend of these 2 opposites is what finding the best tennis shoe is all about. Depending on your personalized needs and wants, you could be leaning on either side of this spectrum. 
Top 10 Best Lightweight Tennis Shoes for Women
Here are our 10 picks for the Best Lightweight Tennis Shoes for Women: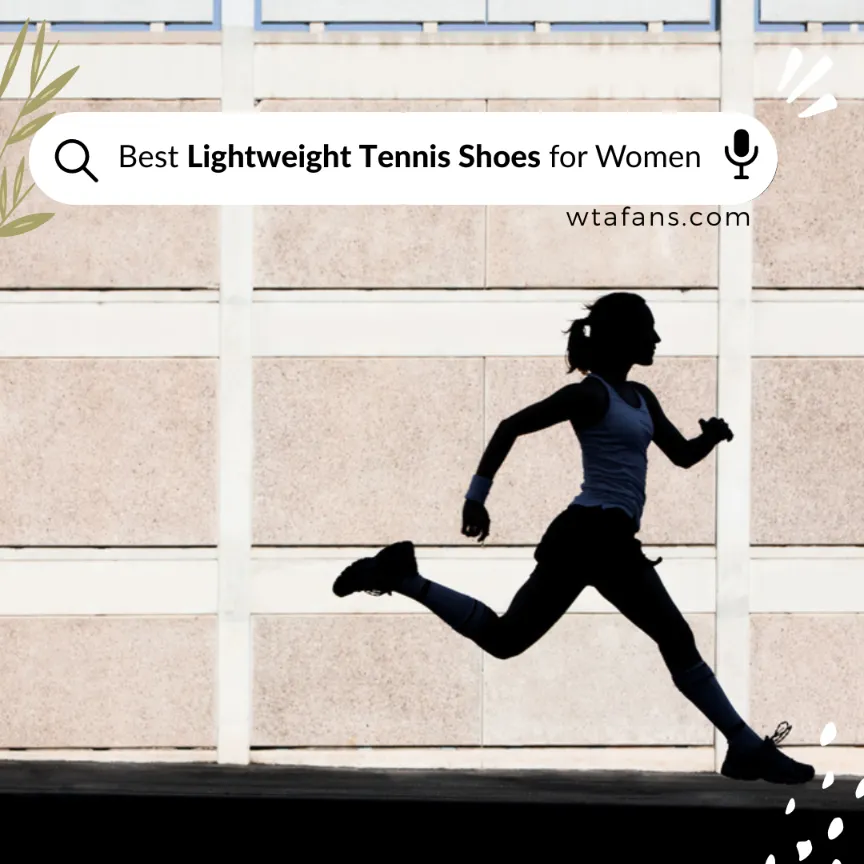 Wilson, the same brand that gives us the best rackets in the world, comes with a criminally underrated shoe line. The Rush Pro 3.0 offers an all-rounder experience that is of amazing value. It has it all, including a toe guard, arch support, good grip, durability, and breathability, making it a great fit for all your tennis needs.
They are also very comfortable, breathable, and lightweight, weighing an astonishing 13.2 ounces. We have determined them to be the best value option that doesn't compromise on quality and functionality for its reasonable price.
Pros
Good comfortability
Great cushioning
Breathable
Durable
Responsive
For all-court use
Lightweight
Excellent support
Cons
Difficult to put on
Non-traditional laces
The NikeCourt Air Zoom Vapor Pro was one of the most famous and widely used tennis shoes and its successor, the Vapor Pro 2, only adds to the already beloved design. The previous iteration was great for fast offensive players and offered both cushioning and breathability in a very lightweight body.
One thing that held the design back was its lower durability; the shoe would eventually thin out but the Vapor 2.0 remedies these issues. It has much greater cushioning that is more comfortable and supportive while remaining breathable. The Vapor 2 is also a much more affordable option weighing in at 349g at a size UK 8.5.
Pros
Excellent comfortability
Great cushioning
Lateral support
Good grip
Durable
Responsive
Breathable
Cons
A bit heavier
Less flexible
Similar to the Nike Vapor Pros, the New Balance FuelCell 996v4 is another beloved and top-selling shoe line. They are highly responsive and ready to wear right out of the box. They are also very breathable with great ventilation and support.
The Ndurance rubber also allows the shoe to both grip the court surface, and release it when needed, which is optimal for clay court play. The added toe guard also helps prevent excess sliding and protects the foot.
They also support orthotics and can be used on all court surfaces. The FuelCell 996v4 weighs only 290g at UK size 8.5.
Pros
Excellent comfortability
Great cushioning
Lateral support
Good grip
Durable
Responsive
For all-court use
Cons
Rigid body
Not suitable for wider feet
For a premium hardcourt tennis shoe from Adidas, look no further than the Adizero Ubersonic 4. The newest model builds upon its predecessors and is one of the best shoes on the market right now. The Ubersonic is built to withstand all abuse on the court and is very durable.
It is a great all-court shoe but it leans towards the clay court style as it allows for very quick movements around the court without damaging the shoe body. The new model is even more breathable and supportive than before. The shoe weighs in at 328g at a UK size 8.5.
Pros
Excellent comfortability
Great cushioning
Good grip
Durable
Responsive
Breathable
Cons
A bit pricier
Not suitable for wide feet
Tight toebox
If you're suffering from a foot-related condition, particularly plantar fascia, and require a lot of stability, the Fresh Foam X Lav V2 is a worthy contender. The tried and tested model is a favorite of podiatrists and is often recommended to those with plantar fascia.
The all-court shoe prioritizes comfort and stability. No matter what movement, be it lateral, large leaps, or slides, the X Lav V2 will keep you secured. It retains a lighter weight and is a great substitute for those with a wider foot frame. It can also support custom orthotics. The shoes weigh 409 grams (14.4 oz).
Pros
Good comfortability
Great cushioning
Good Grip
For all-court use
Responsive
Amazing stability
Cons
A bit pricier
Not suitable for narrow feet
Higher up on the ankles
Less breathability
Asics makes some of the best tennis shoes out there and they are especially popular among women. The Gel Resolution 8 is considered by many to be one of the best pairs of tennis shoes ever designed.
The shoe is responsive and very comfortable while offering great support. They are suitable for use on all courts and very durable. You can't go wrong with the Gel Resolution 8. The shoes weigh in at 420 g (14.82 oz).
Pros
Excellent comfortability
Great cushioning
Good grip
Durable
Responsive
Great support
For all-court use
Cons
A bit pricier
A bit heavier
Less breathability
The second of 3 Asics shoes on this list, the Solution Speed FF2 is another well-established shoe line. It prioritizes quick movements by providing amazing support. Ankle support, lateral support, and sufficient cushioning make this shoe a good one-size-fits-all option.
It might be on the pricier side but it is worth it. The grip, in particular, helps negate unwanted slips, and the toe guard prevents chafing. The shoe is weighed to be 285 g (10 oz).
Pros
Good comfortability
Great cushioning
Good grip
Very Responsive
Breathable
Great support
Cons
A bit pricier
Lower durability
Spacious heel area
An entry from one of the top shoe lines, K-Swiss, the Hypercourt Express 2 is perfect for those who have wider feet. Having a perfect fit is very important in tennis and these shoes are a great lightweight but cushioned option for larger foot sizes. It is quite similar to the Supreme in some regards like the great grip and traction. It is a shoe suitable for all courts. The Express 2 also has features like the plantar support chassis that add stability and help prevent injury caused by the foot rotating inwards. The shoe is a very famous model and it is not hard to see why. The Express 2 is 11.3 oz. (Size 8.5).
Pros
Good comfortability
Great cushioning
Good grip
Responsive
Breathable
Flexible
Cons
Not suitable for narrow feet
Lower durability
On the other side of the spectrum, we have the Asics Gel 8, a perfect fit for those with narrower feet. These shoes have amazing traction and are a direct improvement from previous editions. The Game 8 is much more breathable and it combines Asics quality with a shoe at a lower price point.
It is all-court friendly and the shoes are both flexible and with shock-absorbing technology. If you're looking for an unbelievably lightweight model from Asics that will work best with your tiny feet, the Gel Game 8 may be for you. The shoe weighs in at 300g for a UK size 8.5.
Pros
Good comfortability
Great cushioning
Good grip
Responsive
Breathable
Cheaper
Cons
Not suitable for wide feet
Lower durability
Similarly to Wilson, Babolat is much more famed for their rackets and strings but, they also have a collection of premium quality tennis shoes, From their lightweight options, the Jet Mach III definitely stands out as a more comfortable and stable version of the Mach II. The shoe is very lightweight and flexible.
These shoes will also last you a long time and have top-notch durability. It gets this durability from its Michelin Premium DIN20 technology. The shoes weigh 325 g (11.8 oz).
Pros
Good comfortability
Great cushioning
Good grip
Responsive
Breathable
For all-court use
Great support
Cons
Not suitable for wide feet
Size runs small
Every single shoe on this list has been used by a prominent professional player from the top ranks. Lightweight and breathability are some of the most important factors of a tennis shoe.
Hopefully, you were able to find the shoe perfect for you or are now equipped with the knowledge necessary to find your true match. Tennis shoes are definitely a worthy and worthwhile investment in one's tennis career.