Best Tennis Shoes for Women with Wide Feet – Full Guide
Apart from tennis racquets, tennis shoes play the biggest role in the actual on-court play but they are often an overlooked aspect of the sport. Clothing and the titular racquet are easily the most recognized personalized items on a tennis player, tennis shoes are synonymous with many players but most watchers ignore their effect on the game. But more on the different tennis shoes later.
Editor's Choice
Top Pick
Comfortable
New Balance Women's Running Shoes, Grey Light Aluminum, 9 Wide
ASICS Women's Gel-Resolution 8 Tennis Shoes, 5.5, Smoke Blue/Blue
adidas,Womens,Courtjam Bounce,Black/Silver Metallic/Grey,5
Although it is biologically understood that women have narrower feet when compared to men, the actual percentage of women who said they have wide feet is much larger than you might think. Around 50% of women or half the female population have wider feet. Chalk it up to inheritance or genetics, but there are way more women with wide feet.
Even though this percentage is so high, most will go throughout their lives wearing uncomfortable, ill-fitting shoes. We cannot stress enough, the importance of properly fitting and comfortable shoes. Not only do they make everyday chores easier and less strenuous but a good shoe can serve to prevent injury to the feet, and it can even help with the treatment of pre-existing plantar conditions like supination, plantar fascia, and so on. 
The reasons behind having wide feet can have some medical implications. A common cause would be having flat feet. The foot grows wider as the arch of the foot is lost. This can be both inherited or developed by standing for long periods of time. Shoes with good arch support can help prevent this condition.
A bunion is another leading cause of wide feet. As the big toe is forced to bend inwards, bony bumps develop which can widen the feet. Narrow-fitting shoes that are too tight or have arthritis can cause a bunion.
But aside from these medical conditions, temporary swelling of the feet can also cause them to become wider. Pregnancy, menstruation, diabetes, and other common conditions can all alter the size of your feet. Diabetes in particular, since it is a lifelong condition, essentially permanently alters the shape of your foot. 
In tennis, the earlier sentiment of having a form-fitted shoe holds even more accurate. Tennis is a fast-paced game with short breaks in between high-intensity play.
This can cause immense strain on the foot so shoes with good support and proper cushioning are needed, even more so when playing on a hard court. But the most important property all tennis shoes need is a good fit. Your foot mustn't slip when playing but It is just as important that your foot be allowed to breathe and have room for expansion as you play.
So if your foot is narrower or wider than normal shoe fitting sizes, finding an appropriate fit is a must. But enough about the benefits of a good tennis shoe, let's discuss some of the main factors that may influence your decision when buying a pair of tennis shoes.
Factors to look out for
The first factor that comes to mind is easily the budget. Luckily wider shoe options don't tend to be considerably more expensive than their normal counterparts but the more support and comfortability a shoe offers, the higher its pricing will go. In tennis, however, tennis shoes should not be overlooked after splurging on racquets, clothing, and bags. Paying for the best quality shoes with good support is an investment into your career, allowing you to play for longer and stave off injury. Other factors that deserve a deeper dive are listed below:
1: Court Surface
The biggest factor when it comes to deciding on tennis shoes is the court surface. There are 3 main court types in tennis; clay court, grass court, and hard court. Depending on the surface of the court, your tennis shoe might be heavier, more padded, with greater support, offering ankle support, and so much more. Clay and grass courts, being similar, require the same shoes so they have been lumped together simply under clay court. As you can see, there are many differences between court surfaces.
Clay & Grass Court
As the name implies a clay court's surface layer is made of a finely crushed aggregate that uniquely allows players to slide on the court. The composition makes the clay court slow and bouncy. The dusty clay courts tend to create low friction and even release the clay.
Shoes with good grip and well-designed indents will help avoid unnecessary slips on the court while at the same time helping to reduce damage to the court by releasing any clay on the bottom of your shoes. The slipping will over time, cause damage to the sides of the shoe so thicker durable sides will last you much longer. 
Hard Court
Hard courts are the physically hardest and fastest of the court surfaces. Their constitution of concrete or asphalt, topped with a layer of acrylic/ polyurethane allows for varying degrees of slowness based on the sand content of the surface.
The more sand is added, the slower the court becomes and thus, it is the most universal court surface offering the greatest diversity of court speeds among the main surfaces. Shoes are very susceptible to wear and tear from running around the court so a tough outsole that can handle the increased traction is important.
As the surface is unforgiving, there is a greater strain on your legs and feet as well so cushioning the shoes with bounce-back technology that can mitigate the hard impacts against the ground will help prevent injury. 
2: Durability
Durability is closely related to the court surface. In essence, durability is the measure of how long a shoe can last through wear and tear. This factor is very important in tennis as the court can be both abrasive and slippery. Clay court shoes will last you much longer than hard court shoes which tend to be heavier due to the increased padding. 
3: Width
Obviously, when looking for shoes that are suited for wider feet, having a wide option available is necessary. That being said, wide-XL and men's normal-size fitting shoes should also be considered if the fitting isn't optimal.
4: Style of Play
Another factor related to the court surface is the style of the play which refers to the type of player you are. To find shoes that best play into your advantages so if you are a baseline player, moving side to side will require better lateral supports and a tight upper so your foot doesn't contort mid-game. But if you are a more aggressive player with a strong serve, proper cushioning is required to reduce the stress caused on the feet from the jumps and leaps.
5: Orthotics
If you have wide feet or other foot-related medical conditions, chances are you already have an orthotic. Be it custom orthotics or store-bought insoles, they can drastically alter the fitting of the shoe. So orthotic-friendly shoes will be the safest option but in this case, it's best to try on the shoes with the orthotics inside to truly gauge the fitting,
There are other factors to consider as well like the weight of the shoe and breathability. Weight will increase as the shoe padding thickens so most hard-court shoes tend to be on the heavier side. But shoes that are too heavy can have the opposite effect as compared to normal shoes, increasing the risk of injury and making play more tiring. As for breathability, most tennis shoes are very breathable as it is a high-intensity sport.
Top 5 Tennis Shoes for Women with Wide Feet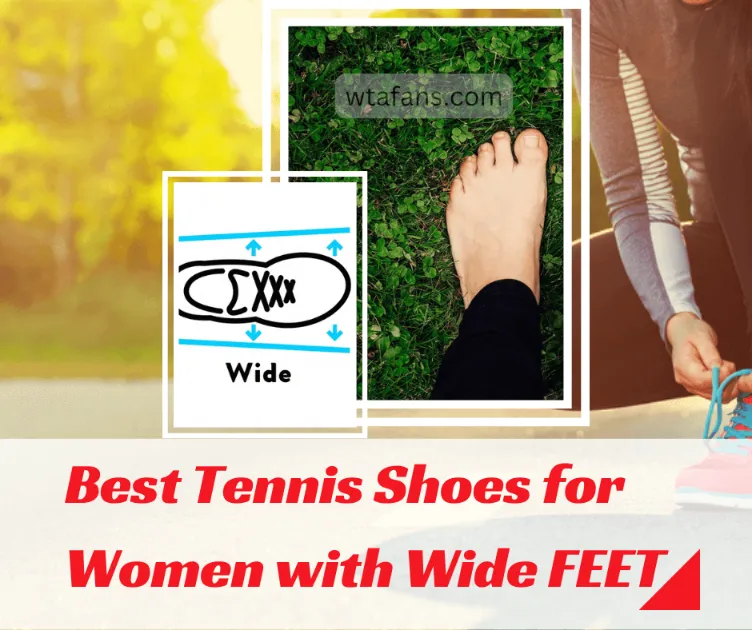 Here are our top picks of the best tennis shoes for women with wide feet:
A few more shoes also have the right features to stay on this page, but we aren't not reviewing them but mentioned those products.
Diadora is one of the best brands for wider feet and their Speed Blushield line is stable, durable, and with great grip. As our no. 1 pick, we have determined the Diodara Speed Blushield to be the perfect blend of quality, performance, and value.
The shoes, with their lightweight EVA foam and herringbone rubber thread, are great options for both hard and clay courts. The foam is shock-absorbant and comfortable but still gives a responsive feel while the durable outsole provides improved lateral support and good stability.
Keeping in mind the wear resistance, lateral support, stability, cushioning, and solid grip, the Diodara Speed Blushield is a jack-of-all-trades shoe that will see good use no matter the user.
Pros
Excellent comfortability
Great cushioning
Lateral support
Good grip
Durable
Responsive
For all-court use
Solid fit
Cons
Excess forefoot space
Heavy
Lower breathability
---
The New Balance line is a tennis staple that makes the very best tennis shoes on the market. The New Balance 806 V1 is considered by many to be the very best shoe the line has to offer and for good reason.
The shoes prioritize impact control, cushioning, durability, and injury prevention, making them a perfect fit for hard courts. The proprietary Rollbar posting system prevents excess inward or outward twisting of the foot and the durable long-lasting rubber has both grip and durability.
Their ABZORB shock-absorbing technology is not only highly cushioned but made extra-durable in high-wear places to extend the shoe's life. The shoes are available in narrow, normal, wide, and extra-wide sizes. Not to mention the lower price point which in combination with its many features, makes the 806 V1s a great option for aggressive players on hard court surfaces.
Pros
Excellent comfortability
Good grip
Very durable
Responsive
Wide and X-wide sizes are available
Good protection
Long-lasting
Cons
Lower price point
Heavy
Lower breathability
Great cushioning
---
When talking about the best tennis shoes in the market right now, the ASICS Gel Resolution 8 is easily one of the top contenders. The tried and tested model is very famous for its grip, durability, comfort, and support.
The extra textured design on the shoe grips to the ground and their patented DYNAWRAP Technology prevents any slippage, making them optimal clay court shoes. The lightweight shoe still has good cushioning and great comfort.
Its durability cannot be stressed enough, these shoes will last you for a long time. The solid grip, good comfortability, lateral support, and long-lasting durability make these shoes a great option on all tennis courts.
Pros
Excellent comfortability
Great cushioning
Good grip
Very durable
Responsive
Long-lasting
Light weight
Lateral support
Cons
Long toe box
Lower breathability
---
In case you do have a foot-related condition like bunions or any other which can cause discomfort, this entry is for you. The New Balance 1006 are breathable, very comfortable, and the lightest shoes on this list.
It works great with orthotics and is a recommendation by many podiatrists. Its REVlite technology midsole offers to cushion and its NDurance fortifies high-wear areas, extending the operational life of this shoe.
With no break-in period and a wide high toe-box, it's no wonder these shoes are enjoyed by thousands. So if you're looking for a lightweight shoe that can support your orthotics and is perfect for use even outside of tennis, the New Balance 1006 is for you.
Pros
Excellent comfortability
Great cushioning
Good grip
Very durable
Long lasting
Very lightweight
Good breathability
Orthotics support
Versatile
Cons
Not suitable for high-intensity play
Not Flexible 
---
Although there may be cheaper options on the market, the Adidas CourtJam Bounce gives amazing value for their low low price. Even at less than half of the price of most competitors, the CourtJam Bounce still holds up.
With good cushioning, support, breathability, and stability, these shoes are a great all-rounder option. Its biggest selling point has to be the great ventilation and traction that makes them both breathable and with a good grip.
The shoe has other attributes of top-of-the-line shoes as well like some support and stable cushioning. They also have a high-quality exterior and can support orthotics. These shoes will serve you well both on and off the court without you having to break the bank on a +$150 pair of shoes.
Pros
Good comfortability
Stable cushioning
Orthotics support
Versatile
Durable
Good breathability
Cons
Not suitable for high-intensity play
Heavy
Overall lower quality
Excess forefoot space
---
Conclusion
Women with wider feet makeup around half the population and even though their choices in tennis shoes are severely limited, it doesn't mean there aren't any great options.
As tennis players, using properly fitted, comfortable shoes that can offer protection and support is necessary so in this field, it is imperative to find shoes that will fit. Hopefully in due time, there will be many more options for women to choose from when it comes to tennis shoes and those that do have wider feet shouldn't be ashamed.