Best Racquets for Serve and Volley
Serve-and-volley, also referred to as S&V is an all but extinct style of play in tennis that is surprisingly making a revival, spearheaded by America's no. 5 player and world no. 39, Maxime Cressy.
The technique is rarely used today and so are racquets built and optimized for S&V. In this article today, we'll count down our Top 7 picks for the Best Racuets for Serving and Volleying. But before that, what does the serve-and-volley game even entail?
Before deciding on a racquet, it's important to go through the factors and properties you need to look out for that distinguish normal racquets, from those best for the S&V play style.
Best Racquets for Serve and Volley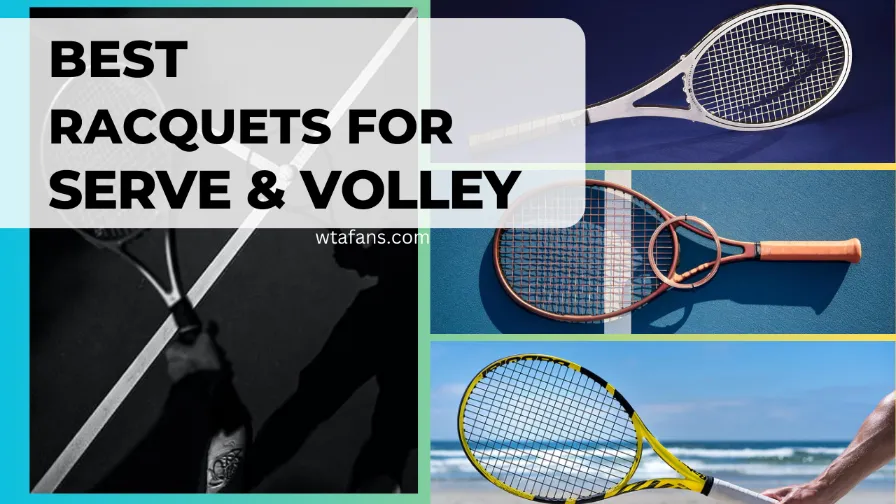 Without further ado, here are our Top 7 picks for the Best Serve and Volley Racquets.
1. Dunlop CX 200 Tour 18×20 (with Touch/Feel)
First up on our list is Dunlop's new CX racquet line built for ease, power, and comfort. The racquet that prioritizes speed and control is the CX 200 18×20, a deadly combo when playing S&V. This combined with its surprising lightweight, tight string pattern, and flexibility gives the racquet excellent feeling and control even during those aggressive shots.
The Dunlop CX 200 Tour 18×20 also comes with their new latest patented technology that can better disperse power across the string, filter out vibration, and dampens impact shock to ensure your control and maneuverability are never compromised.
2. Wilson Pro Staff RF97 V13 (with Stability)
The racquet of choice for 20-time Grand Slam winner and living legend, Roger Federer, the Wilson Pro Staff RF97 v13 is one of the most popular and well-known tennis racquets ever sold.
Roger, who was well known for his serve-and-volley game made use of this racquet as he reinvented what it meant to be a top player. The latest model is ideal for tennis veterans who can best make use of the excellent precision and speed the racquet provides.
Powerful but lightweight, this premium racquet is one of the best on the market right now. Some of its technological highlights include braided graphite, innovative string braiding, and mapping that gives the racquet the control and precision one needs when playing the S&V game.
3. Yonex VCORE 97 HD (with Comfort)
One of the best-selling racquets from Yonex, the VCORE series is an industry classic. From this tried and tested line comes to the 97 HD, perfect for the aggressive player that wants spin and power, essential for serving as a S&V subscriber. Net-crushers can make use of the very lightweight and highly flexible racquet that comes filled with Yonex's latest technology.
Right off the bat, the first thing you notice about the racquet is its isometric square frame design that creates a larger sweet spot, helping you get those A1 hits every time. The vibration-dampening mesh that comes with the racquet dampens incoming shocks and vibrations, allowing you to stay precise with our shots thanks to added touch.
The grip is also great for players with high risks of wrist, forearm, and elbow injuries related to shock. The isometric design and the improved grommets make this a great option for serve-and-volley players who hit hard and want as much top spin out of their ball as they can.
4. Head Graphene 360+ Prestige MP (with Control)
Head, the brand of choice of world no. 1 Novak Djokovic, has revolutionized tennis racquets. As an homage to the classic wooden racquets, the Prestige lineup returns with Head's Graphene 360+ technology. The Prestige MidPlus is another racquet designed for aggressive net-crushers that wanna optimize precision and control.
It provides a sensational feel with each hit that is both responsive and reliable. The slightly larger head size pairs well with the elongated shaft to enlarge the sweet spot. Though inspired by the frames of the 80s, modern innovations like its auxetic construction make the perfect blend between the classics and contemporary racquets.
5. Babolat Pure Aero (with Topspin)
Finishing off the Big Three line-up, we have the Babolat Pure Aero, another very profitable model that is the racquet of choice of many top-ranking pro players, most notably of 21-time Grand Slam champion, Rafael Nadal. Though it has a remarkably low weight, the Babolat Pure Aero is all about prioritizing spin.
The 7th generation comes with improvements over its predecessors like a tighter string pattern for control, an aerodynamic frame for speed, and a much more comfortable feel. Don't let its design as a spin racquet fool you however, it can really pack a punch, and this is without mentioning their patented NF2 and Fsi Spin technology that increases spin, absorb shock, and improves the feel and control of the racquet.
6. Prince Phantom 97P (with Comfort)
The perfect middle ground between the faster but weaker 93p and the heavier but less agile 100p is the Prince Phantom 97P. The racquet is maneuverable with speed, spin, and control, making it a great fit for S&V players. The comfortable experience this racquet provides is great for beginners and intermediate players.
Its biggest selling point, its Anti-Torque System, makes the racquet highly stable as it minimizes torque on the frame. It's another blend of the impressive feel classic racquets had, but with the speed and strength, those racquets were lacking. It's a jack-of-all-trades line that is a great fit for all types of players, even more so for those trying to improve their S&V game.
7. Wilson Blade 98 18×20 (with Control)
Finishing off our list is the Wilson Blade 98 18×20, another industry main seller that keeps getting better as new versions come out. Jam-packed with Wilson's latest technologies but in a strikingly lightweight model, the Blade 98 v8 is agile, flexible, and stable.
The racquet handles power well but its main selling points are the excellent comfort and consistency it provides. Powered by FORTYFIVE and DirectConnect, the racquet has outstanding ball feedback and feel. Other positives include the tight 18×20 string pattern and low 60 RA stiffness rating that is great both at the baseline and net game.
Legends like Pete Sampras, Rod Laver, Roy Emerson, and Boris Becker were all known for their S&V techniques. Granted, the playstyle is outdated in this new tennis landscape. players like Maxime Cressy, and others before him like John Isner, Lukasz Kubot, and Mischa Zverev have proven that playing S&V is still a completely viable strategy.
Even without fully committing to S&V, perfecting the basics and practicing with the technique can make for an invaluable trump card, to surprise your opponent when they least expect it, winning you the point. We hope that with our selection of racquets today, you could find the one perfect for you, to get you started on trying out the high-risk high-reward S&V style of play.
Buying Guide for Serving & Volleying Racquets
Main Factors: The 3 main attributes that an S&V racquet should provide are control, maneuverability, and comfort. All 3 are integrally linked with the playstyle associated with serve-and-volley. Let's take a deeper look at all of them.
Control is essential in racquets no matter what the game style but even more so when playing S&V. You need to be able to quickly adjust the racquet in the heat of the match and with stability. For optimum control, a lightweight racquet with a smaller head is recommended, but slightly heavier racquets in the 12.4-12.8 oz range with a 98in2 head size are great options.
Maneuverability: A factor similar to control, maneuverability is a prerequisite for proper control. You ideally want the racquet to move and spin easily when in use so similar to the other attributes, it comes down to a matter of preference.
As mentioned above, a lighter racquet is recommended but a better metric would be head to handle weight ratio. Getting hands-on experience with the racquet and even trying it out on a tennis ball machine is really important to get a proper feel for the racquet. This practice is also very important for the third and final factor.
Comfort: The touch and feel of the racquet is easily the most personalized factor. For the best user experience, you have to keep an eye on certain specs like grip size which can often be too big or too small for players with different hand sizes.
It is also important to remember that fresh out of the box, the racquet might not feel the best or have the optimal specs. It is rather rare to find the perfect racquet just like that. This is where tweaking the racquet yourself if through an expert can come in handy.
Racquet feels too top-heavy? add some lead to the handle to even out the weight, grip is too skinny? add some more tape or other substance to increase the girth, and so on. This is true for all racquets, not just those dedicated to the S&V style of play.
There are other factors as well that should be mentioned like string pattern, string gauge, string type, and so on but all these factors are secondary and like the latter 2, can be experimented with to find the best ones. As a rule of thumb for string patterns, tighter patterns tend to offer more control.
What is serve-and-volley in tennis?
Serve-and-volley is a play style in tennis that, as the name suggests, involves a serve, followed by a volley hit afterward. It is a high-risk high-reward style of play in which after a serve, the player approaches the net to attempt a volley, instead of initiating the baseline game.
The technique aims to rush opponents, catching them off-guard and securing quick points. Having to approach the net is where the risk comes in, leaving you open for your opponent to return the volley, winning them an easy point. S&V is most associated with the mid to late 1900s.
Jack Kramer was the proponent of this technique who quickly moved toward the net after his serves. It is still commonly utilized by doubles players where one doesn't have to worry about being susceptible to attack as your partner can cover your blind spots. In solo play, however, one must be exceptionally agile or possess a great serve to pull off this technique.
Why is the serve-and-volley style of play not popular anymore?
Though the serve-and-volley technique once dominated the tennis world, it has all but died out in the Open Era. The grounds for this decline boil down to 2 main factors, the technical advancements in racquets and the push for longer matches with an emphasis on baseline games.
When the technique was most used, players used wooden racquets on predominantly grass courts. Those racquets lacked the firepower and weight needed to generate heavy topspin and power so getting a shot clean over the player and the net with your forehand was impossible.
The matches were also much more fast-paced with an emphasis on speed and agility as the grass court allows for the most amount of speed from the court types. Then came technical advancements in racquets which saw a change from wooden frames to stronger and heavier graphite frames that could generate more power.
This was followed by the introduction of hybrid strings that could generate greater topspin and an overall change in the tennis landscape to acrylic hard courts that became the dominant court surface. Some new rules were also introduced in the 1950s called the VASSS that discouraged S&V.
Though the rules were later dropped, the damage had been done. Playing S&V is oftentimes not worth it as the playstyle is too risky, predictable, and easily countered. Not to mention that on the slower hard and clay courts, the play style is difficult to properly utilize.
Now that you know about the ins and outs of the technique, its rise in the mid-1900s, and its eventual downfall, let's come to the main topic of our discussion today, the racquets. As you can imagine, S&V is a seldom used technique so there isn't a great deal of variety when it comes to the racquets. It also doesn't help that other racquets are universal, and usable with most techniques while racquets built around the serve-and-volley playstyle are a hybrid of the older lightweight wooden racquets and modern technology.