Best American Female Tennis Players of All Time
The USA has made great contributions to women's tennis. It has probably produced the highest number of top players of any country in the world.
US female players have always found themselves at the top throughout all of women's tennis history. From the Amateur Era to today's Open Era, the most influential, prolific, and respected players have tended to originate from the USA.
The women on this list have time and time again set a new precedent and standard for women's tennis and been inspirations for millions around the world. Every single member of this list is a contender for best women's player in history. Without further ado, we present you the list of 11 of the best USA female tennis players.
Top 11 Best American Female Tennis Players
Martina Navratilova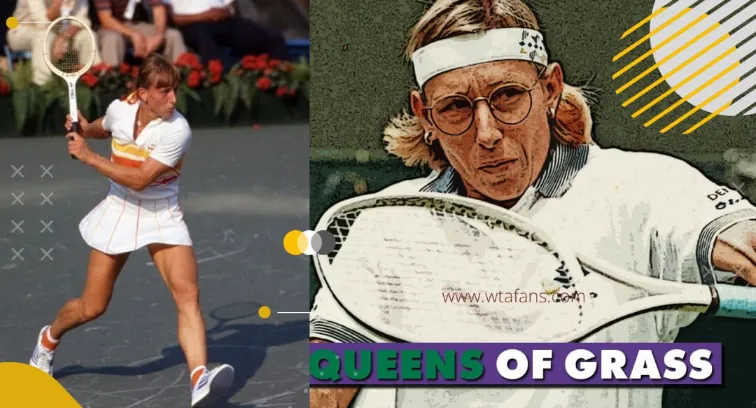 | | |
| --- | --- |
| Birthdate |  18 October 1956 |
| Age | 66 |
| Highest Ranking | No. 1 |
| Titles won | 359 Titles 59 Grand Slams 4 Fed Cups 21 Tour Finals |
Whenever the topic of the Greatest Female Tennis Player of All Time is discussed, it always comes down to 2 tennis titans, Steffi Graf and the USA's finest- Martina Navratilova. The Czech-American player dominated woman's tennis in the 1970s and 1980s.
She has set over 50 records including most major titles in the Open Era, most Wimbledon titles, most singles match wins in the Open Era, over 200 weeks at no.1 in both singles and doubles, and most singles and doubles titles in the Open Era. Martina has also won a consecutive 5 singles and 10 doubles Tour Finals.
After her 1984 season, she became the 3rd woman in history to achieve a career Grand Slam and the only other female tennis player to have achieved a Boxed Set. After a long career since turning pro in 1974, Martina decided to focus on doubles tournaments. She played well into her 40s and her last major title was won at the 2006 US Open, a few weeks shy of her 50th birthday.
Her greatest rival- Chris Evert, another member of this list, praised Martina for her "superb athleticism and aggressiveness". Billie Jean King also called her the greatest female tennis player of all time, an opinion shared by many commentators and publishers. Since retiring, she has written numerous books and autobiographies well as mystery novels. Martina has been inducted into the Tennis Hall of Fame.
Chris Evert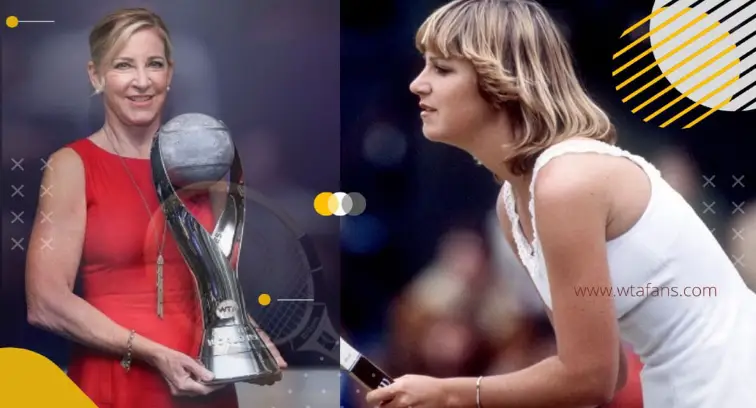 | | |
| --- | --- |
| Birthdate | 21 December 1954 |
| Age | 67 |
| Highest Ranking | No. 1 |
| Titles won | 189 Titles 21 Grand Slams 8 Fed Cups 4 Tour Finals |
Martina's greatest rival-Chris Evert certainly lives up to her title. She was the first person in her field to reach 1000 career and 150 tournament wins. Chris was also the first female to reach a million dollars in prize money. From these records, it's quite evident that Chris was the first of the female tennis legends of the Open Era.
She set the standard for her peers and multiple generations of tennis players after her. Of her 21 Grand Slam wins, she has the all-time record for most French and US Open titles at 7 and 6 respectively. Another all-time record the Americans set is the most major singles finals, reaching 34 Grand Slam finals. Besides Helen Wills, her Grand Slam performance is probably the most impressive on this list as whenever she participated in a major event, she never placed lower than third, only ever reaching third on 2 occasions, on all other occasions, she at least made the quarter-finals.
On clay courts, she was undefeated and has the highest win percentage (89.97%) in the WTA Tour history. Chris also won 4 Tour Finals and a record 8 Fed Cups for America. She has been ranked 4th best female tennis player of all time by Tennis Channel and she even received the Phillip Chartier Award- the highest ITF honor. She was inducted into the Tennis Hall of Fame and served as the WTA's president for a total of 9 years. Recently in 2022, she overcame her cancer and she continues to run her tennis academy with her brother.
Helen Wills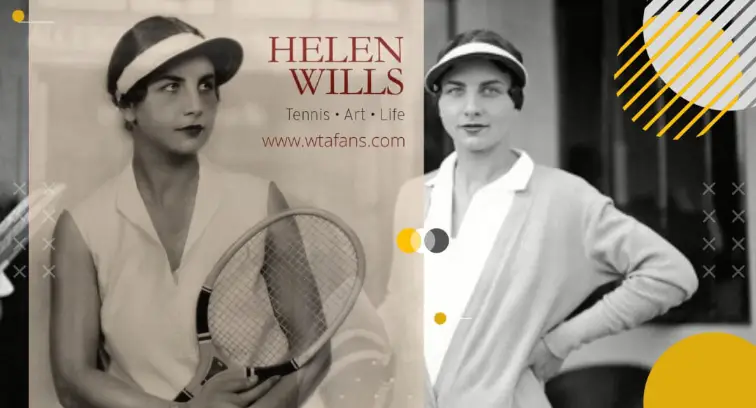 | | |
| --- | --- |
| Birthdate | 6 October 1905 |
| Age | 92 (d.1998) |
| Highest Ranking | No. 1 |
| Titles won | 31 Grand Slams 6 Wightman Cups 2 Olympic Golds |
Although Chris Evert defined what an Open Era tennis titan could be, it was Helen Wills of the Amateur Era who was the first American woman to go beyond her sport, becoming a global celebrity and overcoming the barrier between tennis and mainstream success. Helen  Wills is the defacto greatest woman's Grand Slam performer in American history.
24 Grand Slam singles events she participated in, she won 19, was runner-up thrice and had to withdraw twice due to medical issues. Apart from her 2 defaults, she reached the final of every single Grand Slam singles event. In the 1924 Paris Olympics, Helen won the Gold in both singles and doubles results.
Wallis Myers ranked her no. 1 9 times throughout her career. Keeping all this in mind, it is easy to see why many consider Helen to not only be the best Ametuer Era player but the greatest female player of all time. Helen was also part of the highly publicized "Match of the Century" against Britain's Suzanne Lenglen.
Other achievements of her's include a 180-match win streak across 6 years, 6 Wightman Cup wins for America, and multiple wins over male tennis players. Helen even once defeated the eighth-ranked US (United States) male player in 1933. After retirement, she continued playing tennis well into her 80s and she passed on 1998 New Year's day. She was inducted into the Tennis Hall of Fame in 1959.
Serena Williams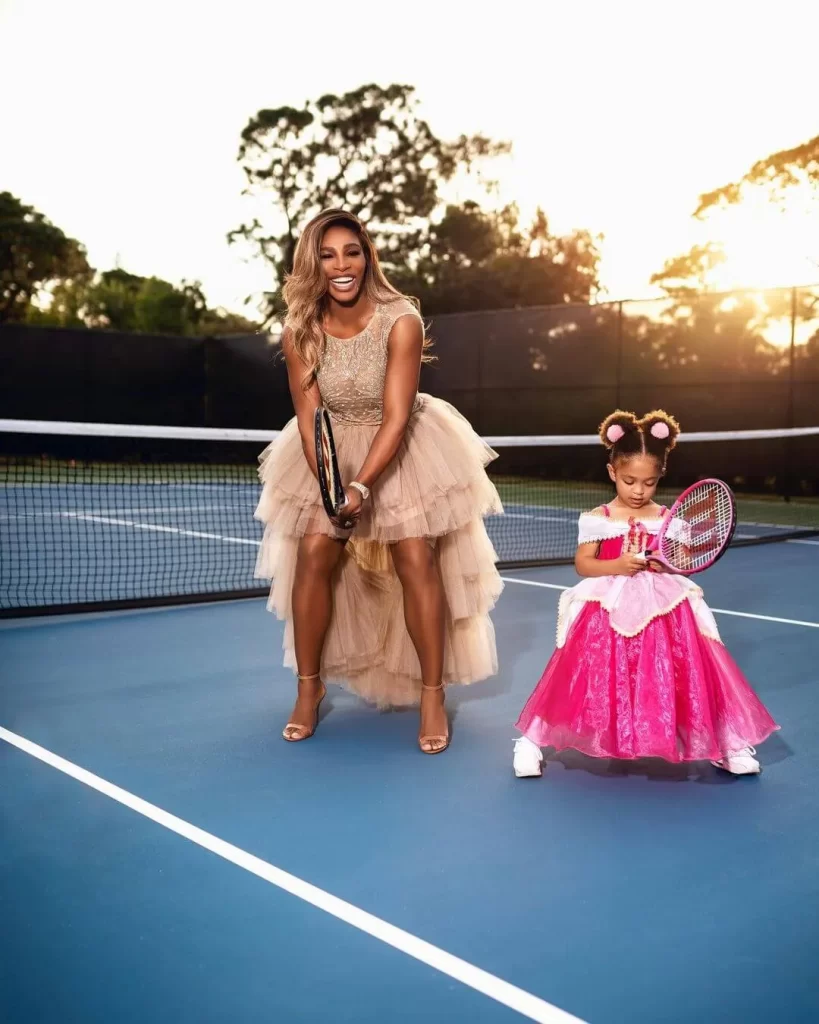 | | |
| --- | --- |
| Birthdate | 26 September 1981 |
| Age | 41 |
| Highest Ranking | No. 1 |
| Titles won | 96 Titles 39 Grand Slams 4 Olympic Golds Grand Slam Cup (1999) 5 Tour Finals |
Serena Williams needs no introduction. As the younger of the Williams Sisters, the two are almost entirely responsible for the sudden boom in the popularity and viewership of tennis in the 21st century.
Serena, who is considered the better of the duo, is in many ways the second coming of Billie Jean King and Althea Gibson. A similarity she has with King is her 39 Grand Slam titles but unlike King, Serena leads in singles with 23 major titles.
Her 23 major singles titles are an Open Era record and the second-highest of all time. Of those singles titles, she has seven from the Australian Open and six from the US Open, both Open Era records. While Serena dominated the singles category from the early 2000s to the late 2010s, the sister duo remains the greatest in woman's history.
She has accomplished 2 singles career Grand Slams and one doubles career Grand Slam. Serena's career Grand Slams in both singles and doubles are a tennis history record for both men and women.

Even her almost $95mil prize money earnings are the highest of all time. The former world no. 1 has been an inspiration for countless women and African-Americans. Players like Coco Gauff and Naomi Osaka have said they would've never even picked up a racquet had it not been for Serena Williams. This year marked the end of her phenomenal over 2-decade-long career but she may return to tennis in the future.
Margaret Osborne DuPont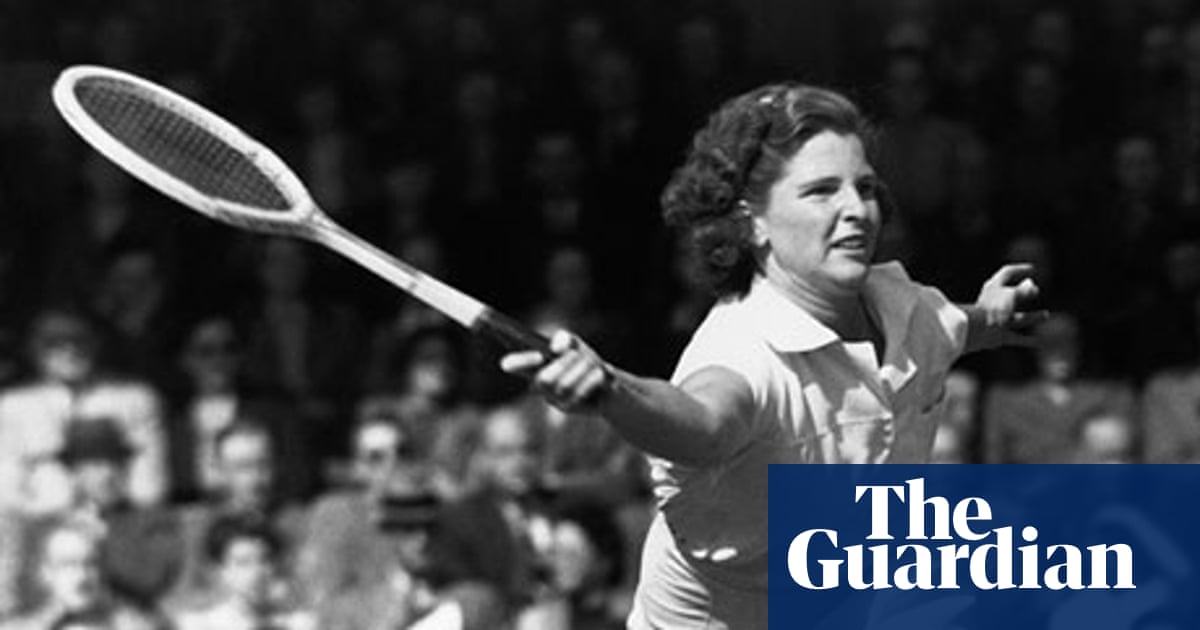 | | |
| --- | --- |
| Birthdate | 4 March 1918 |
| Age | 94 (d. 2012) |
| Highest Ranking | No. 1 |
| Titles won | 37 Grand Slams 10 Wightman Cups |
After Helen Wills, Margaret Osborne is the oldest member of this list. Though she won 6 Grand Slam singles, she is best known for her 21 doubles and 10 mixed doubles titles. Her doubles performance was legendary and set multiple records.
Her 25 U.S. Championship wins are a record. Her doubles team with Brough won 20 major tiles- the most by a women's team. She has multiple other records at the US Championship. She ranked no. 1 and won 37 major titles despite the fact she never participated in the Australian Championships.
Lance Tingay of the Daily Telegraph ranked her in the top 10 for years before she finally reached the top no. 1 in 1947 through to 1950. She is part of the few women who won a major title after giving birth. Margaret was also undefeated in 10 Wightman Cup events. She was inducted into the Tennis Hall of Fame in 1967. She passed away in hospice quite recently in 2012.
Billie Jean King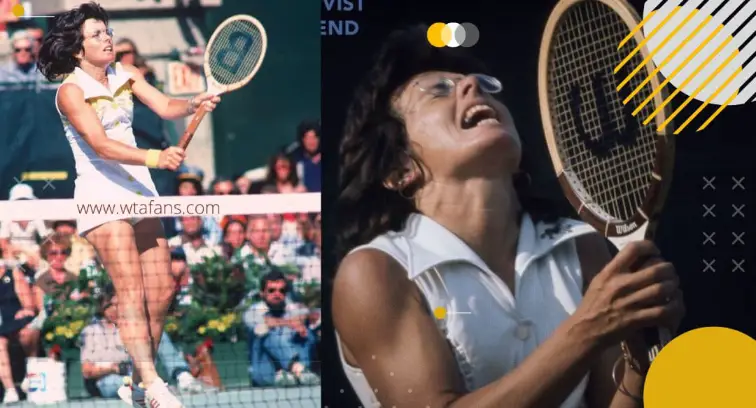 | | |
| --- | --- |
| Birthdate | 22 November 1943 |
| Age | 78 |
| Highest Ranking | No. 1 |
| Titles won | 39 Grand Slams 7 Fed Cups 4 Tour Finals |
Billie Jean King is probably the most famous of the members on this list. The 39-time Grand Slam winner won 12 singles and 27 doubles titles. She is an integral part of women's tennis history as she helped found the Woman's Tennis Association (WTA).
She also contributed to the creation of the Virginia Slims events in the 1970s. Her rivalry with Margaret Court was also legendary. In 1971, King played her most monumental and successful season, setting multiple records including the most matches played, most matches own, and most doubles titles won.
During the Battle of the Sexes in 1973, she defeated Bobby Riggs, helping further develop respect and viewership for woman's tennis. Margaret Court called King her "greatest competitor" and Chris Evert applauded her wisdom and vision. After retiring in 1990, she served as the Fed Cup team Captain and social justice activist, demanding equal pay for women and respect for their sport. She was inducted into the Tennis Hall of Fame in 1987 and more recently in 2020, the Federation Cup was renamed to the Billie Jean King Cup in her honor. King has also written 2 books, one about the Battle of the Sexes, and the other is an autobiography she wrote recently in 2021.
Althea Gibson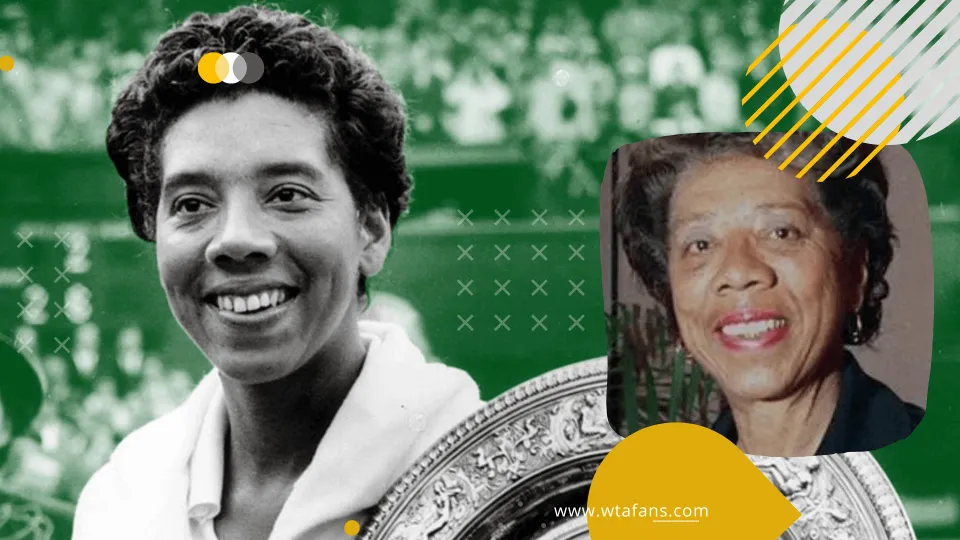 | | |
| --- | --- |
| Birthdate | 29 August 1927 |
| Age | 76 (d. 2003) |
| Highest Ranking | No. 1 |
| Titles won | 11 Grand Slams |
Althea Gibson is the second of 3 black athletes on this list. She defied all odds as an African-American woman, managing to cross the color line into international tennis. She played at a time when racial segregation was at a high and many obstacles were placed to prevent black athletes from breaking into professional sports.
I am honored to have followed in such great footsteps. Her accomplishments set the stage for my success, and through players like myself and Serena and many others to come, her legacy will live on.

Venus Williams (2003)
She became the first Black woman to win a major title in 1965 at the French Championships. In total, she won 11 major titles- 5 singles, 5 doubles, and a mixed doubles title. Althea was also the first woman to receive the Theodore Roosevelt ward from the NCAA, the highest honor given to graduates.
She retired in 1958 and was inducted into the Tennis Hall of Fame in 1971. In her final years, she suffered 2 cerebral hemorrhages, a stroke, and a heart attack before finally succumbing to a bladder infection in 2003. Her legacy lives on through other black tennis players like the Williams sisters and now Coco Gauff.
Maureen Connolly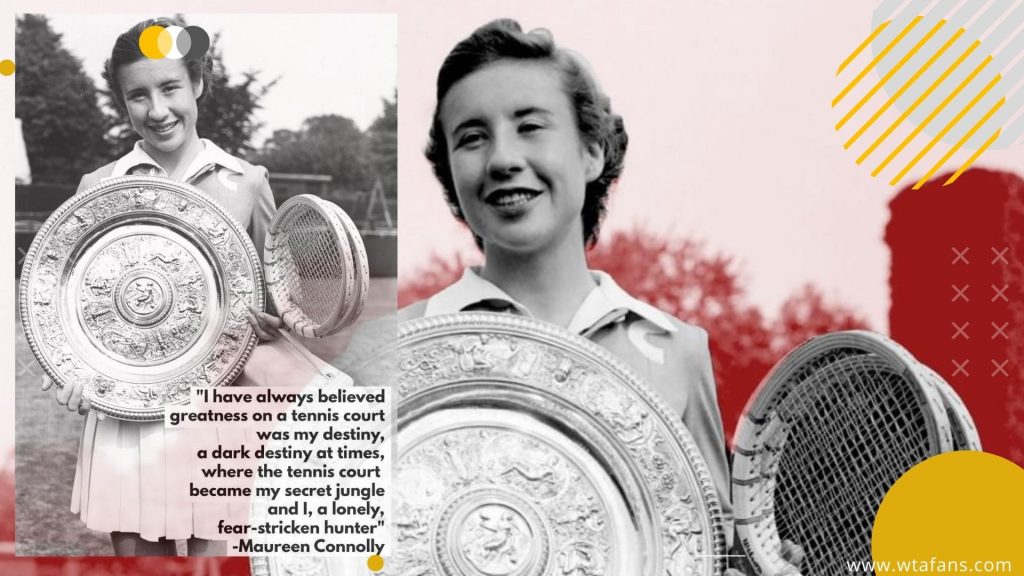 | | |
| --- | --- |
| Birthdate | 17 September 1934 |
| Age | 34 (d.1969) |
| Highest Ranking | No. 1 |
| Titles won | 12 Grand Slams 4 Wightman Cups |
Maureen Conolly had the shortest career of any of the members on this list. Loving referred to as "Little Mo" by the press her full name is Maureen Catherine Connolly-Brinker, she was extremely young even by the time she retired and by the time of her untimely death.
Maureen first started playing tennis in 1949, she retired just 5 years later in 1954 after a devastating horseriding accident. She was only 19 when she retired. Although Maureen only played for 5 years, never going professional, she still won 12 major titles, an amazing accomplishment given her young age. She was the first woman to win a career Grand Slam in 1953 and she is the only player in history to win the title at all 4 Grand Slam tournaments.
She was even named Female Athlete of the Year 3 years in a row. At just 15 years old, she became the youngest winner of the US Championship for girls 18 and under. Jer 9 singles major titles are proof of the natural talent Maureen possessed. After retiring, she wrote an autobiography but sadly, she was diagnosed with ovarian cancer in 1966. She succumbed to her cancer in 1969 at the young age of 34. Maureen was inducted into the Tennis Hall of Fame.
Venus Williams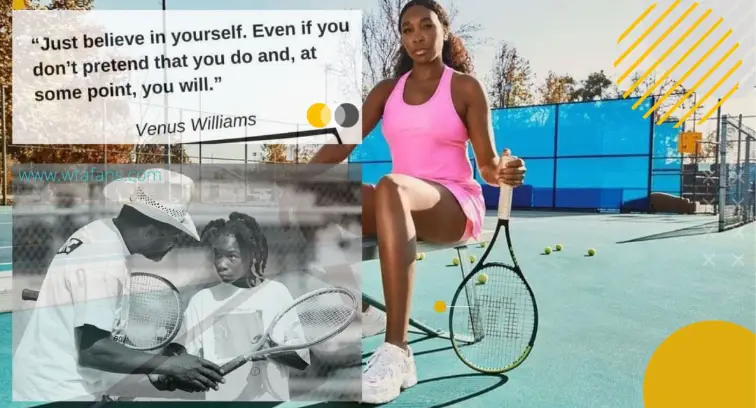 | | |
| --- | --- |
| Birthdate | 17 June 1980 |
| Age | 42 |
| Highest Ranking | No. 1 |
| Titles won | 73 Titles 4 Olympic Golds Hopman Cup |
Venus Williams, just like her sister, needs no introduction. She has won multiple awards and set over 10 records. She and her sister Serena dominated woman's tennis and are considered the top tennis duo of all time.
She has won 7 Grand Slam singles titles which are 5 Wimbledon and 2 French Open wins. Her doubles achievements, with the help of her sister, are some of the most impressive in tennis history. She has 19 Grand Slam doubles titles under her belt and even her Olympic performance is astounding. Venus won the 2000 Sydney Olympics gold in both the singles and doubles categories. Then again in 2008 and 2012, the Williams sisters snatched the gold. She also has a silver medal for mixed doubles from the 2016 Rio de Janeiro Olympics. Turning pro in 1994, Venus has amassed $42mil prize money, the second highest of all time behind her younger sister Serena.
Some of the records she set include the most Grand Slam appearances at 91, being the lowest-seeded champion at Wimbledon, the fastest serve by a woman, most Olympic finals, and so much more. She has been placed in the top 10 female players of all time by multiple publications and received numerous athlete of the year awards.
Venus was instrumental in ensuring equal pay for women at Wimbledon as well as the French Open. Venus and her sister Serena have left their mark on tennis and act as beacons of hope and ambition for millions of black people around the world. There is no doubt, Venus is one of the greatest tennis players of all time. Today, Venus is still an active player even at 42 years of age. She just recently played in the 2022 US Open, losing in the first round.
Lindsay Davenport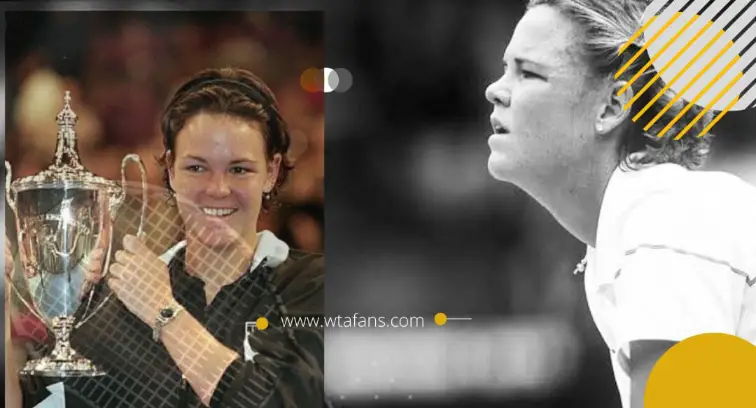 | | |
| --- | --- |
| Birthdate | 8 June 1976 |
| Age | 46 |
| Highest Ranking | No. 1 |
| Titles won | 93 Titles 6 Grand Slams Hopman Cup 4 Tour Finals Olympic Gold |
Lindsay Ann Davenport Leach was ranked world no. 1 in both singles and doubles in her career. She was the year-singles world no. 1 4 times, becoming the 4th woman to have done so.
Throughout her 17 years career, Lindsay won 55 singles and 38 doubles titles. She won 3 major singles titles in different Grand Slam events without dropping a set, the 3rd woman at the time to have accomplished this.
She accumulated $22mil in prize money earnings which were the greatest of all time until Serena Williams surpassed her. She was described as being one of the hardest and cleanest hitters in WTA history. Even Serena Williams called her the "hardest" hitter and the most "powerful" player she faced.
She never won a major doubles title at the Australia Open but she made the finals 6 times. Lindsay also won 1 single Tour Final and 3 doubles Tour Finals. In the 1996 Atlanta Olympic games, she won the gold medal, her biggest career accomplishment. She was part of 1996, 1999, and 2000s Fed Cups when America won. Right before retiring, in 2011, Lindsay won the Women's Legends Doubles event at the French Open. 3 years later, in 2014, she was inducted into the Tennis Hall of Fame.
Monica Seles
| | |
| --- | --- |
| Birthdate | 2 December 1973 |
| Age | 48 |
| Highest Ranking | No. 1 |
| Titles won | 59 Titles 9 Grand Slams 3 Tour Finals Olympic Bronze |
Monica Seles, the Serbian-American player, had the makings of becoming one of the best female tennis players of her time. She was already one of the best but if it hadn't been for her highly-televised on-court stabbing attack, she could've continued to develop her skills, rivaling the greatest like Steffi Graf.
She never could return to her best form after her attack and by 2003, Monica unofficially retired. While representing Yugoslavia and as a teenager,  Monica won 8 of her 9 singles major titles. After a 2 year hiatus following the stabbing incident, she became a USA (United States of America) citizen and was represented as an American moving forward in her career.
Though she never could return to her top form, she still won the 1996 Australian Open and reached the quarter-finals in the doubles event at Wimbledon and the US Open. In the 2000 Olympic Games, she secured herself the bronze medal, proving could still perform. She holds the Open Era record for most major singles titles won as a teenager. While she represented Yugoslavia, she also won 3 Tour Finals. She was inducted into the Tennis Hall of Fame in 2009.
Although this list is almost entirely filled with former tennis players, it only further proves the point that the US has supplied the tennis world with some of its best players. Apart from the Williams sisters, all members of this list have been inducted into the Tennis Hall of Fame and the sisters have also certainly secured a spot.
Even today, American female tennis players remain at the top, Coco Gauff, Madison Keys, Jessica Pegula, and Danielle Collins are just a few of the current top female US players.