Tennis Power Couple Stefanos Tsitsipas and Paula Badosa Address Breakup Speculations with Heartwarming Photo
The most romantic couple in the tennis world right now, Stefanos Tsitsipas and Paula Badosa, have found themselves at the center of a whirlwind of speculations in recent days. However, this time, it's not about their affection, but rather the status of their relationship that has been under scrutiny.
For the past few days, rumors have been swirling about whether the Tsitsidosa love story is on the verge of ending. Their sudden Instagram cleanup had fans and the media alike wondering about the state of their relationship.
Was it a calculated publicity stunt or the aftermath of a heated disagreement that prompted the removal of their shared memories?
But fear not, fans of the tennis power couple, for they have put all breakup rumors to rest with a heartwarming photo taken in Dubai. The candid snapshot shows Stefanos Tsitsipas and Paula Badosa locked in an embrace against the stunning backdrop of the Burj Khalifa, one of the most iconic landmarks in Dubai. This picture was promptly shared on their widely-followed joint Instagram account, "Tsitsidosa," reaffirming the enduring strength of their passionate relationship.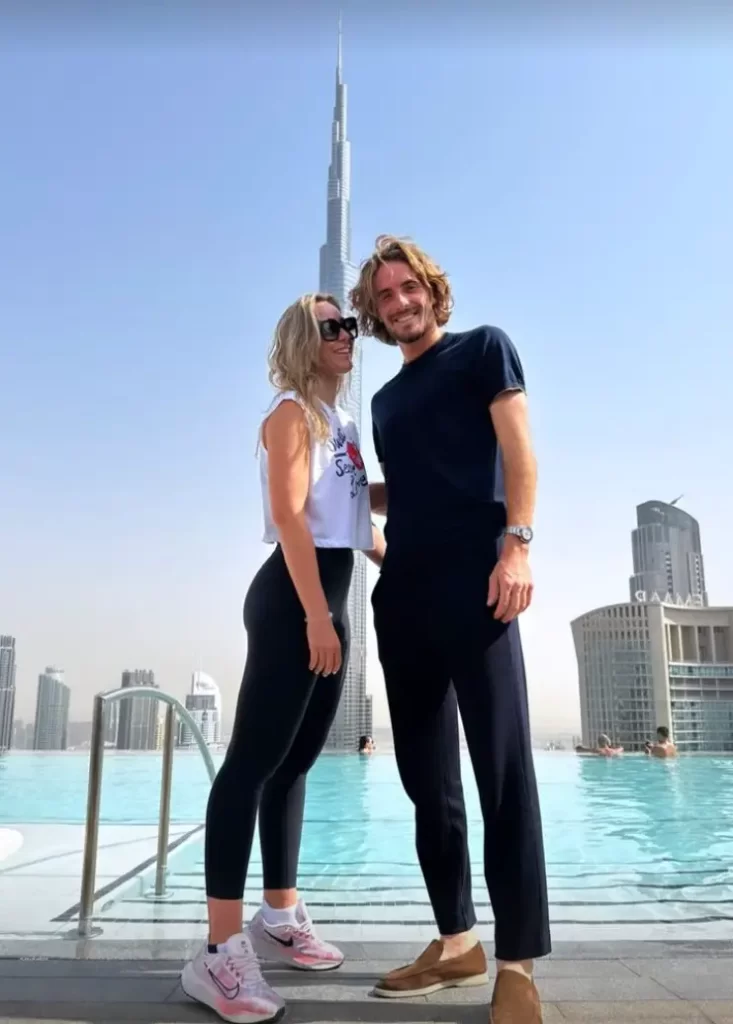 The story of Tsitsipas and Badosa's whirlwind romance began when Badosa shared an intimate photo with Tsitsipas in June, amidst reports of a potential separation from Cuban model Juan Betancourt. The unexpected revelation of their new tennis romance led to the creation of their combined Instagram account, "Tsitsidosa," where they shared their love story with their fans.
However, this is where the plot thickens. Observant fans noticed that all the pictures of the couple together had disappeared from their "Tsitsidosa" account, sparking further speculation about a possible breakup. The sudden absence of their love-filled moments left many wondering if Tsitsipas and Badosa were indeed still together.
The mystery deepens as the Spaniard, Paula Badosa, returns to her residence in Dubai and catches up with her fellow pro, Aryna Sabalenka. Badosa and the newly-minted World No. 1 appeared to enjoy some quality time together, sharing their get-together moments on their respective Instagram accounts. They captioned their posts with "My date" and tagged each other, signaling a strong bond of friendship. However, there have been no concrete sources to validate whether Tsitsipas and Badosa have decided to end their romantic relationship.
As fans and the tennis world continue to speculate about the status of Tsitsipas and Badosa's relationship, it remains uncertain whether this tennis power couple is teasing their fans or if their love story has truly come to an end. Regardless of the outcome, one thing is clear—the world will be watching their every move with bated breath, hoping for a happy ending to this captivating love story.