Iga Swiatek Urges Fans to Keep Expectations in Check
World No. 1 tennis player, Iga Swiatek, has reminded her fans that she is only human and urged them to keep their expectations in check. The 2022 French Open winner has had a mixed start to 2023, winning in Qatar Ladies Open before being beaten in the final in Dubai by Barbora Krejcikova.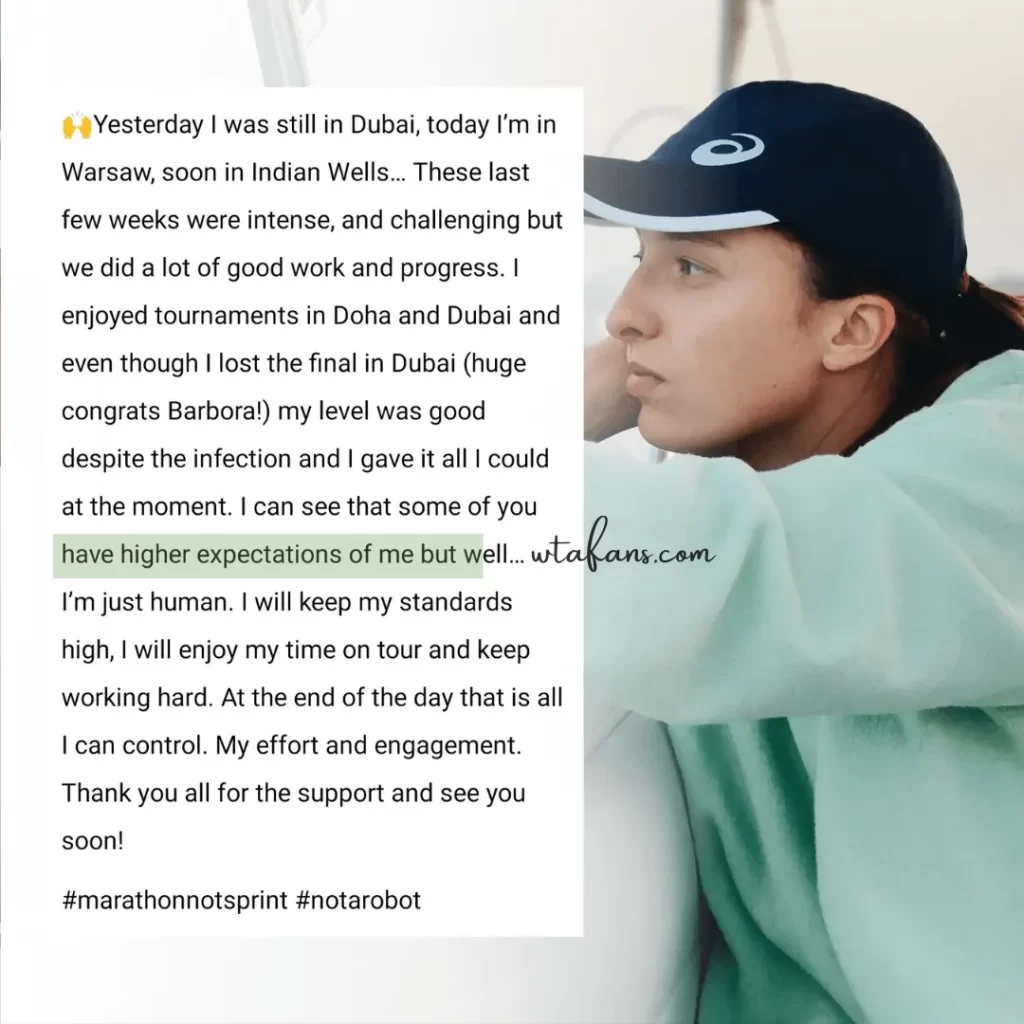 Despite her impressive performances, Swiatek has faced criticism from some fans who have come to expect nothing but victory from the young star. In a recent social media post, Swiatek asked her followers to retain some perspective and not to place too much pressure on her.
"These last few weeks were intense and challenging, but we did a lot of good work and progress," Swiatek wrote. "I can see that some of you have higher expectations of me, but, well… I'm just human. I will keep my standards high, I will enjoy my time on tour and keep working hard. At the end of the day, that is all I can control, my effort and engagement."
🙌 A couple of words after two weeks of hard work, great experience and lessons. pic.twitter.com/lbisOT0OGp

— Iga Świątek (@iga_swiatek) February 27, 2023
Swiatek's comments come after some fans suggested that the game was too easy for her. However, the Polish player dismissed these claims, saying, "Tennis is such a complicated sport that you're never going to know why or what happened."
Swiatek's rise to the top of the tennis world has been nothing short of meteoric. In 2020, she became the first Polish player to win a Grand Slam singles title, and she has since gone on to become the youngest player to hold the world No. 1 ranking since Caroline Wozniacki in 2010.
However, Swiatek has been keen to stress that she is not invincible and that there will be days when she doesn't perform at her best. "At the end of the day, I'm just a young player trying to do my best," she said. "I'm grateful for all the support I've received, but I hope my fans can understand that I'm not a machine. I have good days and bad days, just like everyone else."
As Swiatek prepares for her next tournament in Indian Wells, she will no doubt be hoping to continue her impressive form on the court. But whatever happens, she will be taking it all in her stride, safe in the knowledge that she has the talent and determination to succeed at the highest level.