Iga Swiatek gives a frosty handshake to Taylor Fritz after the body shot incident
Iga Swiatek and Hubert Hurkacz teamed up for Team Poland to face off against Team Forehand Fear's Taylor Fritz and Aryna Sabalenka in the Tiebreak Tens final at the Eisenhower Cup. The winner would secure a $200,000 donation to a charity of their choice.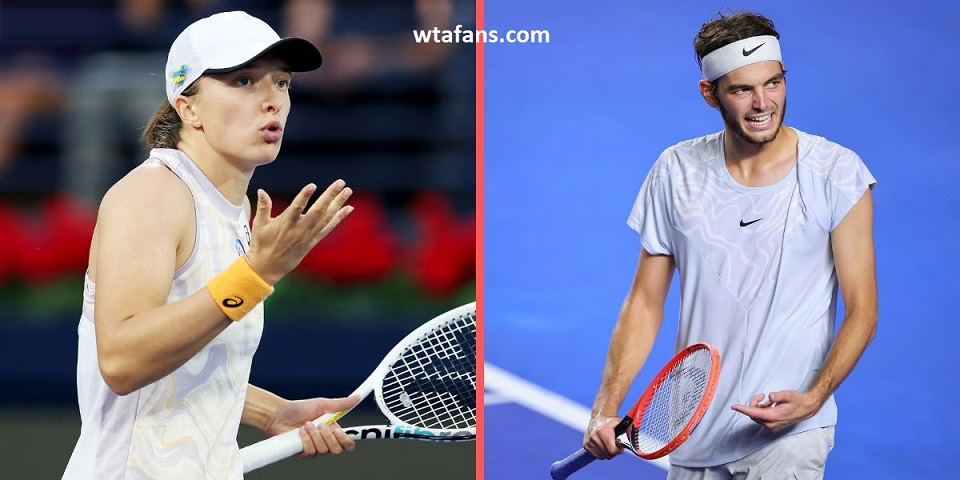 During the match, Fritz hit a powerful return straight at Swiatek, who narrowly dodged the ball. Sabalenka and Fritz won the match 10-8. However, during the customary handshake at the net, Swiatek gave a quick and cold handshake to Fritz.
quick Swiatek-Fritz handshake! pic.twitter.com/lbisOT0OGp

— Iga Świątek (@iga_swiatek) February 27, 2023
Tennis fans expressed their support for Swiatek and criticized Fritz for his actions. One fan stated that the incident added to the entertainment value of the exhibition match, as it caused tension between the two defending champions.
Another fan commented that they would be rooting for Swiatek to defend her title successfully, unlike Fritz, who they believed would be eliminated from the tournament early by Ben Shelton.
Iga still better then me I would give him a side eye and walk off during handshakepic.twitter.com/lbisOT0OGp

— Iga Świątek (@iga_swiatek) February 27, 2023
Overall, Swiatek's frosty handshake towards Fritz after the body shot incident caused a stir among tennis fans, highlighting the importance of sportsmanship in the game.
Following are some Fan's Reactions to Iga Swiatek and Taylor Fritz incident.
An exhibition leading to beef between Iga Swiatek and Taylor Fritz is perfect, actually. pic.twitter.com/lbisOT0OGp

— Iga Świątek (@iga_swiatek) February 27, 2023
Get him mother!!!pic.twitter.com/lbisOT0OGp

— Iga Świątek (@iga_swiatek) February 27, 2023
Tried to tag her and then bomb serve on match point 😂 Fritz out here doing the dirty workpic.twitter.com/lbisOT0OGp

— Iga Świątek (@iga_swiatek) February 27, 2023