Czech Female Tennis Players
The Czech Republic has produced some of the most talented and popular women's tennis players. All that is due to its strong heritage and talent development. Our today's write up explores and celebrates the "Top Ten Amazing Czech Female Tennis Players".
These women's devotion, ability, and enthusiasm for tennis have left an everlasting effect on the sport and inspired many aspiring players. We'll explore the exciting lives and incredible careers of these exceptional athletes who have proudly waved the Czech flag on tennis courts worldwide, from Grand Slam winners to budding talents.
Join us as we celebrate their victories, indomitability, and lasting impact on women's tennis.
1: Petra Kvitova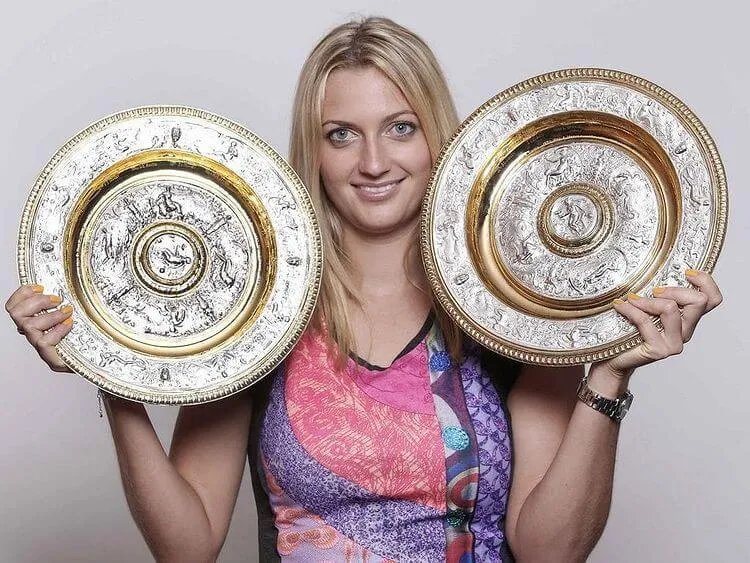 Born on March 8, 1990, Petra Kvitova with her family's persistent backing, advanced through the junior tennis rankings fast. When she won her maiden WTA Tour championship in 2007, it was her big break. With this win, a career full of honors and achievements began. Kvitova's career took off after she won her second Grand Slam championship at Wimbledon in 2014.
Apart from her famous accomplishments, Petra has played a crucial role in the Fed Cup squad of the Czech Republic. She has contributed significantly to the Czech Republic's dominance in women's tennis by helping her country win the most renowned team tournament many times. Regarding sponsorship, Petra Kvitova has had partnerships with several famous companies throughout the years. She has partnered with Nike, one of her most well-known sponsors.
2: Karolina Pliskova
Born in Louny, Czechoslovakia (now the Czech Republic) on March 21, 1992, Karolina Pliskova has become one of the most fearsome and reliable female tennis players. Her career took a significant turn in 2010 when she defeated Laura Robson to win the junior championship at the Australian Open.
Pliskova's first WTA championship came in 2013, when she won the Malaysian Open, confirming her as a rising star even further. In 2016, Karolina Pliskova's rise to the top of the women's tennis rankings quickened. She qualified for and placed second in her maiden Grand Slam final at the US Open that year. She rose to the top of the WTA rankings because of her strong play and reliable results. She solidified her place among the top famous players in women's tennis by holding the No. 1 position for eight weeks.
Karolina Pliskova has received notable sponsorships from well-known companies. One of her biggest supporters is the popular Fila, a famous sportswear brand that worked with her to design her on-court gear.
3: Barbora Krejcikova
Born in Brno, Czech Republic, on December 18, 1995, Krejcikova was introduced to the game at a young age. In October 2013 she got third position in the junior world rankings. Alongside fellow Czech Kateřina Siniaková, she won the girls' doubles crowns at Wimbledon, the US Open, and the French Open that year. She also made it to the Australian Open finals with Oleksandra Korashvili of Ukraine. She also won the singles and doubles titles in the European Junior Championship U18 in Klosters, Switzerland, the same year.
To advance to the fourth round of the French Open, Krejčíková beat Ekaterina Alexandrova, Kristýna Plíšková, and Elina Svitolina. After making only five main draw singles appearances, Krejčíková defeated Anastasia Pavlyuchenkova in three sets to win her maiden Grand Slam singles championship in her first-ever Grand Slam final. Barbora Krejcikova has received sponsorship recognition from many well-known companies. She had teamed with the well-known sportswear firm Fila.
4: Marketa Vondrousova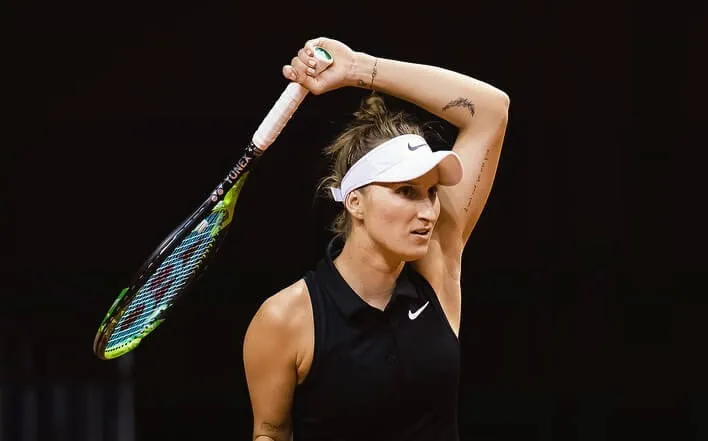 She was born in Sokolov, Czech Republic, on June 28, 1999. Her remarkable skill set and young drive have made her a sensation in the professional tennis scene. Her development from a young, talented player to a Grand Slam finalist is evidence of her skill and unrelenting commitment to the game. Her early successes on the junior circuit served as a prelude to her future success in the professional sphere.
A bright career began in 2015 when she won her maiden ITF singles championship, which was one of her early triumphs. Her exquisitely strong game, characterized by her superb shot-making, point-constructing skills, and deft drop shots, attracted the attention of both tennis novices and specialists.
Regarding sponsorship, renowned companies have acknowledged Marketa Vondrousova. Her on-court demeanor was highlighted by collaboration with J. Lindeberg, which also highlighted her marketability and allure on a worldwide scale as a rising tennis star. 
5: Siniakova Katerina
Born in Hradec Kralove on May 10, 1996, her love of tennis began in her early years. When Siniakova won her first ITF singles championship in 2012, it was her big break and the start of an exciting career. Later on, she won her first WTA singles championship at the Shenzhen Open in 2017. Although Siniakova has had some success in her singles career, her doubles play skills are quite impressive. The accomplishments of Katerina Siniakova go beyond her triumph in doubles. She has been a vital member of the Fed Cup squad representing the Czech Republic, contributing significantly to their wins in the esteemed team tournament. 
Regarding sponsorship, Katerina Siniakova has garnered interest from many prominent businesses. Her collaboration with the renowned brand Lotto is evidence of her marketability and popularity on a worldwide scale.  
6: Iveta Benesova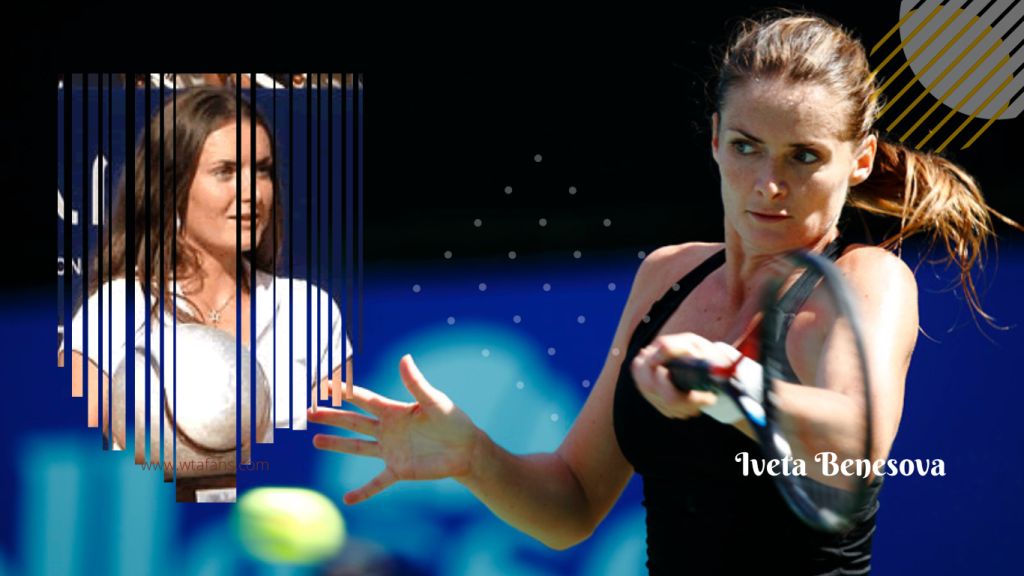 Born on February 1, 1983, Benesova's journey with tennis started when she was young and attempted the fundamentals of the game. She quickly started focusing her efforts on improving her talents on the court once it was evident that she had early promise.
Iveta Benesova had more success on the doubles circuit as a result of her dedication to perfection. Along with Jürgen Melzer, she won one Grand Slam championship in mixed doubles at the 2011 Wimbledon Championships. She has won two WTA Tour singles titles and fourteen doubles matches. She wed Melzer on September 14, 2012, and took on his last name (till 2015). On August 13, 2014, she declared her retirement from professional tennis. 
Iveta Benesova had the backing of many sponsors including the world famous Nike in her final years of competition, who appreciated her contributions to the sport. These sponsors, who were devoted to supporting tennis and helping gifted players develop, were essential to her ongoing success.
7: Karolina Muchova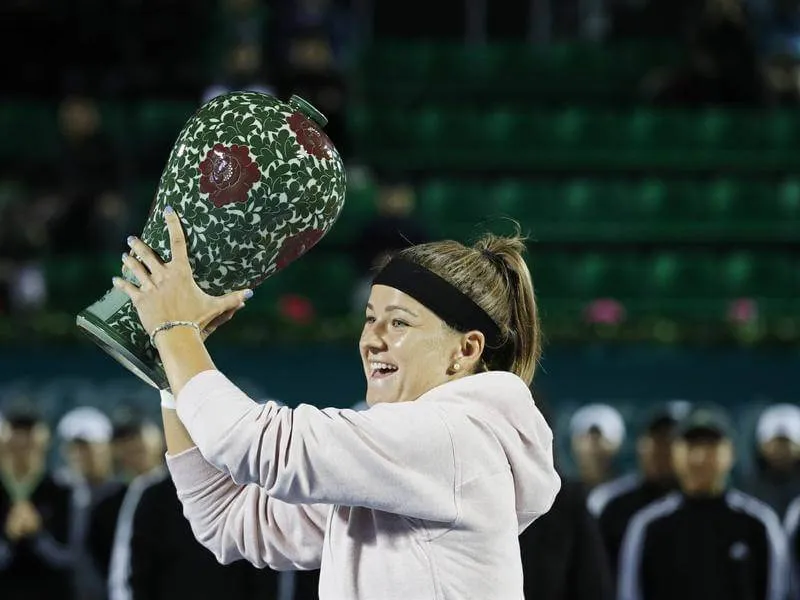 Born on August 21, 1996, in Olomouc, Czech Republic, Karolina Muchova is a rising star in the world of professional tennis. Her journey from her early beginnings to her current achievements exemplifies her remarkable talent, versatility, and unwavering dedication to the sport.
The gifted Czech tennis player Karolina Muchová peaked at No. 8 in the global rankings in September 2023. She has competed in four finals on the WTA Tour, most notably the 2023 French Open final and the 2019 Korea Open championship. After becoming professional in 2013, Muchová became well-known after she beat the powerful Garbiñe Muguruza at the 2018 US Open. She defeated world No. 1 Ashleigh Barty in the Australian Open in 2021, advancing to the semifinals before falling to Jennifer Brady.
On the sponsorship front, Karolina Muchova has attracted recognition from several notable brands. One of her prominent sponsors is Adidas, a well-known sports equipment manufacturer.
8: Linda Fruhvirtová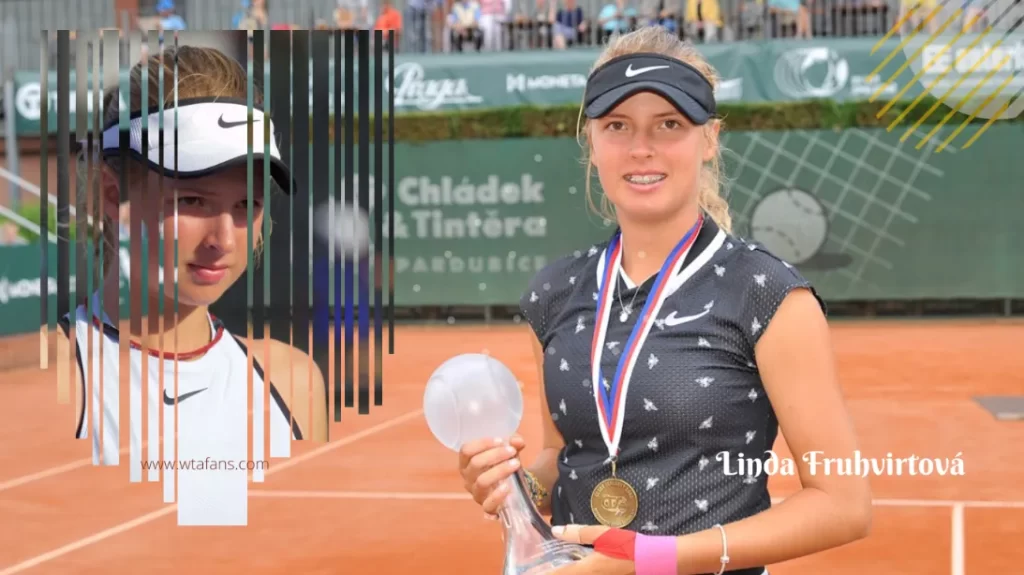 In the world of professional tennis, Linda Fruhvirtová (1, 2005, in Louny,) is a young and bright potential.  She obtained a career-high ranking of No. 49 in singles and No. 221 in doubles with the Women's Tennis Association (WTA) in June 2023 and February 2023, respectively. Her first WTA singles championship at the Chennai Open in 2022 was one of her many achievements. She received a wildcard and made her WTA Tour main draw debut at the 2020 Prague Open. Notably, she won her maiden WTA singles match at the WTA 250 MUSC Health Open in April of that year.
Although Fruhvirtová's career is still in its early phases she has sponsors like Nike, though in the world of sports, sponsorships may change over time, prominent businesses in the sports world often show interest in young, talented athletes like her. 
9: Tereza Martincova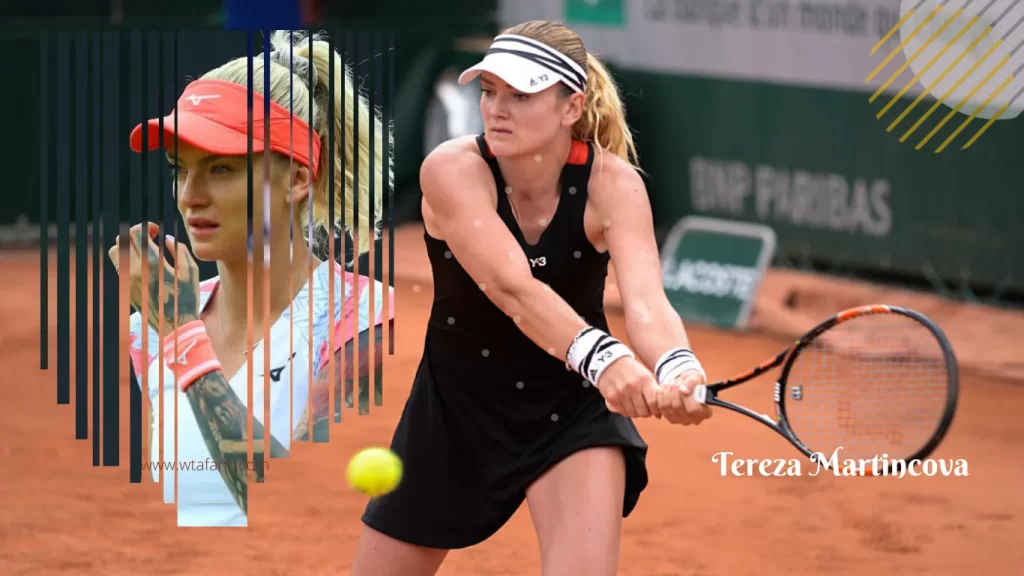 Born on October 24, 1994, in Prague, Czech Republic she has been gradually establishing her imprint in the sport. After qualifying, she reached the first round of the 2017 US Open, her greatest major title achievement. She duplicated her WTA Tour success by reaching the Ladies Championship Gstaad semifinals.
Her fourth ITF victory in Essen came in 2019, defeating Paula Badosa in the final. Her Wimbledon qualifying performance got her to the first round. She reached the final qualifying round in Melbourne in 2020, repeating her best result. At the Qatar Open, she qualified and advanced to the second round, defeating Kristýna Plíšková and Misaki Doi. Her impressive tennis stardom brought her to our list of Czech female tennis players.
Tereza Martincová's rise on the WTA Tour and major tournaments shows her persistence and dedication to the sport. Her effort and development show her potential as a professional tennis star. Regarding sponsorship, renowned companies have acknowledged Tereza Martincova, Mizuno, a well-known producer of sporting equipment, as her sponsor.