Anett Kontaveit's Back Injury Could Have Long-Term Effects on Her Tennis Career
Anett Kontaveit, the former world No. 2, has recently given an update on her back injury, revealing that she is dealing with degenerative changes in the lumbar discs in her spine and irritation caused by a previous injury to her left thigh.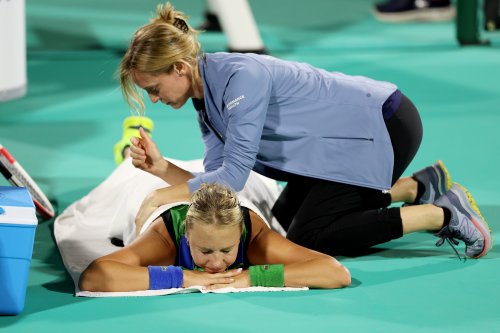 In her recent interview, she explained her Injury:
"My injury specifically involves degenerative changes in the spinal discs and irritation of the left femur tendons from previous trauma," Kontaveit said. "I treat it with special exercises and physiotherapy, with the help of physiotherapists Toms Zvonkovs and Lauri Ott."
She further stated:
"It will stay with the athlete for the rest of her career," Mardna said. "This can be controlled through special therapeutic exercises that have to be carried out daily, such as training the trunk muscles, abdominal and back muscles. That doesn't preclude elite sport, but it does require very careful exercise monitoring and possibly training adjustments."
Despite undergoing treatment with special exercises and physiotherapy, the Estonian player has had a rough start to her 2023 season, with early exits in all four tournaments she has participated in so far.
As a result of her injury, Kontaveit has withdrawn from the Qatar Open, the Dubai Duty-Free Tennis Championships, and the ongoing BNP Paribas Open. While she was hopeful that she will be able to play in Indian Wells and Miami but she has shocked her fans and the tennis world by admitting that she is likely to never fully recover from her back injury.
Kontaveit's lower back injury has led to her retirement from her round-of-16 match against Shelby Rogers at the Abu Dhabi Open, and her subsequent early exits from the Adelaide International 1 and 2, as well as the Australian Open. Despite her struggles, Kontaveit remains optimistic that she can continue to play at the highest level, as long as she is careful.