Sania Mirza Announced Retirement
Sania Mirza is an Indian professional tennis player who was once ranked No. 1 in the world in doubles. Throughout her career, she won numerous titles on the Women's Tennis Association (WTA) tour. Sania Mirza announced retirement just before Australian Open 2023. Former no. 1 Sania Mirza is set to make the final appearance of her career at the Australian Open.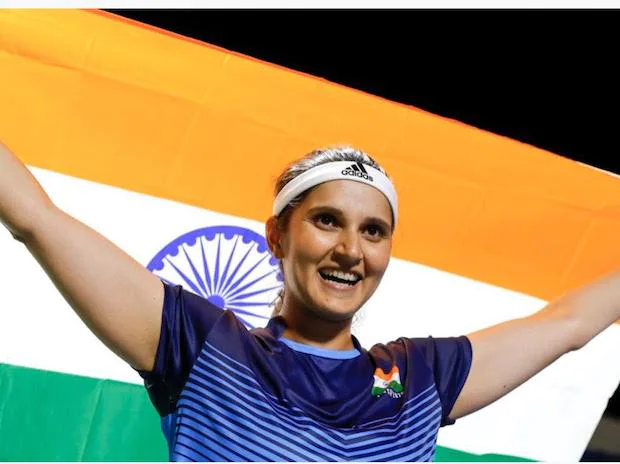 The 36-year-old Sania Mirza announced her retirement on the 13th with a sappy post on her social media accounts. Though slated to retire in late 2022, an elbow injury in August saw her season end prematurely. Thus wanting to go on her own terms, she postponed her retirement to a future date.
Sania Mirza Retirement
In the letter, Sania Mirza who is now the mother of a 4-year-old reflected on her tennis journey and all her struggles along the way.
She wrote: "Thirty (yes, 30!) years ago a six-year-old girl from Nasr School in Hyderabad, walked onto a tennis court at Nizam Club with her young mom and fought the coach to let her learn how to play tennis…The fight for our dreams began at six!"
She also spoke on her prosperous 22-year-long career, during which she achieved the greatest feats in tennis and overcame what was once thought possible for an Indian Muslim woman.
"We dared to dream of playing in a Grand Slam someday and of representing our country with honor at the highest level in sport," Sania Mirza said. As I look back at my career now, not only did I get to play well over half a century of Grand Slam tournaments but I was fortunate enough to win a bunch of them, too, with God's grace," Wrote Sania Mirza.
In the post, Sania also revealed the reason behind her retirement. Writing:
"My son needs me more than ever now and I can't wait to live a slightly quieter and calmer life while giving him more of my time than I have been able to give so far"
As this chapter of the tennis icon's life comes to a close, let's take a walk down memory lane. We will discuss some of her most significant career moments and accomplishments.
Sania Mirza Career Achievements
Sania Mirza stands unparalleled among her peers as the highest-ranked Indian female tennis player of all time. At the height of her career, Sania was ranked no.1 and no. 27 respectively in the doubles and singles rankings.
She is the only one to be ranked in the top 100 from India. Besides Sania, there is only one Indian Woman who won the WTA title. Mirza set even more records when she made her first Grand Slam main draw appearance, joining 2 other Indian women who contested and won a match at a Grand Slam event.
Sania Mirza Titles
Sania Mirza won 6 major titles, 5 runner-ups, 9 semi-finals, and 15 quarter-finals all Indian records. This Australian Open 2023 is to be her last Grand Slam appearance but it was also the event where she won her first major title. Partnered with compatriot Mahesh Bhupathi, the duo won the 2009 Australian Open mixed-doubles title after Mirza had finished as runner-up just the year prior.
Her records aren't limited to Indian tennis however, her 34 doubles titles are the highest among all active players in the WTA Tour. Sania once earned a 44-match winning streak, one of the longest in history.
Although Sania is best known for her domination in doubles and mixed-doubles play, she also played as a solo player from 2003 but after a severe wrist injury, she shifted her focus to doubles competitions. This injury had no negative impact on her career, however, She would go on to win more major titles, 2 Tour Finals, and be given numerous awards including WTA Doubles Team of the Year in 2015. Just this past season actually, Sania reached the quarter-final and semi-final respectively at the 2022 Australian Open, and Wimbledon Championships.
Sania Mirza Olympic Achievements
Aside from the WTA Tour, Mirza has participated in 4 Olympic Games, even making a semi-final once in 2016. At other major multi-sport events, Sania has acquired a total of 14 medals, 2 golds, 3 silvers, and 3 bronze at the Asia Games, 1 silver and 1 bronze at the Commonwealth Games, and 4 golds at the Afro-Asian Games in 2003 when she swept the competition winning the gold in every tennis field.
It is without a doubt that Sania Mirza is one of the greatest female tennis players of all time and though she has struggled with her form as of late, the 36-year-old is currently ranked world no. 29. She has maintained such high rankings almost throughout her entire career.
Sania Mirza Grand Slam Achievements
Women's Doubles
| | |
| --- | --- |
| Titles | Partner |
| Wimbledon – 2015 | Martina Hingis |
| US Open – 2015 | Martina Hingis |
| Australian Open – 2016 | Martina Hingis |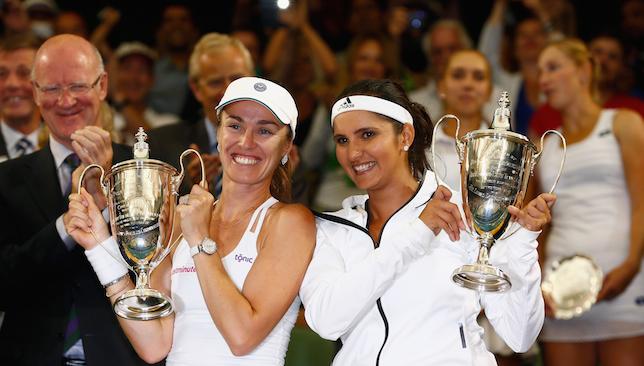 Mixed Doubles
| | |
| --- | --- |
| Titles | Partner |
| Australian Open – 2009 | Mahesh Bhupathi |
| French Open – 2012 | Mahesh Bhupathi |
| US Open – 2014 | Bruno Soares |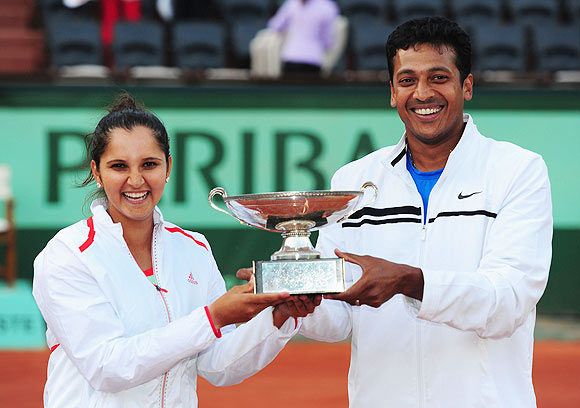 Mirza began her Grand Slam career in 2003 at the Australian Open, where she reached the second round in doubles. She then went on to compete in the French Open, Wimbledon, and US Open, but it wasn't until the 2007 Australian Open that she achieved her first Grand Slam success. At the tournament, Mirza and her doubles partner, Israeli player Shahar Peer, reached the semifinals, where they were defeated by the eventual winners.
In 2008, Mirza reached the quarterfinals of the Australian Open mixed doubles event, partnering with Indian player Mahesh Bhupathi. The following year, she reached the quarterfinals of the Wimbledon mixed doubles event, partnering with Bhupathi.
In 2015, Mirza achieved her greatest Grand Slam success to date. She won the Wimbledon doubles title, partnering with Swiss player Martina Hingis. The pair went on to win the US Open doubles title later that year, making them the first team to win both Wimbledon and the US Open in the same year since 1984.
In 2016, Mirza and Hingis continued their dominant form, winning the Australian Open and French Open doubles titles. With this, they became the first team since 1984 to hold 3 Grand Slam doubles titles at the same time. They also reached the finals of Wimbledon and US Open but unfortunately, they couldn't win.
In 2017, Mirza had to take a break from the game due to her pregnancy. She returned to the tour in 2019 but couldn't achieve the same level of success as before.
Sania Mirza Off-Field Achievements
Sania's influence can be felt outside of tennis as well with her many humanitarian projects. In 2014, she was made the brand ambassador for the Indian state of Telangana to promote the newly created state. She also established a tennis academy in Hyderabad. Multiple former Grand Slam winners and world no. 1s have visited this academy. She became the first-ever South Asian woman to be appointed as a Goodwill Ambassador when the UN made her the Women's Goodwill Ambassador for South Asia.
In her private life, Sania has been engaged on more than one occasion, being first engaged to Sohrab Mirza in 2009 but their wedding was called off shortly afterward. Among Pakistanis, she is also known as cricketer Shoaib Malik's wife. They both tied the knot on 12 April 2010 in a traditional Hyderabadi Muslim wedding. They held their wedding events in both India and Pakistan. The couple announced that they were expecting their first child on 23 April 2018. Soon in October, Shaib announced the birth of their baby boy Izhaan Mirza Malik.
Sania Mirza's Impact
As one of the most known, highest-paid, and most influential athletes in India, Sania's impact on Indian and Muslim women is undeniable. Countless people were inspired by her dedication and hard work and though she might not be playing in competitive competitions anytime soon, her journey with tennis is far from over. During Sania Mirza's retirement note on Social media, she said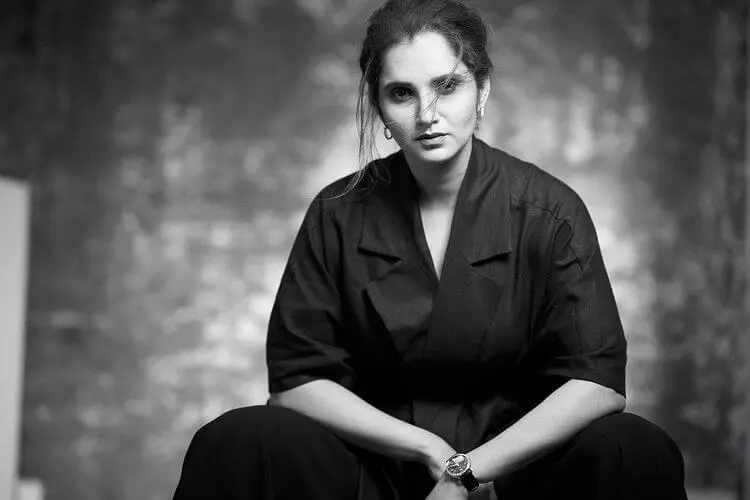 "Life must move on and I don't think this is the end, but in fact, the beginning of many different memories to be created, dreams to be achieved and new goals to be set." Sania Mirza wrote.