Ons Jabeur Retires from Porsche Tennis Grand Prix Semifinals Due to Calf Injury
Tunisia's Ons Jabeur's journey at the Porsche Tennis Grand Prix was brought to a tragic end on Saturday, April 22, due to a calf injury during her semifinal against Iga Swiatek. Jabeur had to retire from the match, leaving Swiatek to advance to the final, where she will face Aryna Sabalenka.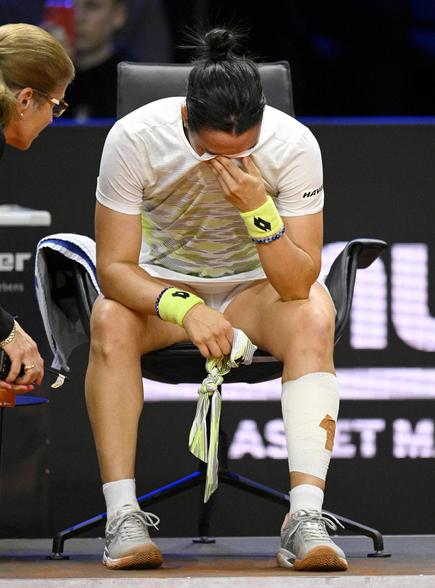 The popular Tunisian player had already faced Swiatek at the Stuttgart Open semifinals, where she was forced to retire due to injury as well. Jabeur's struggles during the semifinals were apparent from the beginning of the match, where she appeared to injure her leg in the first game.
Jabeur commented in press statements after the withdrawal:
Deeply sad that I was unable to continue the match today…..
Pns Expressed her feelings @Ons_Jabeur & pic.twitter.com/dqCt2z5Pba

— Ons Jabeur (@Ons_Jabeur) April 23, 2023
Despite her injury, Jabeur battled on for two further games, displaying her grit and determination. However, it became increasingly clear that she was not going to be able to continue, and Jabeur was left with no choice but to take a medical timeout.
Jabeur received heavy strapping on her calf during the timeout, but the injury proved too much for her to bear. She was unable to move properly, and the calf injury prevented her from putting weight on her left leg.
Down 0-3, Jabeur retired from the match, causing great disappointment among her fans. The Tunisian player had been in good form throughout the tournament, and her exit was a major setback for her.
Iga Swiatek on Ons Jabeur's injury in Stuttgart:
I really respect the fact that she came out and she tried. I told her we're probably going to play the Roland Garros Final, so we'll see each other there. She's a fighter…
Pns Expressed her feelings @TheTennisLetter & pic.twitter.com/dqCt2z5Pba

— The Tennis Letter (@TheTennisLetter) April 23, 2023
The semi-final match between Iga Świątek and Ons Jabeur in Stuttgart ended after only three games. The Tunisian had to retire due to a calf injury. Only 18 minutes lasted the semi-final match of the WTA 500 tournament played on hard courts in Stuttgart, in which Iga Świątek triumphed after the retirement of the Tunisian Ons Jabeur with the score 3:0 for the Polish tennis player. The leader of the world ranking consoled her injured rival and did not spare her kind words.