Eugenie Bouchard Net Worth 2023, Prize Money, Sponsors, Racquet
From the world's top 5 to currently being in the top 350, Eugenie Bouchard has had a very turbulent tennis career. After numerous injuries, setbacks, and failed returns, the Canadian player aims to make up for a lost time as the 2023 season commences. To learn more about Canada's former top player Eugenie Bouchard's Net Worth keep on reading.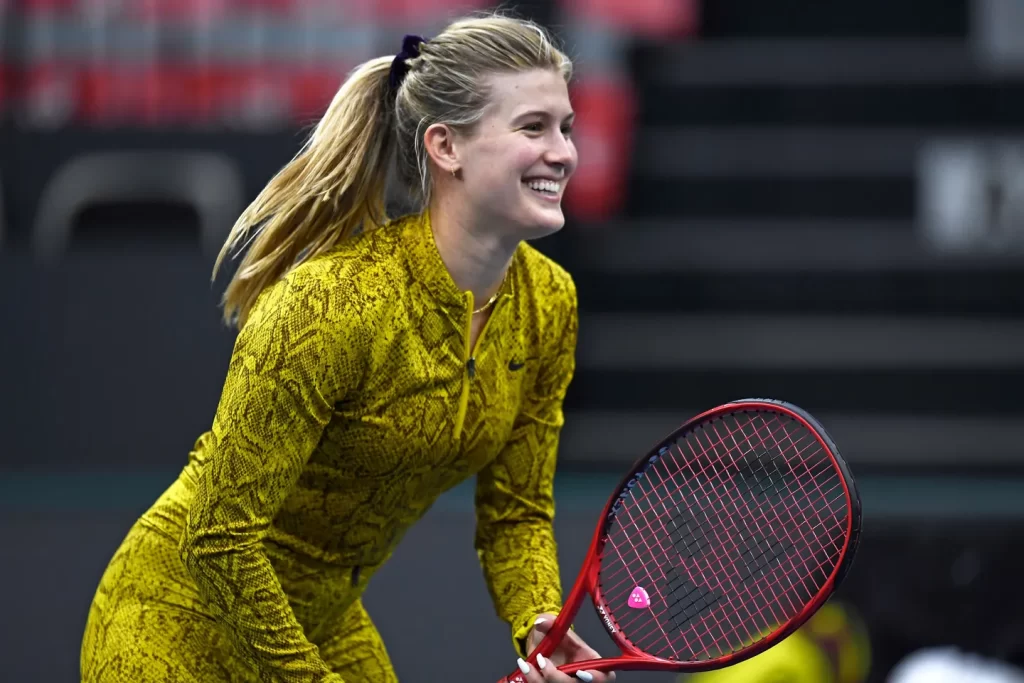 Eugenie Bouchard Profile/Bio
| | |
| --- | --- |
| Name | Eugenie "Genie" Bouchard |
| Estimated Net Worth | US $7 million |
| National/Birth Place | Montréal, Canada |
| Date of Birth (Age) | 25 February 1994 (28) |
| Height | 5′ 10″ or 1.78m |
| Weight | 58 kg |
| Plays | Right-Handed |
| Gender | Female |
| Endorsements | New Balance, Yonex |
Eugenie "Genie" Bouchard was born on the 25th of February in Montreal, Quebec as one of the twins. She was born to investment banker Michel Bouchard, and Julie Leclair. She has 3 siblings including her twin sister Beatrice, younger sister Charlotte and the youngest, William.
Eugenie got her start in tennis when she was just 5 years old. She joined Tennis Canada's National Training Centre in Montreal and trained there for a few years until she was 12. She returned to Montreal when she was 15 to continue training after choosing tennis to be her lifelong career. Her siblings even nicknamed her "the chosen one" and soon Eugenie's knack and innate talent for the sport would be on display once she started playing professionally. She is currently training in Las Vegas, USA.
Eugenie Bouchard Net Worth 
Eugenie Bouchard net worth is estimated to be around $7 million as of 2023. The biggest spike in her wealth came in 2014 after which she became an international star. Most of her sponsors and brand deals stemmed from that period.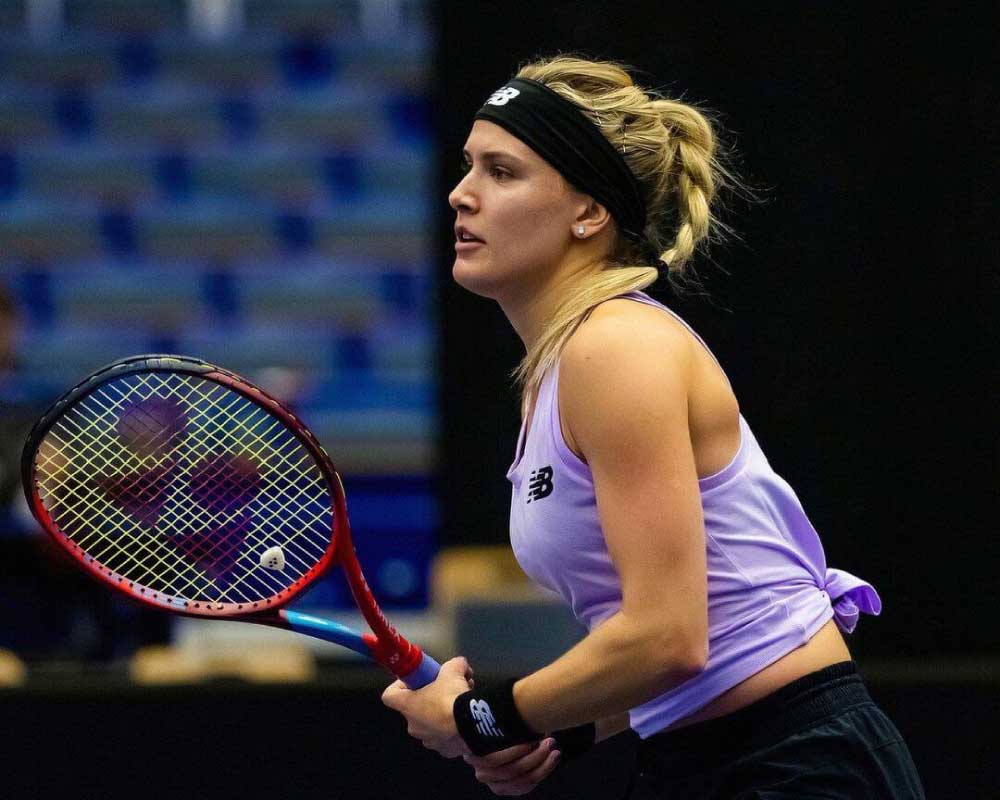 Eugenie Bouchard Earnings
Eugenie Bouchard has earned an impressive $6,761,979 in total prize money earnings as of 2023, over more than a decade of her tennis career. She peaked early on, with a successful year in 2013, which was followed by her explosive 2014 breakout season. She made almost half of her career earnings that year alone, but since then, she has been on a sharp decline. After numerous injuries, her presence on the rankings plummeted but she resurged in 2022 and is set to make a proper comeback this year.
Year
Prize Money Earnings
2023
$1,950
2022
$75,011
2021
$49,891
2020
$212,305
2019
$332,167
2018
$371,554
2017
$562,340
2016
$545,033
2015
$883,113
2014
$3,220,929
2013
$415,742
Total Prize Money: $6,761,979
Eugenie Bouchard Career Stats
Eugenie started playing professional tennis in 2005. She saw some victories while on the ITF Circuit and by 2009, she turned pro. In 2009, at just 15 years old, she won the Canadian Under-18 Under Championship in Toronto, becoming one of the youngest champions at the event. She went on to win the Pan American Closed  ITF Championships, and play her first professional match, winning against world no. 798. She continued these early successes into the junior Grand Slams.
Eugenie Bouchard WTA Debut
In 2011, Eugenie played her first WTA event and won her first main draw match. At the Australian Open, she reached the semifinals, and soon she was winning professional titles on the ITF Circuit. At Wimbledon, she reached the quarter-finals in singles but won the girls' doubles title, her first major win. Just aged 17, Eugenie defeated world no. 114. She kept improving year by year and in 2012, her last year as a junior, Eugenie won a Grand Slam title.
She started the year with a 2nd appearance at the Australian Open semi-finals. At Wimbledon, she clinched victory at the finals, winning both the singles and doubles titles, the latter for the 2nd consecutive year. Later in the year, she made it to the first WTA quarterfinal of her career. Other highlights from her impressive 2012 season include winning 5 ITF titles, of which one was a 50k tournament, and defeating former world no. 11 Shahar Pe'er at the Rogers Cup.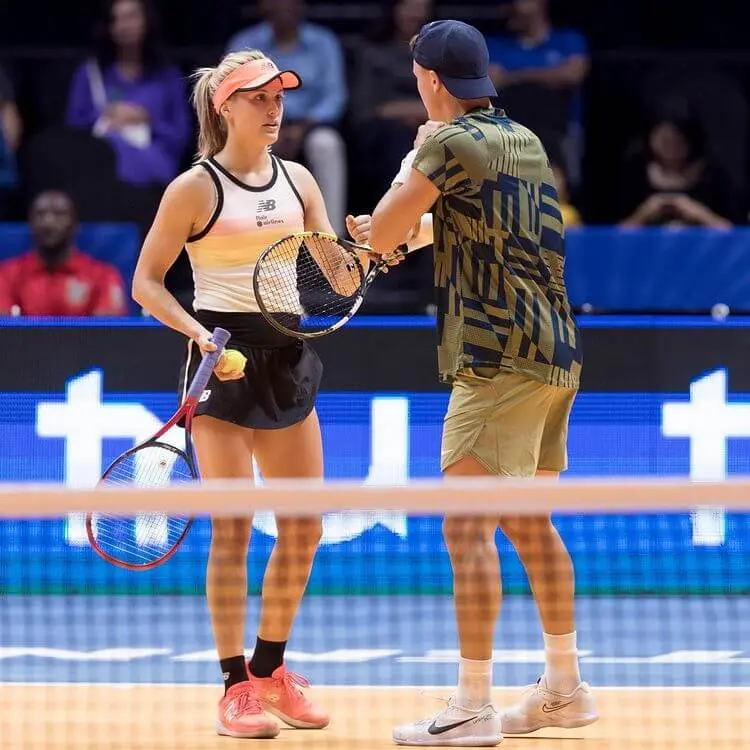 Now as a professional in 2013, Eugenie qualified for the Family Circle Cup where she defeated world no. 42 Laura Robson, and former US Open champion Samantha Stosur who retired. She advanced to the quarter-finals but lost to Jelena Jankovic. This tournament was significant as she recorded her first top 50 and top 10 wins, which helped her jump in the rankings to a spot in the top 100. At Wimbledon, Eugenie had a tremendous career victory, defeating former no. 1 Ana Ivanovic in the second round.
She reached her first WTA final at Washington D.C and the Pan Pacific Open, she bested Sloane Stephens and former world no. 1 Jelena Jankovic, her second top 10 victory. At Osaka she reached her first WTA singles final, becoming the first Canadian to do since Rebecca Marino in 2011. Given her numerous top player upsets and her winning the Newcomer of the Year, many could call this her breakout season but her season performance in the following year trumps all her achievements in 2013.
Eugenie Bouchard 1st WTA title
Eugenie started her 2014 season by helping Canada reach the World Group playoffs for the first time since 2014 at the Fed Cup. She recorded 2 more top 10 wins, once over Peng Shuai at the Indian Wells, and then over Venus Williams at the Family Circle Cup. Bouchard also won her first and only singles title in 2014 when she achieved victory at the Nürnberger Versicherungscup. She was now the sixth Canadian in history to win a title and the first since 2008.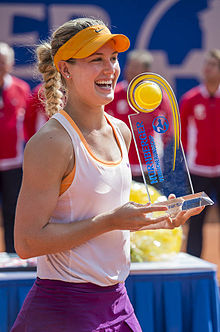 This year is described by her phenomenal Grand Slam performance where she reached the semi-finals at the first 3 Grand Slams, an achievement recorded previously by Dinara Safina in 2009. At Wimbledon in particular, she extended her run to the finals, where she lost to eventual champion Petra Kvitova. She suffered a heat stroke during the US Open and was just shy of reaching the quarterfinals. Now for the first time, Eugenie was ranked in the top 5. She qualified for the WTA Finals and was awarded the WTA Most Improved Player of the Year given her numerous top player upsets and Grand Slam victories. She ended the season as world no. 7. Though her performance throughout the rest of her career was varied, she would never again replicate the successes of her 2014 season.
Bouchard started 2015 representing Canada at the Hopman Cup where she bested Serena Williams. She seemed in form during early 2015 as she made the quarter-finals at the Australian Open for the second year in a row. But soon began her losing streak that lasted for the majority of the year. She was defeated in the opening rounds at both the French Open and Wimbledon, causing her ranking to drop below the top 20. Eugenie did however defeat Alison Riske at Eastbourne and at the US Open. She had seemingly regained her form en route to play in the 4th round but as a result of a concussion she got from slipping and falling, her run and season were cut short. She ended the season as world no. 48.
Eugenie Bouchard saw immediate success in 2016 with 2 back-to-back quarterfinals at the Hobart International and the Shenzhen Open. After a second-round upset at the Australian Open, she advanced to the 3rd round at the Qatar Open and to the finals at the Malaysian Open. Her run at the French Open came to an end in the second round and her grass season performance was similar. She got to the third round at Wimbledon with no major accomplishments throughout this season. She did defeat world o. 10 Dominika Cibulkova and Sloane Stephens but she lost in the first round of the US Open not too soon after. Her ranking had slightly recovered, moving up two spots to no. 46.
The main events of her 2017 season included a semi-final appearance at the Sydney International where she defeated 3 top 30 players including world no. 6. At the Madrid Open she defeated Maria Sharapova, Alize Cornet, and no. 2 Angelique Kerber. While at the Grand Slams, she lost in the 1st round of Wimbledon and the US Open. At the French Open, she got to the second round and her best Grand Slam performance was at the Australian Open when she reached the 3rd round. In 2018 Eugenie's ranking plummeted following another losing streak. She lost in the second round of the Australian Open and after winning in the qualifying round, she lost again in the second round of the Wimbledon Championships. Her 2019 season was much the same with no great showing.
2020 saw somewhat of a resurgence for Eugenie. At the Auckland Open, she defeated Kristen Flipkens and Caroline Garcia to reach the quarter-finals. At the only Grand Slam she qualified for, the French Open, she had her best Grand Slam performance in 3 years, reaching the 3rd round of the event. She continued her return to form after reaching a second quarter-final in Prague as she upset Veronika Kudermetova and Tamara Zidansek. Eugenie also made her first WTA final in 4 years at the Istanbul Cup. Following a loss in the qualifying round of the Australian Open and a second WTA final in six months at the Abierto Zapopan, Eugenie's 2021 season would be cut short due to a shoulder injury.
2022 was probably her biggest resurgence from being out of the rankings to no. 327. Eugenie made her comeback at the Vancouver Open but with no showings of note. She only participated at the US Open but couldn't make it past the qualifying round. She played at WTA 1000 Guadalajara and made it to the second round. Canadian star also made the first round at Ostrava and several other tournaments but she was yet again absent throughout most of the season. Coming to this year in 2023, Eugenie had aimed to return to professional tennis at the Australian Open but she lost in the qualifying finals against Ashlyn Krueger.
Eugenie Bouchard WTA Titles
The 28-year-old was the first Canada-born Canadian player in multiple disciplines. She truly paved the way for future Canadian female players like Leylah Annie Fernandez, Bianca Andreescu, and others. When she became runner-up at the 2014 Wimbledon Championships, Eugenie became the youngest Canadian-born player representing Canada to reach the final of a Grand Slam.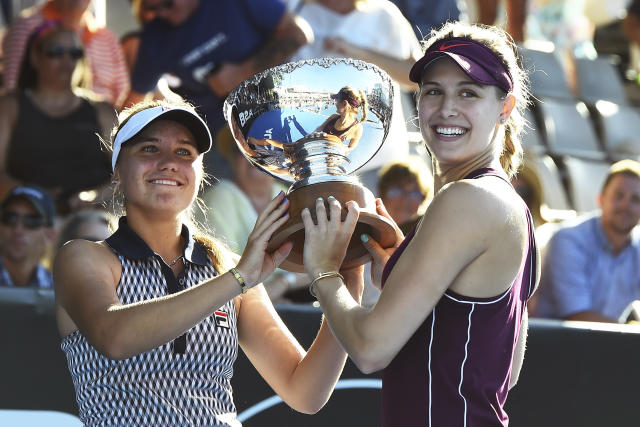 But even before then, during the 2012 Wimbledon girls' singles event, her victory made her the first Canadian ever, junior or pro to win a Grand Salm singles. She also won 2 consecutive doubles titles at the event. Her phenomenal Grand Slam performance in 2014 helped her reach a career-high ranking of world no.5 which was the first time a Canadian broke into the top 5.
Eugenie has won 2 WTA titles, 1 single, and 1 doubles title, along with numerous tournaments on the ITF Circuit. She was even the WTA Newcomer of the Year in 2013, a title she surpassed the next year when she was awarded the WTA Most Improved Player of the Year award.
Eugenie Bouchard Grand Slams
The Canadian star hasn't won any Grand Slam tournaments so far. But We've put together her best performance of each Grand Slam statistics of her career.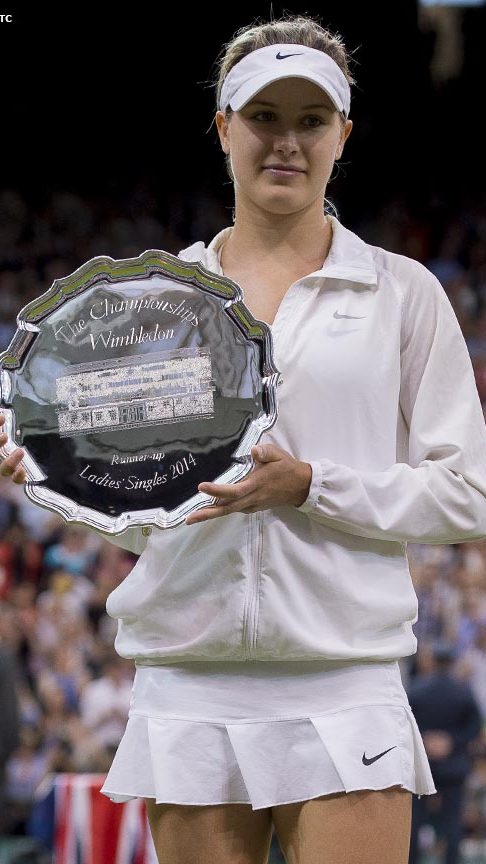 Australian Open (2014 – Semi-Finalist)
Roland Garros (2014 – Semi-Finalist)
Wimbledon Open (2014 – Runner-Up)
US Open (QF – 2014, 2015)
Eugenie Bouchard Sponsors
The former world no. 5 had many sponsors after her phenomenal 2014 season performance but most, if not all soon left as her career declined. At the apogee of her tennis career, Eugenie was sponsored by Coca-Cola, multinational British insurance company Aviva, and healthcare product manufacturer Usana. She endorsed Nike's sportswear and used Babolat racquets. Most of these contracts expired in 2018 and since then her clothing has been sponsored by New Balance and she uses Yonex racquets.
Global sportswear brand New Balance is a sponsor of Eugenie's clothing. 
The Yonex sports equipment brand produces Eugenie's tennis rackets. 
Eugenie Bouchard Racquet
The Canadian star is currently under contract with one of the popular brands of tennis Yonex for her tennis racket.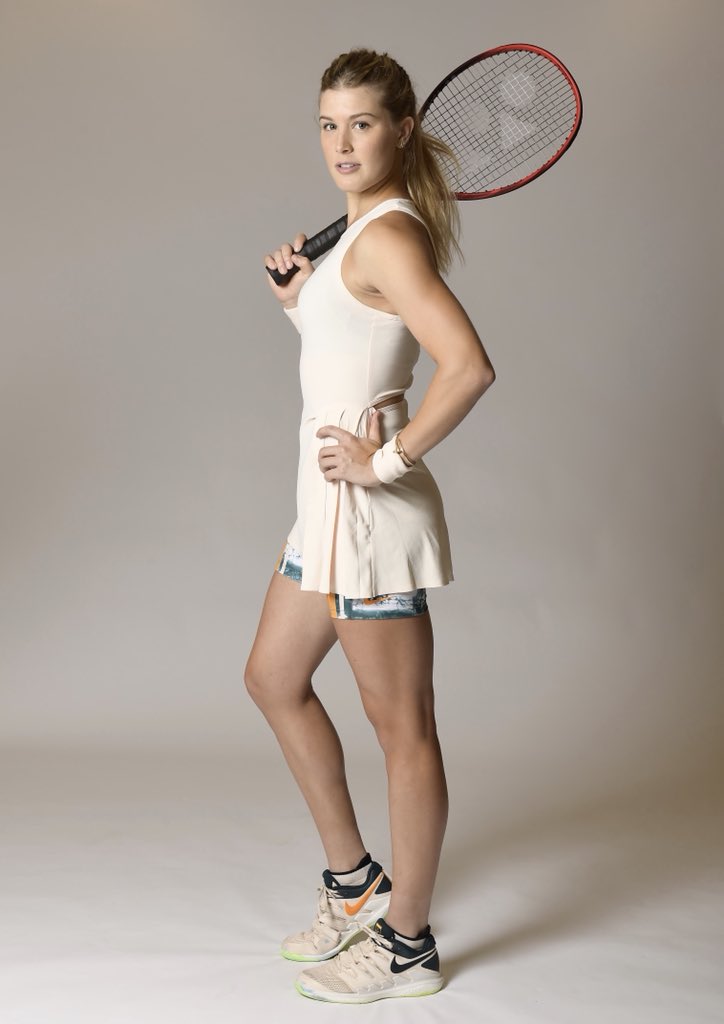 The tennis star currently endorses the Yonex VCORE 100. She has been using this racquet since 2020 and before it, she briefly used the Wilson Ultra 100 and Head Graphene Radical. When she was sponsored by Babolat, she sported Babolat's flagship racquet, the Pure Aero, and later the Pure Drive. Some specs for her VCORE 100 include a 100in2 head size and a 16×19 string pattern.
Head Size: 100 in / 645.16 cm
Length: 27in / 68.58cm
Weight Strung = 11.3oz / 320g
Beam Width: 24mm / 25mm / 22mm
Stiffness: 66
Composition: HM Graphite/2G-Namd
Racquet Colors: Red
String Pattern: 16 Mains / 19 Crosses
Swing weight: 324
Endorsed & Signed by Eugenie Bouchard
Eugenie Bouchard Bio
Her relationships have mostly been a product of speculation with her not going public with most of her affairs. She is currently single after a public breakup with Steelers quarterback Mason Rudolph. The couple started dating in 2021 but split in March of the following year. Previously in 2019, she was seen with investment banker Connor Davis but nothing came of this interaction.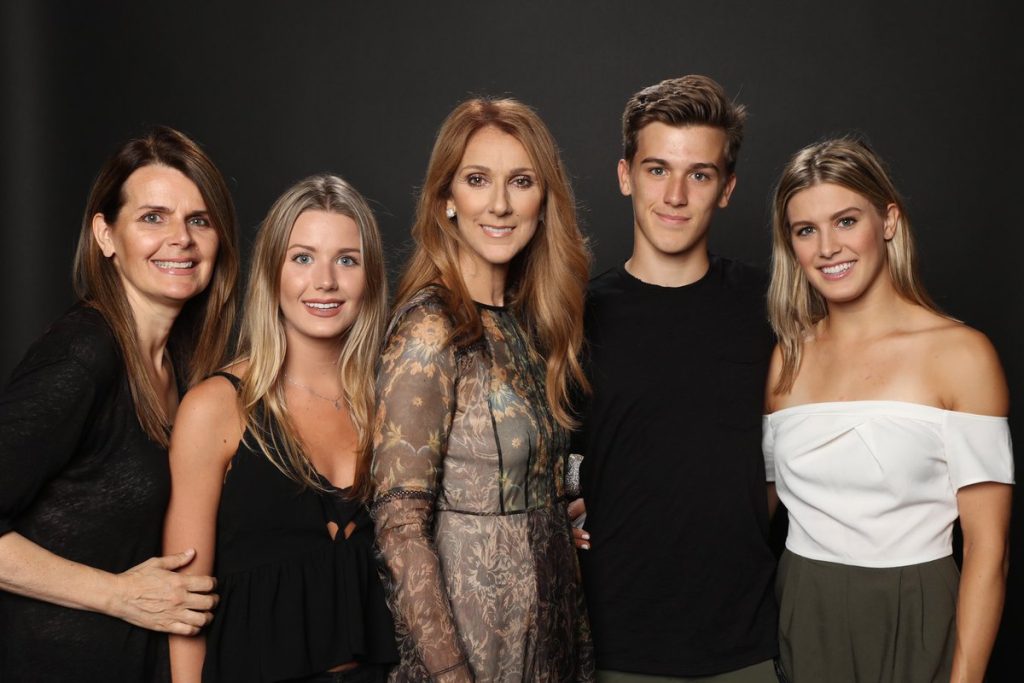 Before Mason, she officially dated Twitter fan John Goehrke but their relationship didn't last. She also dated ice hockey player Jordan Caron. Eugenie was linked to another ice hockey player, Alex Galchenyuk in 2013 but it wasn't confirmed.
FAQs
Has Eugenie Bouchard won a Grand Slam?
No, she hasn't won a major title but she was runner-up at Wimbledon in 2014.
What racquet does Eugenie Bouchard use?
She uses a Yonex VCORE 100.
Who sponsors Eugenie Bouchard?
She is currently sponsored by Yonex for racquets and New Balance for clothing.
Is Eugenie Bouchard married?
No, she is single after a recent breakup with Steelers quarterback Mason Rudolph in March of 2022.
Eugenie Bouchard Net Worth Summary
She is a 2014 season star in the field of tennis. She is making her country proud and has a net worth of $6.5 to $7 million as of 2023. But the success she gained in 2014 and 2015 helped her worth is marvelous. Her main source of income is from prize money won at tournaments and sponsorships and endorsements.