Canada Creates Tennis History: Crowned Inaugural Billie Jean King Cup Champions in Seville
In a historic triumph that will resonate through the annals of Canadian sports, the nation's tennis team has etched its name in gold, securing their maiden Billie Jean King Cup by Gainbridge after a sensational victory over Italy in 2023 final in Seville.
Canada's tennis stars, Leylah Fernandez and Marina Stakusic, emerged as the heroes of the hour, showcasing their prowess in a week-long spectacle that culminated in an unforgettable final at La Cartuja Stadium.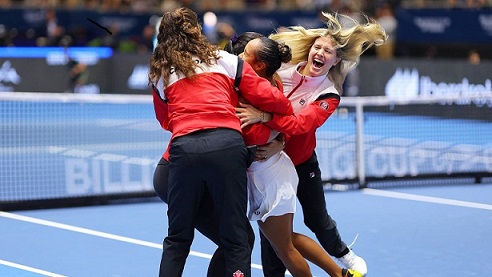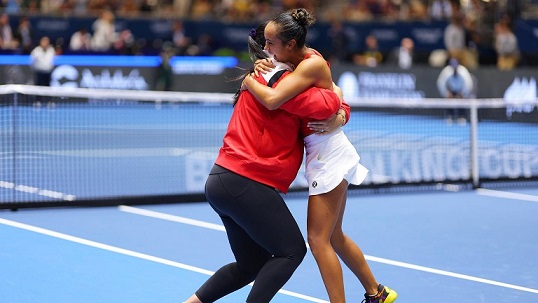 Stakusic, ranked 258th in the world, stunned the tennis fraternity by overcoming the formidable No. 43 Martina Trevisan with a commanding 7-5, 6-3 victory. This triumph not only marked a career-defining moment for Stakusic but also thrust Canada into the lead in this historic encounter.
The much-anticipated climax came with Leylah Fernandez taking the court against Jasmine Paolini. In a display of sheer dominance, Fernandez sealed the deal with a resounding 6-2, 6-3 win, clinching the championship for Canada. The victory not only secured their place in history but also mirrored the success of their Davis Cup counterparts, who claimed the men's World Cup of Tennis just last year.
As jubilant celebrations erupted among the Canadian contingent, the names of Fernandez, Stakusic, Rebecca Marino, Eugenie Bouchard, and Gabriela Dabrowski echoed around the world, becoming synonymous with a monumental achievement in Canadian tennis.
Captained by Heidi El Tabakh, Canada now stands proudly as the 13th nation to conquer the Billie Jean King Cup, following in the footsteps of Switzerland, who secured victory in Glasgow just twelve months ago.
Additionally, the team will bask in the glory of a record-breaking $2.4 million in prize money, equivalent to that offered in the prestigious Davis Cup.
The 2023 Billie Jean King Cup final will be remembered as a watershed moment for Canadian tennis, a testament to the resilience, skill, and unyielding spirit of a team that has etched its name in history. Congratulations, Canada, on your momentous victory!