Famous Argentine Female Tennis Player
Argentina has produced some of the world's most talented tennis players, including several female tennis stars. From Gabriela Sabatini to Gisela Dulko, these women have left an indelible mark on the sport, inspiring countless fans across the globe.
We will take a closer look at some of the most famous female Argentine tennis players and their remarkable achievements.
Gabriela Beatriz Sabatini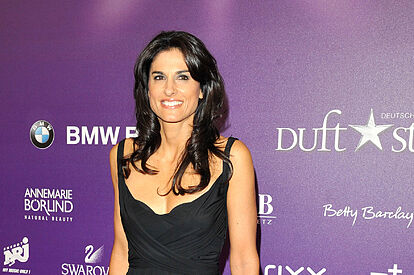 | | |
| --- | --- |
| Real Name | Gabriela Beatriz Sabatini |
| Gender | Female |
| Occupation / Profession | Former professional tennis player |
| Nationality | Argentine |
| Race / Ethnicity | Italian |
| Religion | Not known |
| Zodiac Sign | Taurus |
| Date of Birth | 16 May 1970 |
| Place of Birth | Buenos Aires, Argentina |
| Height / How Tall? | 5 feet 10 inches (1.77 meters) |
| Eye Color | Black |
| Father (Dad) | Osvaldo Sabatini |
| Mother | Beatriz Garofalo Sabatini |
| Siblings (Brother) | Osvaldo Sabatini |
| Marital Status | Unmarried |
| Spouse/Husband | Not Dating Yet |
| Children | No |
| Net Worth | $8 Million |
| Place of living | Buenos Aires, Argentina Boca Raton, Florida, U.S. |
Gabriela Beatriz Sabatini is by far the most recognizable and iconic female Argentinian tennis player. Her career isn't defined solely by her Argentinian heritage however, she is also among the top female tennis players of the Open Era. Though she is half-Italian, Gabriela has always represented her birth country Argentina in national and international competitions. Her influence has easily outlived her professional career and she is also known for her many philanthropic and charitable projects post-retirement.
The 1980s and 1990s were the apogees of Gabriela's career.  The Argentinian procured 41 WTA titles and reached her career-high ranking of no. 3 in 1989 for both singles and doubles. Her Grand Slam performance is highly venerated, reaching 13 quarter-finals, 25 semi-finals, 5 finals, and even winning the 1990 US Open. Apart from 1990, her best Grand Slam performance would be the 1992 season where she at least made the quarter-finals in all the tournaments. She represented team Argentina in the 1988 Seul Olympics, snatching the silver medal. Gabriela was even a former no.1 junior and has set many records throughout her career. 
Sabatini holds the record for most top no.1 players defeated by a non-no. 1 in the Open Era, a total of 10 times. She is also the fifth player in the Open Era to have defeated both the mo.1 and no.2 in the same tournament. Once, in 1991, she bested 3 top 10 players in one tournament. Sabatini has also set many Grand Slam records. one of the youngest-ever players to reach the semifinals of the French Open and she holds the third-longest streak of consecutive quarter-finals Grand Slam appearances in all of women's tennis history at 15 tournaments. As for her ranking, she remained in the top 10 for 508 consecutive weeks, the fourth longest duration in WTA history.
Some titles she received include being named 1984 Junior World Champion by the ITF and receiving the WTA Most Improved Player Award. Her contributions towards making tennis a more mainstream sport also got her awarded the WTA Diamond Aces Award. In 2000, she was given the Diamond Konex Award and has even been deemed the "Sportsperson of the Decade" by her home country. She was immortalized in the Tennis Hall of Fame in 2006 and recently ranked by Tennis Magazine as the 20th greatest female tennis player of the last 5 decades.
Gabriela has been able to channel her fame and influence from tennis into a successful business career. The entrepreneur has her own perfume line with 
Mülhens and even a children's doll in her likeness from a collaboration with the Great American Doll Company. She published a book and did much work with UNICEF, UNESCO, and Special Olympics.
My Story
Sabatini, Gabriela (Author)
English (Publication Language)
112 Pages – 10/03/1994 (Publication Date) – Avatar General Corp (Publisher)
For these charitable projects, Sabatini was awarded the International Club's prestigious Jean Borotra Sportsmanship Award in 2017 and the 2018 "Athlete Role Model" title by Youth Olympic Games. ITF also presented Sabatini with its highest accolade, the Philippe Chatrier Award. In Buenos Aires stands a bronze statue of Gabriela next to other Argentinian athletes like Guillermo Vilas.
Gabriela retired in 1996 after a pulled stomach muscle injury. As of 2022, the 52-year-old entrepreneur continues to run her business and resides in Buenos Aires, Florida, and Pfaffikon.
Argentina has a rich history of producing top tennis players, and its female stars have contributed greatly to the sport's global success. From the elegant play of Gabriela Sabatini to the fiery determination of Paola Suarez, these women have shown that they are among the best in the world.
Their achievements and legacies continue to inspire future generations of Argentine tennis players, and their impact on the sport is sure to endure for many years to come.